Ever notice how horse stories all have the same plot? We get a new horse, usually the wrong one. There's a period of struggle. We get bad advice, we lose money, we get bucked off. We persist, two steps forward and one step back. In time, the horse ends up perfect and we find a better version of ourselves in the process. Then, even if the horse lives to thirty, we think we lost them too soon.
As a kid, I clutched the "H" volume of the encyclopedia and begged for a horse of my own. My father eventually relented and came home from an auction with a wild-eyed pony who kicked me in the face. Don't all horse stories really come down to trying to balance love and fear?
On good days when it all goes right, we should celebrate. When we had a feeling of true partnership, whether competing or out on the trail, that's a blue-ribbon ride. We should cheer, not out of garish pride but because we know the fluid reality of confidence.
It's a perfect storm that creates a perfect ride. It's a hundred details important to your horse like a healthy stomach, balanced hooves, great saddle fit, physical balance, a low bug population, and a peaceful barometer. This all matters because when things go wrong, there's a perfect storm, too. It isn't about luck, it involves things that our senses can't pick up, things important to the horse.
Let's say you're a good rider and you have a great horse. Then on an ordinary sunny day, just when your goals are in sight, it happens. The ride comes apart. Your horse is frightened and so are you. Maybe you ride it out or maybe you come off. Maybe you bounce to your feet or maybe you're hurt. The details will be scrutinized, and most of us will find a quiet place to soak in the pain of doubt.
It feels like your horse has betrayed you and now you don't trust him. Your partnership feels like a failure. You're still horse-crazy, but now you're scared, embarrassed and self-critical, and worried that maybe you've betrayed your horse. Some innocence is lost, even if you've had ten horses before this one.
In other words, things just got real. Some would argue, it's a healthy state of mind. Weirdest of all, even now, you know you can't quit. The only thing worse than fear is imagining a life without horses.
So, we start again. We remember that horses will always be horses. Domestication didn't change their survival instinct and we should respect that.
Start here: instead of being made weaker by fear, let's make peace with it. Let's drag it out into broad daylight and, like your weird uncle at family reunions, invite it into the conversation. Instead of demonizing fear, let it be a learning aid. What if fear could be reframed as common sense and we used it to become more self-aware? Not easy, but hating fear just gives it a better toehold.
We need to show ourselves the patience and compassion we hope to have for horses. We have to give ourselves the time we need to heal. Getting bucked off means that we land in a new reality.
Then, find a deeper importance for confidence, too. We can't chase it down, buy it in a book, or wish it into existence. Don't let it be cheap talk. We have to befriend confidence. After a bump like this, confidence is a bit like a rescue dog, shy in the beginning or trying too hard to please. Undeniable confidence needs to be nurtured in our horses and in ourselves, not through punishment but with affirmative training.
Go slow. Lower your expectations so you can congratulate your horse often. Praise your own breathing. Tack up, loiter at the mounting block, and surprise your horse; return to the barn. When you do climb back on, have a friend on the ground. Take a three-minute ride and dismount hungry. Stop while both of you want more.
Let affirmations take the place of self-criticism. You'll need to be strict with yourself until confidence becomes a habit. And say thank you for a more honest relationship with your horse that is both vulnerable and strong.
When we're in the middle of the horse story we'll eventually tell, we lose perspective because the process with every horse is a challenge. Details change, it isn't always pretty, but you'll rebuild better because all horse stories end the same way. We still love them.
See this article in the 2020 November online edition: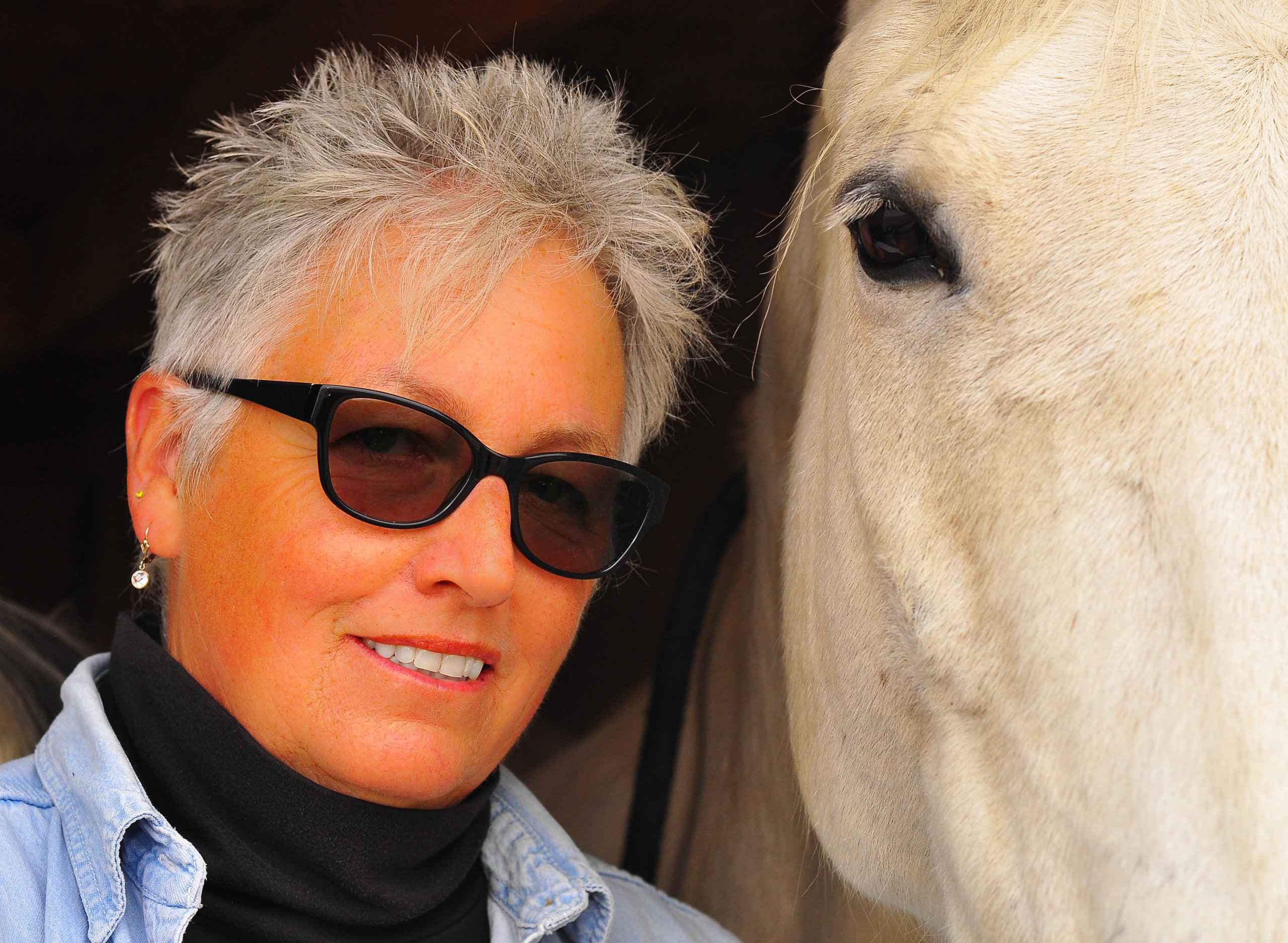 Anna Blake is a horse advocate, trainer, international clinician, and award-winning author of five books. Anna believes affirmative training principals build a relaxed and forward foundation that crosses over all riding disciplines in the same way that the understanding calming signals benefits all equine communication.
Want more? Visit annablake.com to see our class schedule, online courses available on a revolving basis on Calming Signals, Affirmative Training, and more. You can purchase books or schedule a live consultation or lesson, subscribe for email delivery of her popular blog, or ask a question about the art and science of working with horses. Join us in The Barn, our online training group with video sharing, audio blogs, live-chats with Anna, and much more.