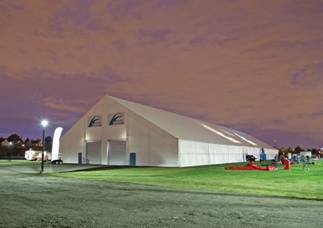 (SOUTH WINDSOR, Conn) ClearSpan Fabric Structure's new Fabric House Building is an updated design of a ClearSpan classic. The structure utilizes the frame from the Hybrid Building, but covers it completely in fabric. While customers could traditionally customize the Hybrid Building with fabric, the Fabric House Building will allow ClearSpan to get the building to customers faster.
The Fabric House Building features a peaked roof and overhanging eaves that provide extra outdoor coverage. The sidewalls are available in heights of 13' or 20', ensuring plenty of clearance for any application. The unique design, combined with multiple foundation options, ensures that each building can be quickly installed without sacrificing strength or durability.
The building is constructed using a dependable, American-made steel frame. The frames have been triple galvanized, so they can resist corrosive environments. The frame is covered with 12.5 oz., 24 mil polyethylene. The fabric polyethylene features a rip-stop weave that prevents any tearing or damage. The fabric allows natural light to filter through, eliminating the need for artificial daytime lighting.
Like other ClearSpan buildings, the Fabric House Building comes with industry-leading warranties. Customers will receive a 50 year warranty on the frame and a 20 year warranty on the fabric cover.
For more information visit www.ClearSpan.com