Eight Considerations when Renting or Buying a Property
by Allison Trimble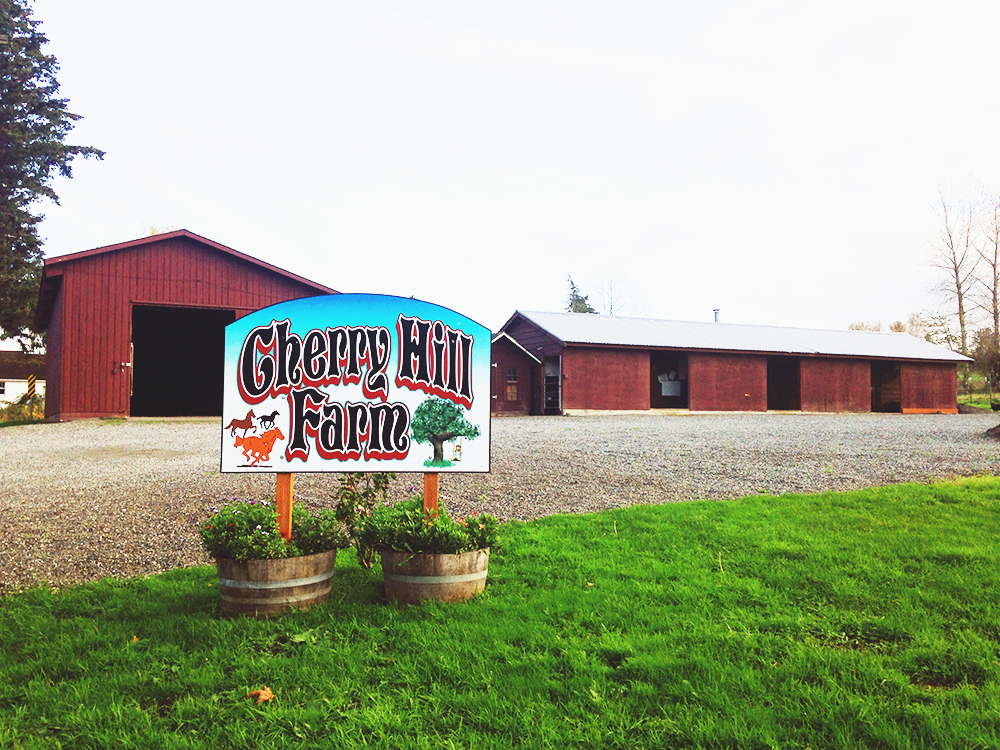 Though many horse owners board, most of you reading this are, or will be, owners or renters of a horse property. As a horse trainer and a real estate broker in Washington, I have extensive experience with horse properties. I wish I had known more about potential pitfalls when I was new to the area and buying my own property. Whether buying or renting, there are important things to consider.
The Buying Process: As with horse training, it is important to select a professional who is right for you. Find someone knowledgeable about both horses and horse properties to help you. The commission is paid on the seller's end, so it is foolish not to have great help as a buyer. Also, contact a lender for pre-approval before getting too serious so time is not wasted looking at properties out of your price range.
Location: This first rule of real estate applies to horse properties. Have a good idea of what types of horse activities are available and the distance from the property. What are the roads like? How far away is the veterinarian? Are the neighbors horse friendly? It may be worth knocking on their door to ask! Is the property located on a busy road? Think clearly about the daily activities on a horse property and make sure that the location is ideal for those needs.
Acreage/Regulations: The regulations for horses per acre vary greatly from state to state, and within counties. Make sure the animal unit restrictions are known, and that the property is zoned for horse use and for the number intended. This is often less of an issue in areas where land is more plentiful and less expensive, but in NW Washington where I live, more than 5 acres in close proximity to town can be pretty pricey and carries more restrictions.
Drainage/Ground Quality: In areas that have high rainfall, this is a critical issue. It is best to look for properties that have a gentle slope (if a small acreage), or have some varied topography (if a larger acreage) so horses can find high, dry ground. My property has a lot of clay which makes for poor drainage in winter months (mud) and hard ground during the summer. Sandy loam soil makes for great drainage in the winter and less compaction in the summer. My very best suggestion, especially in the wetter areas, is to look at the property under heavy rainfall. Watch where the water naturally flows to know how much mud will accumulate. If a buyer's preference is to have their horses outside year round this is a major consideration.
Structures: Outbuildings such as barns with stalls, lean-tos, tool sheds, hay and equipment storage aren't given a lot of value with regards to listing price, but have high value to horse owners. Building a barn is costly and often can be purchased as an existing structure for a fraction of construction cost. Outbuildings are often not inspected as part of the home inspection, so it is wise to have a qualified contractor inspect all outbuildings. If there are no outbuildings, figure approximate construction costs to house horses, feed and equipment. This will help in comparing properties with structures, to properties without.
Arenas and Riding Space: If an arena and/or round pen are on the property, clearly address whether the fencing/panels are considered real, or personal property. Also, consider the footing and location. If there is no riding space, but one will be needed, where will it be located, and what is the estimated of cost of development? If there is an indoor arena, what are the construction specifics and condition, and what would it cost to replace the same arena?
Fencing: Anyone who has ever fenced a property knows that it is expensive and time consuming. Consider the type, safety and condition of all fencing on the property, and whether it will suit the intended future use and projected maintenance. I prefer a horse property to have an external fence line that is of a more permanent construction, rather than just electric fencing.
Water and Manure Removal: Be certain that there is sufficient water available to handle the number of horses and projected activity. If horses are only pastured, dragging the fields occasionally will probably suffice. However, most horses in the Northwest spend at least some time stalled, so manure management is important.
Horse ownership and horse property management are both expensive endeavors. I encourage clients to write down everything they need from a horse property, then we assign an estimated cost to construct. This makes it much simpler to weigh out value when viewing properties.
Published in September 2015 Issue
Allison Trimble has a Bachelor of Science in Animal Science from Cal Poly, SLO. After her graduation in 1999, Allison started Coastal Equine and has been training and competing in cowhorse, reining and cutting events. She has had marked success in the show pen boasting many titles and championships.
Willfully Guided is an educational program based on Allison's training process. For more information visit: www.willfullyguided.com
Allison is also a Realtor specializing in horse properties, hobby and commercial farms, and family housing. She combines her experience in the horse industry with her lifelong involvement in real estate to help clients find their perfect property. Learn more at www.coastalrealtywa.com