Katharine Cram and Bessie Fletcher helped spread the word about Blazers in May, heading a few hundred miles down the road to set up a booth at the Sun River Pet Festival in St. George, Utah.
It's the second year the ABHA has set up a booth at the one-day event, at the request of Josh Cram who lives in the area and has begun breeding Blazers and wants to help spread the word about these great horses.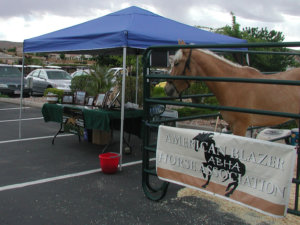 This year at the booth, Bessie and Katharine were joined by Cherokee (pictured), a 4-year-old palomino Blazer, who drew lots of attention. 
"The turnout was really good, and it was a very good idea to have a horse there," Fletcher said. "A lot of people liked being able to come over and see the horse."
Giving Bessie and Katharine a chance to pass out Blazer Times publications, ABHA posters, and other information about the breed.
They also met a few people who own Blazers in the area, and who – like so many others – were very enthusiastic about the breed.
Fletcher adds that visiting the Pet Festival was a benefit for a variety of reasons. "There is such a vast area to ride, and because of the weather, it's nice all winter long pretty much," she said, adding that St. George also is something of a retirement area, and many grandparents are looking for kid-friendly horses, like Blazers, for their grand-kids to ride.
In all, a great chance to spread the word about Blazers around the country. Go to www.blazerhorse.com to see more!
Published July 2011 Issue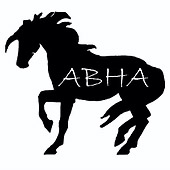 The mission of ABHA is to encourage and support members of the Association, while they raise, exhibit, promote and enjoy the American Blazer Horse. It is also our goal to maintain a history of the Blazer Horse by recording their bloodlines and achievements for the preservation of the breed. blazerhorse.com