Pulitzer Prize-Winning Journalist Delves Deeply into Wild Mustangs
by Alayne Blickle
Since this issue of NWHS focuses on education, I thought a book I recently read would fit nicely into that category. Wild Horse Country by David Philipps was published in October of 2017. It's a fantastic book that should be required reading for all horse owners and especially mustang aficionados.
Those who know me and my husband, Matt Livengood, know that we have become quite involved with training and finding homes for mustangs; we own several ourselves now. The more we are around them, the more we are intrigued with them: their trainability, their heartiness, their ability to survive on rangeland where even cattle can't, and their heritage.
I have made it a point to read what I can about the history of wild horses, so when a friend gave me an early release copy of Wild Horse Country I was eager to dig in and learn more.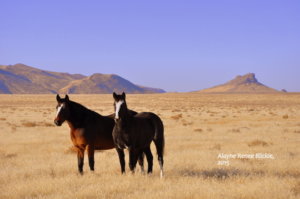 Author David Nathaniel Philipps, born in 1977, is a Pulitzer Prize-winning American journalist. His work has largely focused on the human impact of wars in Iraq and Afghanistan. Currently, he is a national correspondent for the New York Times as well having authored two books, including Wild Horse Country, his most recent.
Philipps gained attention in 2012 when U.S. Secretary of Interior Ken Salazar threatened to punch him when Philipps questioned him in a press conference about troubles in the department's wild horse program. Philipps' continued reporting led to state and federal investigations of the wild horse program.
I found Wild Horse Country to be extremely well written and researched. Philipps carefully traces the evolution, history, and culture that created wild horses in North America and digs through all aspects of the current wild horse management program.
It's interesting that Philipps is not a horse person, but that makes him more credible as an objective viewer of the situation; distant enough from the subject that he is not likely to be emotionally attached and better able to document.
Many of the chapters in the history of North American wild horses are grisly; it's hard to fathom the depths of human cruelty that's transpired. But it is important to know the context and follow where mustangs have come from, what they've gone through, and where they may be headed today. It brings perspective to the idea that wild horses are just trying to survive in an ecosystem their DNA is grounded in.
At present, around 60,000 wild horses live on public range lands and another 60,000 are being held in government-run pens, a management scenario that's lose-lose for all and especially the horse.
In the end, Philipps has a management solution for the current wild horse population, one researched and studied firsthand with scientists: stop abating mountain lions and let nature take its course. Currently, the public pays for management of wild horses at the same time it pays for killing (aka "control") of large predators. Neither is a sustainable solution.
Among the proposed plans for mustang management that we hear of these days, Philipps' proposal may be the only sound one, one we all can agree on, no matter what side of the fence we're on.
This fall join Alayne Blickle and Horses for Clean Water at the following events:
Washington County, OR
Workshop: Fall in Place for Winter!
Location & details TBD
Saturday, October 20, time TBD
503-334-2288 ext. 110, [email protected]
Redmond, WA
Farm Tour: Horses and Salmon
Two Horse Ranch 
Saturday, October 27, 10:00 – noon
kingcd.eventbrite.com, (425) 282-1949 or [email protected]
Sunnyslope, ID
Farm Tour: Fall in Place for Winter!
Lucky 13 Farm
Sunday, September 23, 1:00 – 3:00 p.m.
[email protected] or 206-909-0225
Nampa, ID
Sweet Pepper Ranch Cowgirl Retreat
Sweet Pepper Ranch
September 13 – 16, 2018 (Ranch Riding. Instructor, Matt Livengood)
Published September 2018 Issue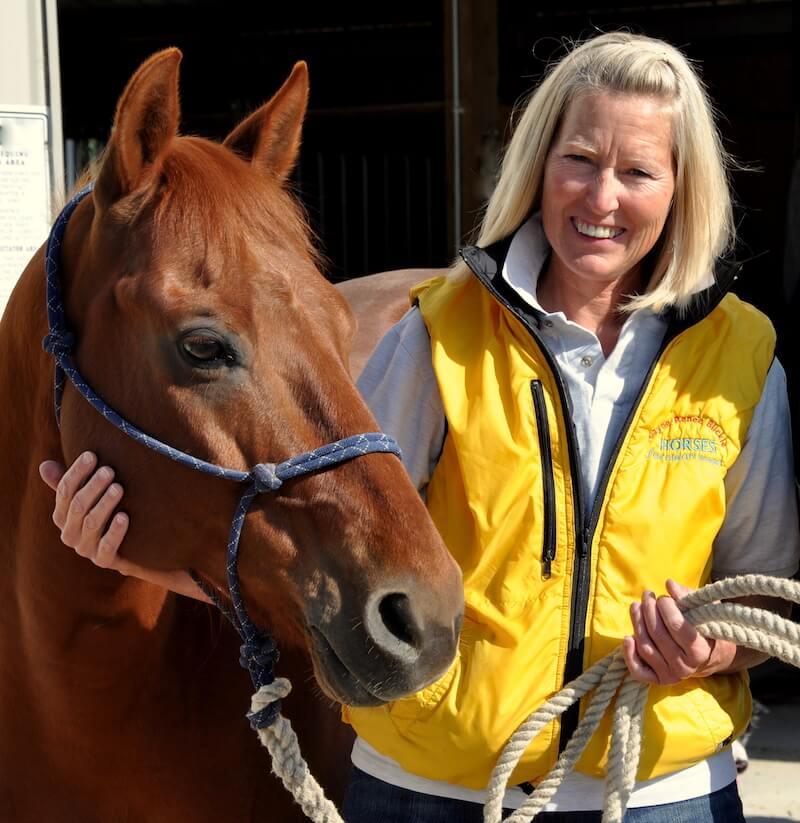 Alayne Blickle, a life-long equestrian and educator, is the creator/director of Horses for Clean Water, an award-winning, nationally acclaimed environmental education program that "wrote the book" on caring for horses and land. Known for her enthusiastic, fun and down-to-earth approach, she is an educator and photojournalist who has worked with horses and livestock owners for over 20 years. Alayne teaches and travels throughout North America and abroad, and also runs Sweet Pepper Ranch, an eco-sensitive guest ranch and horse motel in Southwestern Idaho where she and her husband raise top-notch reining horses and beautiful grass hay. For more information contact Alayne at [email protected] or 206-909-0225.