This past fall, Back Country Horsemen of Washington members started and completed a major job—the Icicle Creek Bridge project. This was a huge feat considering it was planned and accomplished all within one month. And to make it even harder, the work was done in dicey weather. The bridge is five miles up Icicle Creek Trail #1551 in the Alpine Lakes Wilderness and is an important link in the Black Pine Horse Camp trail system.
BCHW members from all over the state worked to get the new materials to the job site, tear out the old and damaged decking, and then re-deck this 61-foot-long bridge. Financial assistance for decking and supplies was made possible using a Recreation Conservation Office (RCO) Recreation Trails Program Grant.
The prep work took hours. Boards were cut to size and tools and building materials were packed in. It was heartwarming to see all the packers and carpenters volunteer and unite so quickly to re-deck the bridge. Packers and their stock shared the load of hauling in 16 bull rails and 61 bridge planks; each plank weighed about 90 pounds.
Carpenters rode and hiked to the job site and assisted the packers in loading and unloading the mules and horses. Everyone worked in the pouring rain, even sleet and snow at times, to get this project finished. Now both two and four-legged trail users will be able to cross the creek safely for years to come.
A Brief History of the Project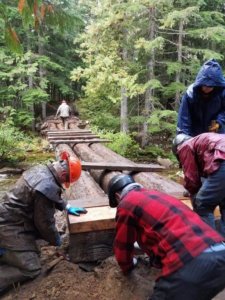 The Black Pine Horse Camp was established in the late 1970s and is located approximately 20 miles from Leavenworth. It's in the Okanogan-Wenatchee National Forest, Wenatchee River Ranger District.
About 10 years ago, the road leading to the horse camp washed out, making the camp and trails around it inaccessible. The road was finally repaired but the campground and the trails surrounding it were in disrepair and in danger of being totally lost due to not being maintained for so long.
In the spring of 2017, a small group of BCHW members decided to begin logging out the trails. That fall, BCHW's special project coordinator talked with Jeff Leisy of the United States Forest Service (USFS) and made this campground and the trail system a major priority.
In 2018, the National Trails weekend was spent cleaning up the horse camp, brushing, chipping and repairing highlines. Even the outhouses were painted. (See the article in the Northwest Horse Source at www.nwhorsesource.com/black-pine-horse-camp-spruced-up.) The 2018 BCHW State Wide Work Party (SWWP) was held several weeks later, with the goal to clear as much of the trails as possible.
Since most of the trails are in the Alpine Lakes Wilderness, no motorized saws or vehicles were allowed so transportation was by foot or hoof only. All trail clearing was done with cross-cut saws and sweat. About 70 people attended along with approximately 45 head of stock, all working for the same goal of opening up these trails.
This job was a partnership between BCHW, the Washington Trails Association (WTA), the USFS and the Icicle Creek Outfitters. Pack stock was used for packing in materials to several sites for use in building turnpikes and puncheons. Stock was also used to transport BCHW members to the farthest trail projects quickly so more time could be spent on trail clearing. (See the NWHS articles about this event www.nwhorsesource.com/bchw-statewide-work-party and www.nwhorsesource.com/east-meets-west-in-back-country-horseman-work-exchange.)
After projects like these, what the volunteers remember best are the friendships that are formed and the camaraderie of working together to support the BCHW mission of keeping trails open. Yes, even in the pouring rain and snow! There is much to be said about a job well done bringing people together.
In 2020, BCHW will again partner with WTA and the USFS to open up even more of the trails. Without these efforts and partnerships these trails would not remain open.
Back Country Horsemen is always looking for new members and equine trail riders willing to volunteer to keep our trails open. We invite you to come join us! Information and applications are at www.bchw.org.
Upcoming BCHW Activities and Events:
BCHW Leadership Training – January 25, 2020 – Kittitas Valley Event Center, Ellensburg, WA
Rendezvous! – March 20-22, 2020 – Kittitas Valley Event Center, Ellensburg, WA
More BCHW sponsored events are listed at org/lnt/main/upcoming_events.htm
Back Country Horsemen of Washington is dedicated to keeping trails open for all users, educating stock users in Leave-No-Trace practices, and providing volunteer service to resource agencies. Learn more at www.bchw.org
Article by by Lori Lennox
Published in the December 2019 Issue
Back Country Horsemen of Washington (BCHW), is a 501 (c) (3) organization with 32 chapters across the state dedicated to: keeping trails open for all users; educating horse users in Leave-No-Trace practices; and providing volunteer service to resource agencies.