The Best Way to Present a Sale Horse
by Allison Trimble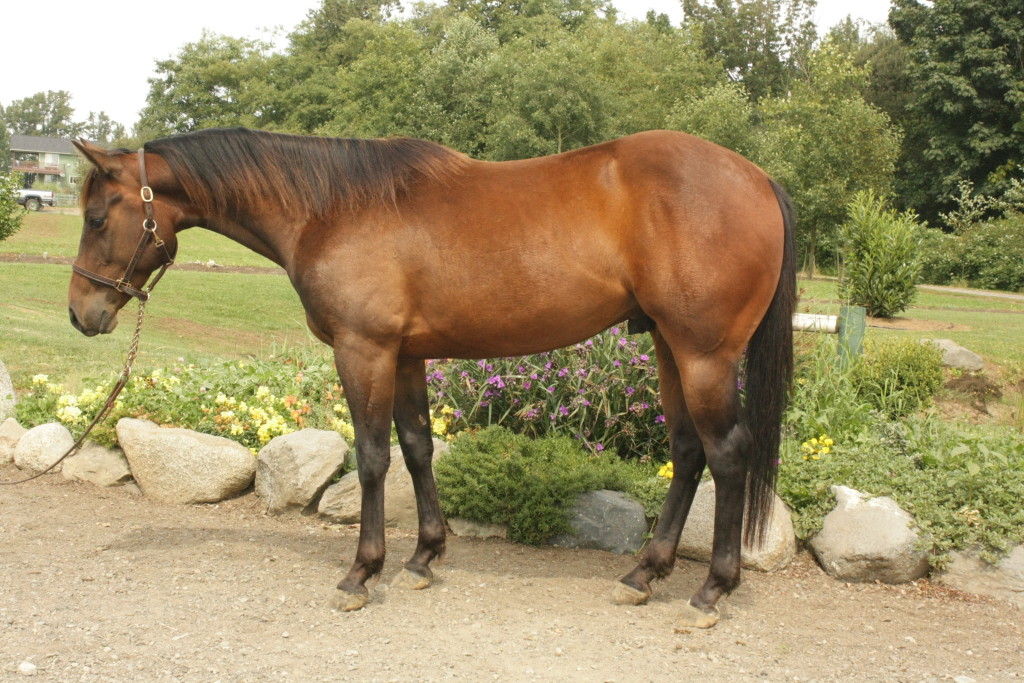 Selling a horse can be a frustrating experience. It can be hard to know where to start. Since a large part of my horse operation is horse sales, this is how I approach the process.
Photos are the most important part of presenting a horse. Buyers often make a snap decision of how they feel based on the images they see. I encourage photos of both sides of the horse without a saddle, as well as front and rear shots, a head shot, a personal shot of the horse and a human and, if applicable, photos of the horse under saddle. A great series of photos will peak buyer interest; a bad photo will keep them scrolling.
There is a formula for good horse photos. On side shots, the horse's offside two feet should be slightly inside of the nearside feet. Avoid "squaring" the horse up. The photographer should be taking the photo from a line that is perpendicular to and behind the hip, giving the best angle of the horse's hip. The horse's hind legs should be underneath him, not strung out behind. His head and neck should be level with a bright eye and ears pricked forward. This is usually a two person process, but worth it. When positioning the horse for frontal and rear photos, only step the horse forward to set-up. Backing often causes the legs to turn out.
Videos can be tough to do well, but are a useful tool. The best case is video from a horse show, if possible. I would expect to see a horse at all gaits, both directions, and I would like to see them perform key maneuvers for their discipline. The challenge in this is that videos can be too long. If you cut and paste, people will assume there is a reason. Instead, put together a 5 minute video that touches on the highlights. I personally do not take videos unless there is an issue of distance. Horses almost always look better in person, performing in real time.
When describing your horse focus on its strengths. Be concise and to the point, hitting highlights and also touching on disposition.  Don't be overly wordy; people will ask specific questions when they contact you, and you want them to contact you.
Pricing is probably the toughest part of selling a horse. It's best to do a comparison of other horses offered for sale that have similar qualifications. Some people price high thinking people will offer less, others price low hoping for a quick sale. What I have found is that the price is rarely what makes the sale.  I price my horses at what I believe them to be worth.
There are great avenues for advertising that are reasonable.  Facebook has many groups for horse sales specific to your area. Upload an album on your personal page with photos and description and share with groups and friends. I also always choose one paid online advertising resource, such as the NWHS Equine Marketplace or Dreamhorse.com. Another underused resource, if you do video, is Youtube. Youtube is the second most used search engine, just behind Google. It is a powerful way to advertise your horse.
Showing the horse to potential buyers can be nerve-wracking. I suggest having the horse groomed, saddled and ready when they arrive. I always ride the horse first, putting him through his paces for the buyer to watch, but also to make sure the horse is in a good frame of mind for a new rider. I like to err on the side of caution. When the buyer rides, I encourage riding the horse like they own them and avoid over complicating things. It is important that the horse and rider get along well or the sale will never be a good one. If the buyer seems interested, I invite them to unsaddle, groom and put the horse away to have some personal connection.
This should go without saying but offer full disclosure when selling a horse, whether with regards to training, health or soundness. I have found that there is a right person for every horse; handling things honestly is the best way to find them.
Published in January 2015 Issue
Allison Trimble has a Bachelor of Science in Animal Science from Cal Poly, SLO. After her graduation in 1999, Allison started Coastal Equine and has been training and competing in cowhorse, reining and cutting events. She has had marked success in the show pen boasting many titles and championships.
Willfully Guided is an educational program based on Allison's training process. For more information visit: www.willfullyguided.com
Allison is also a Realtor specializing in horse properties, hobby and commercial farms, and family housing. She combines her experience in the horse industry with her lifelong involvement in real estate to help clients find their perfect property. Learn more at www.coastalrealtywa.com