National TV Show Chooses Butler Hill Equestrian Center in Burlington, WA
by Karen Pickering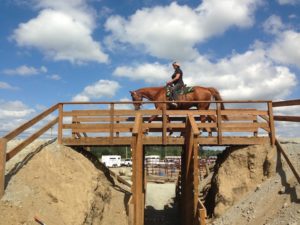 The weekend of August 17th was an exciting occasion for horse people in the Northwest, drawing riders from as far away as Oregon to attend special clinics and trail rides. Butler Hill Equestrian Center had recently added a mountain trail course with input from Mark Bolender. Mark's clinic helped people get their horses through trail obstacles such as an overhead bridge, water obstacles, picking through small boulders, a teeter-totter, and car wash obstacles. This helped prepare them for the highlight of this several day event: two days of trail riding with Tom Seay and his crew from Best of America by Horseback.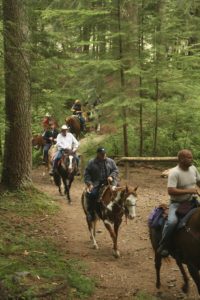 Tom is a warm, humble man with a heart for people. His interviews get to the root of people's feelings about the horse industry; his TV show shares the heart of the people he meets and creates a window into a particular region and what it has to offer. We're looking forward to the TV Show on this great event. It is planned to air sometime in November. Stay tuned for date and time. Tom and his wife Pat are very kind people who enjoy helping others on their journey. The first words out of his mouth when I met him were, "How can I help you?" I was truly inspired by this man's passion to help others.
Besides Mark's clinic, other opportunities to learn over the weekend included a de-spooking clinic held by Bill Richey, founder of National Mounted Police Services. He trains officers and civilians all over the United States. Dusty Whitford, a performance horse trainer, also taught riders how to work a horse around cattle. A true working cowboy, Dusty competes on his homebred horses with the National Cutting Horse Association. Riders were able to attend all the clinics and get a well-rounded weekend of training at Butler Hill.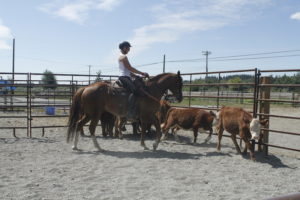 Cindi Plendl, owner/operator of Butler Creek Equestrian Center, is a hard-working woman who does most of the work on her place. She manages this large facility, cleans stalls and pens, works horses and does trail rides throughout the week. She lives just minutes from the Blanchard trail system and even has trails right off her place. She is a marvelous hostess along with her partner, Patrick, who helps out around the place as well.  These two make a great team and ensured the weekend was a success.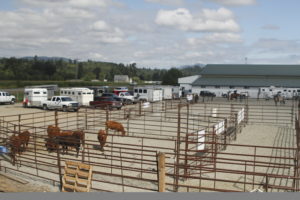 Located just off Hwy 99, this facility can accommodate large groups for clinics. There is both an indoor and outdoor arena, great parking and the brand new addition of a nice mountain trail course. I highly recommend a visit to this facility to meet Cindi and Patrick. It's a well-run, clean facility with lots of amenities for the horse owner; an ideal place for winter or summer activities.
For details about Butler Hill Equestrian Center visit www.butlerhilleq.com*.
To learn more about Best of America by Horseback visit http://www.bestofamericabyhorseback.com/
*This website was no longer active at the time this article was added to the website.  The Butler Hill Equestrian Center link takes you to the Facebook Page.
Published November 2013 Issue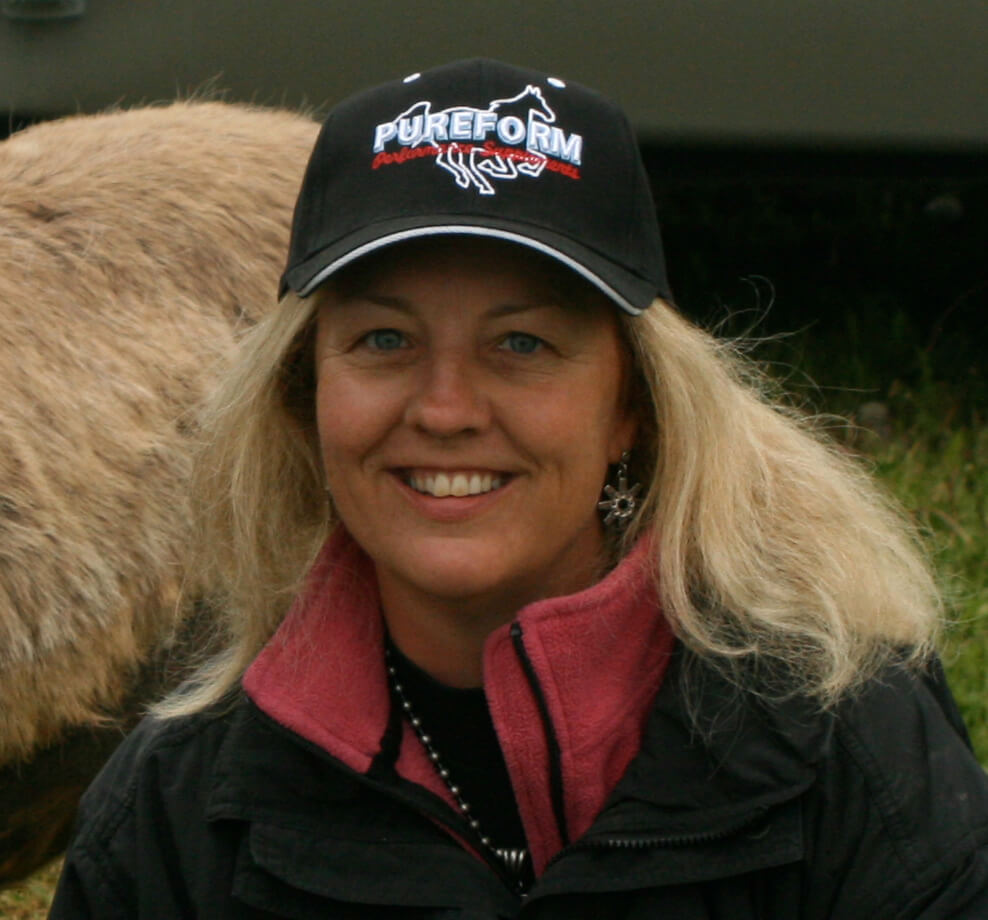 Owner/Publisher Karen's lifelong love of horses began at a very early age when she wore out a couple of rocking horses before convincing her parents to get her the real thing. That ill-tempered bay gelding, Brandy, was a challenge for the young horsewoman, but it drove her ambition to become a horse trainer. After attending Canyonview Equestrian College's Horsemanship Program, Karen realized she needed work that was a little more lucrative than training, so she took a job with Customs Brokerage to pay the bills. There, she discovered an affinity for computers and a talent for creating informative, entertaining newsletters. The Northwest Horse Source began as such a letter in December 1995, with a distribution of 1000 copies for its 12 black and white pages. Since then, it has grown into beautiful, all-gloss magazine with the largest coverage of any free equine publication in the Northwest – a distribution of over 14,000 copies and over 500 locations monthly. Not bad for the results of one woman's dream to work with horses!
Today, Karen remains involved with every aspect of the magazine and treasures the community of thousands who share a common passion. Somewhere in the wee hours of the early mornings and late evenings, she still finds time to care for April, her gorgeous and sweet-tempered Quarter Horse.