Update Your Calendar with Annual BCHW Activities
By Lori Lennox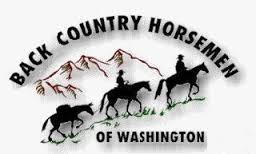 Do you love riding trails on your favorite horse or mule? Did you know that the Back Country Horsemen of Washington is the state's largest and most active organization advocating keeping trails open for equestrians? We not only plan and work with public and private land managers but we also talk about recreation access and funding with elected officials. Plus, we offer educational opportunities such as packing, trail maintenance skills, and Leave-No-Trace principles aimed at equine use.
And we also have fun! Here are three state-sponsored events that may convince you to join us, hopefully as a member or, at the very least, as a guest.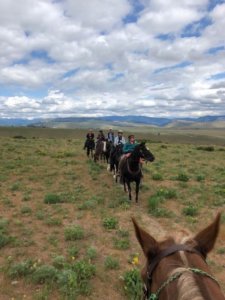 Rendezvous
This is our annual three-day event, held on the 3rd full weekend in March at the Kittitas Valley Event Center (the fairgrounds). This year's dates are March 15–17.
This big get-together (no horses or mules) is open to the public and there is no admission fee. We hold an ever-growing used tack sale, have vendors, auctions, a catered dinner Saturday night (reservations required), entertainment, contests and educational seminars with guest clinicians. This year we are pleased to have Robert "TrailMeister" Eversole and Andy "Trailhead Supply" Breland who will be sharing their tips, hints, stories and advice with us.
See more information at www.bchw.org, including camping and dinner reservation forms.
Joe Watt Canyon Prize Ride
As you begin to plan your upcoming year's favorite riding activities, and perhaps add some new experiences, the Joe Watt Canyon Prize Ride is a favorite! This year's event supports the Methow Valley Chapter's project to help finance the new North Summit Horse Campground just east of the Methow Valley.
Come join us at this popular BCHW State sponsored prize ride located in Kittitas County on WDFW lands on Saturday, May 18, 2019. The prize ride consists of 5 check stations. Riders build a 'poker hand' using a game of skill—tossing washers or throwing darts onto a deck of cards. The ride length averages 2.5-3 hours. Signs and check stations provide reminder aspects of our Leave No Trace program.
This is a true destination opportunity. Come camp for the whole weekend and ride the beautiful rolling hills of the L.T. Murray wildlife area, located just off of I-90 at Thorp, north of Ellensburg. All information and FAQ's are at www.bchw.org
Winery Ride & Halloween Costume/Prize Ride
Come ride the beautiful wine growing area around Zillah, WA on horseback. Visit, sample, and purchase wine from select wineries along the way. This must-do event is October 26th. Most participants come and camp out for the whole weekend, but day riders are of course very welcome.
Riding your favorite horse (or mule) on your choice of one of the two loops offered, you get to visit several of the 10–14 participating wineries, tie up and go inside for tastings. Most tasting fees are waived with a purchase. Purchased bottles are kept at the winery and BCHW couriers will pick them up to take back to camp for you to pick up that night.
Saturday night offers a (pre-purchased) catered dinner and entertainment. Pre-registration for the event, camping and dinner gives you early-bird prices. Information can be found as we get closer to the date at www.bchw.org. While you're on the website, check out the costume photos from past events for your own costume ideas.
Upcoming BCHW Activities and Events
Most of the 32 BCHW Chapters have fun rides other events scheduled throughout the year. Go to www.BCHW.org and click on Upcoming Activities and scroll down for the list.
Upcoming 2019 Board of Directors Meetings—Kittitas Valley Event Center in Ellensburg. All members are welcome to sit in: March at Rendezvous (date TBD), June 15, September 14, December 7th.
February 25 Legislative Day, Washington State Capitol in Olympia
Back Country Horsemen of Washington is dedicated to keeping trails open for all users, educating stock users in Leave-No-Trace practices, and providing volunteer service to resource agencies. To learn more about BCHW go to www.bchw.org Keep up with BCHW and issues and events we are following on our state Facebook page.
Back Country Horsemen of Washington (BCHW), is a 501 (c) (3) organization with 32 chapters across the state dedicated to: keeping trails open for all users; educating horse users in Leave-No-Trace practices; and providing volunteer service to resource agencies.