Feel Good at the End of the Day
by Teri Starke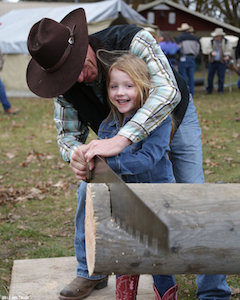 For a little over a year I've been writing this monthly article in The Northwest Horse Source. My goal has been to reach out to all equine owners in Washington State and let them know that Back Country Horsemen of Washington exists, and we are a very worthwhile organization to belong to; we give something back to equine owners and in fact all users of trails in this state.
BCHW has recently developed a membership recruitment committee and appointed a chair, Ken Carmichael, from Ponderosa chapter. He wrote the following inspirational and thought-provoking article.
Membership in Back Country Horsemen
I was recently appointed chairman of a new Back Country Horseman of Washington Membership Development Committee, so please understand that I have an agenda in writing this article. That is my disclaimer.
When I ask people why they join Back Country Horsemen of Washington, the majority say, "I want to find people to ride with and places to ride." That is a great place to start but it doesn't need to be the entire answer. BCHW offers so much more.
Let's take a look at what other opportunities for personal fulfillment can be achieved with a BCHW membership.
The Opportunity for Education – Who among us cannot stand to learn more? BCHW provides opportunities to learn new skills through Leave No Trace, trail maintenance, advocacy, packing, first aid, survival, map reading, Dutch oven cooking, safety, horsemanship, and the list goes on. Join us, learn something new and feel good at the end of the day.
The Opportunity to Help Others – Be an educator, mentor, and friend and feel good at the end of the day.
The Opportunity to be Involved in the Community – Give back to the community through our parks, national forests, etc. Become part of the solution and help support our public lands and feel good at the end of the day.
The Opportunity to Contribute to a Cause – BCHW has a mission of preserving trails, a worthy cause that is easy to get behind and feel good at the end of the day.
The Opportunity to Have New Experiences– Join a ride to a new area or trail and share the wonder of the back country with like-minded people and feel good at the end of the day.
The Opportunity to Use Your Skills in a Productive Way – We all have developed skills that we can contribute to the above activities and feel good at the end of the day.
The Opportunity to Stay Fit – BCHW offers many opportunities to burn off that extra energy without going to a gym. Join a trail maintenance crew and learn to handle a crosscut saw and you will feel good at the end of the day.
And yes, we work to keep trails open for equestrians, which is a pretty good reason to belong to BCHW. Ask yourself this question: If my favorite places to ride are closed to equestrians because of some preventable action, what is the name of the road I will be riding on?
The new committee, mentioned above, is looking for some great people to help with developing membership materials, marketing and training. Would you like to be part of that opportunity?
Contact Teri Starke, BCHW Treasurer • treasurer@bchw.org • 253-709-5052
Originally Published June 2017 Issue
Back Country Horsemen of Washington (BCHW), is a 501 (c) (3) organization with 32 chapters across the state dedicated to: keeping trails open for all users; educating horse users in Leave-No-Trace practices; and providing volunteer service to resource agencies.