Getting the Tools You Need for Pasture Management
by Alayne Blickle, Horses for Clean Water
It's the right time of the year to be thinking of equipment for managing our horse properties. As we conclude this series on basic equipment for a small acreage, we offer some cost-effective suggestions to help you manage manure and pastures as well as discuss alternatives to buying new equipment.
Pasture Equipment
Continuing on from last month, here are some pieces of equipment that can help you to manage your pastures. Equipment needs vary according to the size of your property, the number of horses, the amount of pasture you have and the other types of farm tasks you need to do. 
A small, ground-driven manure spreader is a wonderful implement to have. Use it, pulled by your riding lawn mower (or other 4WD small vehicle), to spread your composted horse manure on pastures in the late spring and early fall. There are many varieties of manure spreaders and you may need to shop around a bit to find the perfect one for your farm. Just be sure it is adapted for horse manure and not cow manure! Cow manure is softer and more "pie" shaped which often makes a difference in how the tines in the spreader are structured. For small operations the ground-driven version is best. Be sure the spreader is a size your pulling vehicle can handle and is appropriate for your particular acreage. Stay away from manure spreaders with wooden sides or bottoms as these can rot out quickly.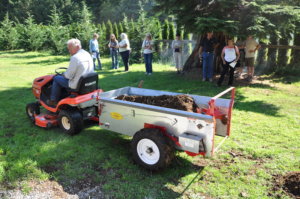 A small utility trailer can come in handy. Get one that can be pulled by your riding lawn mower. Use it to haul hay bales to different locations, water to the back of the property, fencing materials and tools, trees to be planted—even garbage cans to the end of the driveway.
The type of fencing equipment you'll need will depend on the type of fencing and posts you use. If you aren't lucky enough to have access to a tractor with an auger, fencing can be installed with hand tools including a post-hole digger, a tamping rod, a post pounder (for metal t-posts) and a come-along (for stretching wire fencing).
If you don't own a tractor, a pasture harrow, ground driven manure spreader, or utility trailer can be pulled by any small 4WD vehicle.
Alternatives to Buying New
You may not want to spend a lot of money on tools you'll only use a few times a year. Your first option is to buy used. Start by checking out the weekly papers or any regional agricultural newspapers in your area. They usually have farm, horse, equipment and tractor sections. Also, look for equipment auctions held at local livestock auction yards. Talk to your horse friends and neighbors about the equipment you want—they may know of a friend-of-a-friend with farm implements to sell. Or, when driving around an agricultural area simply keep your eyes open for used equipment for sale. 
Renting equipment is another option that can save you the headache of maintenance and storage. Many equipment rental facilities have all sorts of farm implements for rent. Or, borrow from friends and neighbors. You may be able to trade something you have—firewood, labor, etc— for the use of something you need. Another option is cooperative purchases. This could be between horsey neighbors or perhaps within a horse club or organization. Issues like maintenance, storage, transport and liability should be worked out and agreed upon beforehand. Examples of cooperative purchases could be a manure spreader or fencing equipment.
When all else fails, consider hiring someone to do the work for you. When you add up how much it costs to purchase, maintain and store equipment it might be more cost-effective. A farmer or other experienced person who has the proper equipment and expertise can do the work well and get it done quickly.
If you start out with a selection of the equipment covered in this article you will be well on your way to good manure and pasture management techniques for your horse property. 
Visit Alayne Blickle this summer at her horse motel and guest ranch, Sweet Pepper Ranch in Nampa, Idaho. www.SweetPepperRanch.com.
Published May 2012 Issue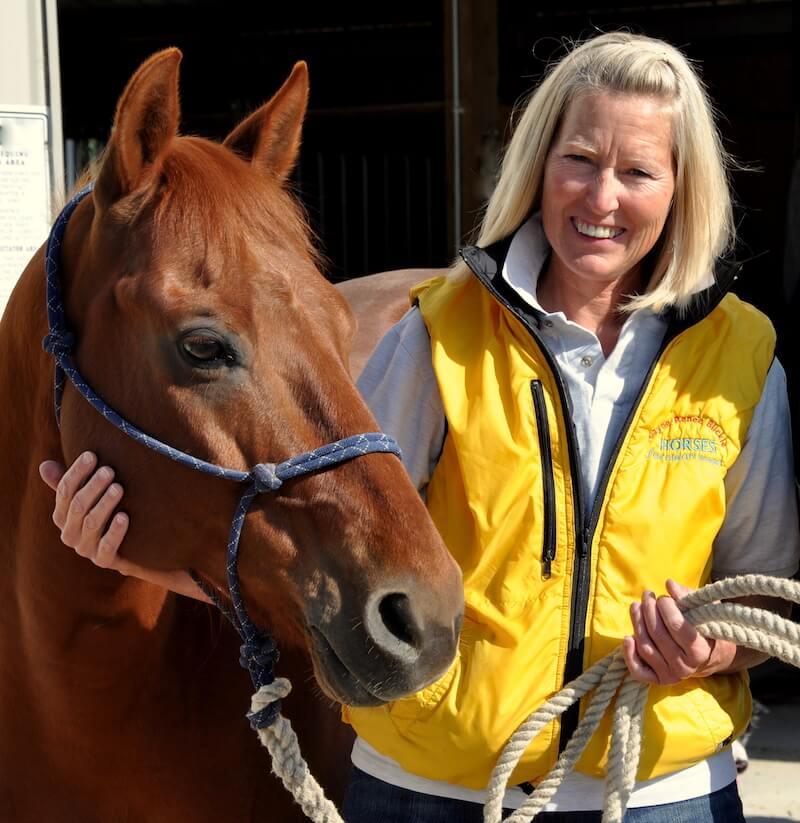 Alayne Blickle, a life-long equestrian and educator, is the creator/director of Horses for Clean Water, an award-winning, nationally acclaimed environmental education program that "wrote the book" on caring for horses and land. Known for her enthusiastic, fun and down-to-earth approach, she is an educator and photojournalist who has worked with horses and livestock owners for over 20 years. Alayne teaches and travels throughout North America and abroad, and also runs Sweet Pepper Ranch, an eco-sensitive guest ranch and horse motel in Southwestern Idaho where she and her husband raise top-notch reining horses and beautiful grass hay. For more information contact Alayne at alayne@horsesforcleanwater.com or 206-909-0225.