Wheel barrows, Manure Forks, and More
by Alayne Blickle, Horses for Clean Water
If you're new or relatively new to owning horse property, you may feel a little overwhelmed by the thought of acquiring all the equipment you'll need to manage manure and pastures. Relax! You can actually do all of these things without going overboard on expensive equipment. In this article we'll go over some basic, realistic equipment considerations for a small acreage. In Part 1 we cover manure management equipment and will start on pasture equipment. We'll finish pasture management equipment in Part 2 and cover alternatives to buying new.
Manure Management Equipment
Let's start off with managing the back end of the horse first: manure management equipment. This is usually as basic as a good wheelbarrow and manure fork. That may sound simple, but there is actually a bit of an art to the selection of an effective wheelbarrow and manure fork.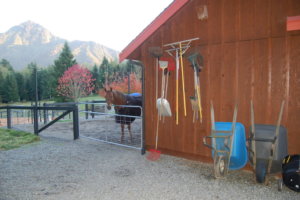 When choosing a wheelbarrow, look for one that will be easy to dump (especially important if you have back problems); this usually means–depending on how tall you are–a long handle so you don't have to bend over as far. Consider the size; an extra big wheelbarrow will clean several stalls and paddocks before it gets full, but it may get very, very heavy in the process. Or you may prefer a smaller sized one that is easier to dump, especially if your compost bins are close by and easy to dump into. Next, look at ease of maneuverability, an important consideration if there's a lip or board in front of the stall or any tight spots. If you need to lift versus dump into your compost pile you may want to consider something lightweight and not too big, such as a manure bucket with a cart. There are several different designs around for these. 
Find a heavy-duty manure fork with plastic tines with a bent edge meant specifically for cleaning horse stalls. It is next to impossible to clean a stall with a straight-tined metal pitchfork or tool designed for other purposes. There are many designs on manure forks, with or without baskets (baskets help with "sifting" through bedding to remove manure and leave bedding behind) and even some handles that are ergonomically correct. Also, look for a wooden handle. It is a lot easier–and less cold–to grip than a metal one. 
Pasture Equipment
Next there are some pieces of equipment that will help you manage your pastures. Keep in mind that the equipment you need will vary according to the size of your place and number of horses. 
Harrows are used for spreading manure piles in pastures. Spreading helps break up manure so plants can utilize the nutrients. If you have an arena, harrows can also be used to smooth arena surfaces. A wide variety of harrows can be purchased from farm and tractor supply stores. A basic harrow can even be made with a piece of chain-link fence fastened between two boards. Or get really creative by using an old metal bedspring or metal gate. For any of these homemade options you may need some extra weight–two old tires tied down will work well.
Mowing several times a year is an important part of good pasture management and will promote the growth of the grass you want and will rid pastures of the weeds you don't. If you only have a couple acres of pasture (about two acres or less) you may be able to get by with a regular lawn mower on foot. You'll obviously want a mulching mower since you don't want to collect all those grass clippings. Be sure to set your mower as high as it will go.
If you have more than a couple of acres, a riding lawn mower (or garden tractor) can be a great piece of equipment to have. They are much more maneuverable than a large tractor and if you get one that is 16 to 18 horse power you can use it to pull other farm equipment like a harrow or a ground-driven manure spreader. Look for a sturdy riding mower with a mulching mower deck that can be adjusted to six inches high.
Ideally, fence your pastures into smaller portions using temporary fencing (electric tape works best) and use your horses as lawn mowers to intensively graze the first portion. Once horses have grazed the grass down to about three inches, move them on to the next section. Then mow and harrow the area the horses just grazed.
Join us next month to learn more on basic equipment requirements for pasture management, as well as more on alternatives to buying new equipment. 
Join Alayne Blickle and Horses for Clean Water around the Pacific Northwest at these events:
GRANTS PASS, OR
Saturday, April 14, 10am to 3pm
WORKSHOP: Pasture and Sacrifice Area Management for Horse Properties: Master Mud, Weeds, Chore-efficiency and Horse Health! Contact the Josephine Soil and Water Conservation District at 541-474-6840 or joswcd@outreachinternet.com.
BOISE, ID
Tuesday, April 17, 7-8:30 pm
Idaho Botanical Garden
PRESENTATION: Horse Pasture Management, Growing Great Grass! Contact the IBG at 208-343-8649 or www.idahobotanicalgarden.org
Published April 2012 Issue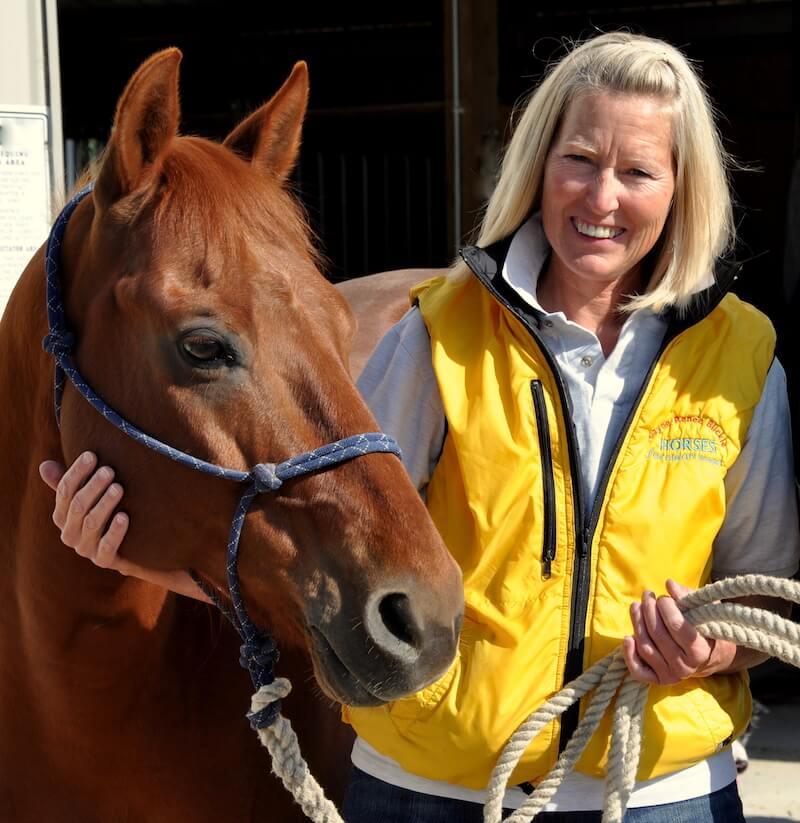 Alayne Blickle, a life-long equestrian and educator, is the creator/director of Horses for Clean Water, an award-winning, nationally acclaimed environmental education program that "wrote the book" on caring for horses and land. Known for her enthusiastic, fun and down-to-earth approach, she is an educator and photojournalist who has worked with horses and livestock owners for over 20 years. Alayne teaches and travels throughout North America and abroad, and also runs Sweet Pepper Ranch, an eco-sensitive guest ranch and horse motel in Southwestern Idaho where she and her husband raise top-notch reining horses and beautiful grass hay. For more information contact Alayne at alayne@horsesforcleanwater.com or 206-909-0225.