Barn Pros: Just What the Doctor Ordered
by Catherine Madera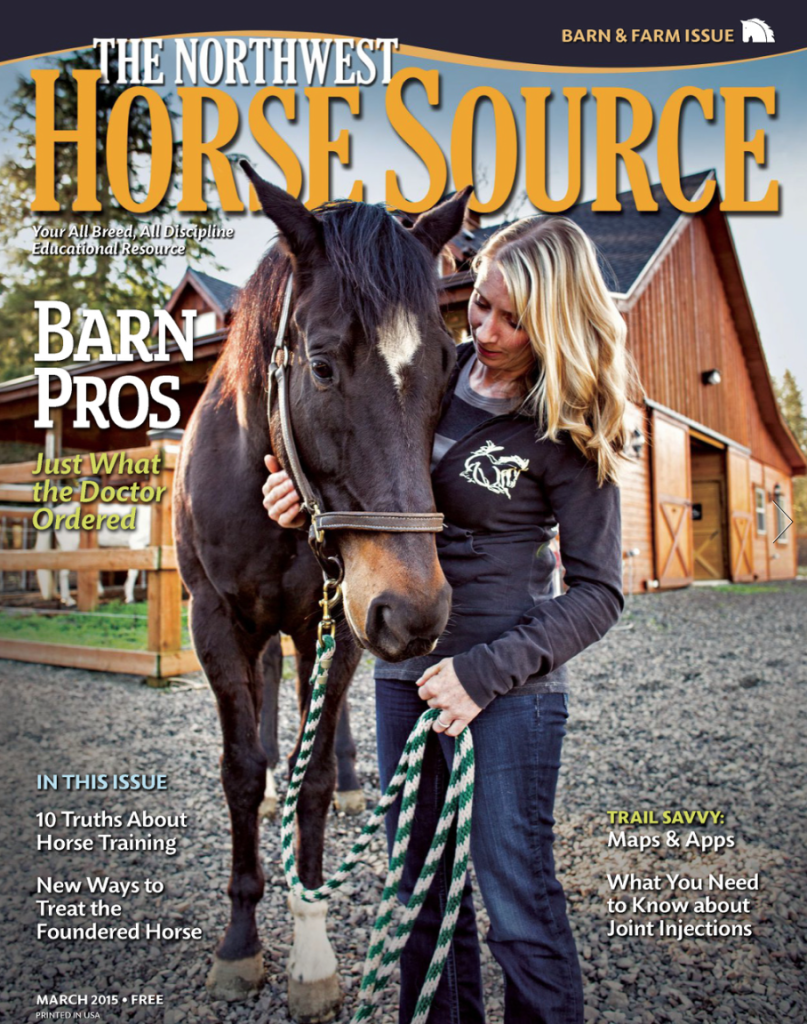 Dr. Stephanie Meyer of Pilchuck Veterinary Hospital knows how changes in lifestyle and approach can dramatically affect quality of life. While completing her residency in large animal internal medicine at the University of Florida, one of Meyer's personal riding horses developed anhidrosis. Also known as "dry coat syndrome," affected horses are unable to sweat. Meyer treated—and cured—the horse using a blend of alternative therapies that included Chinese herbal medicine and acupuncture. This success lead her on a path to certification in these modalities, something she now offers at Pilchuck as a complement to traditional equine veterinary care.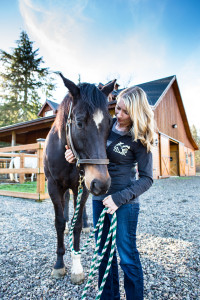 "It was a complete lifestyle change for me," says Meyer of her shift in focus.
When she decided to build a barn and care for two horses at home, it was also a total lifestyle change for this Snohomish area veterinarian. A lifelong horse lover, Meyer had spent most of her life doing whatever she could to be around other people's horses, from riding her 4H leader's ponies to exercising racing Standardbreds in New Zealand as a young woman.
"I was never not around horses," says Meyer. "It isn't something you grow out of."
Having a small farm, including a barn to house horses, was a dream that for many years did not come to fruition. Vet school, an internship and various moves around the country meant the only option for Meyer when she was finally able to buy her own horse was boarding situations. This equine lifestyle did not appeal to her long term.
"I didn't see my horses nearly enough," says Meyer, remembering a schedule of "rushing around." Not only that, board for two horses was extremely expensive and she dreamed of the day she could care for, and enjoy, her animals at home.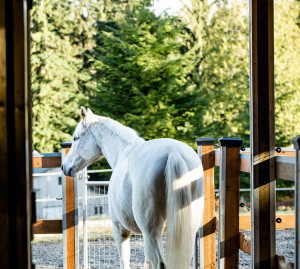 In 2011, Meyer and her husband bought a house and seven acres. After clearing the land, they began the journey of building a barn to house her Thoroughbred geldings Raleigh and Luke. Meyers looked into various contractors, compared prices and options and eventually chose Barn Pros, the premier manufacturer of pre-fabricated barn kits located in Monroe, WA.
"I had seen the barns online and thought they were beautiful," says Meyer. However, while beauty and curb appeal were important, ultimately a Barn Pros structure was chosen for more practical reasons that included quality, safety, cost and convenience.
"The kit comes with everything, right down to the hardware and stall mats. That was a big plus," says Meyer who also worked with Barn Pros to choose a contractor in her area. Throughout the process, she found a company intensely interested in her satisfaction and was impressed with the many ways to customize a structure, along with the willingness of Barn Pros to listen to her thoughts and remain open to suggestions every step of the way.
"The communication was great; they were extremely flexible and generous."
Safety and Comfort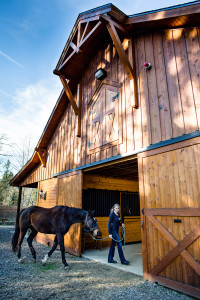 Most equestrians and trainers know that horses naturally value safety and comfort. Ironically, as a large, panic prone creature they are also infamous for getting into all sorts of predicaments, many of which could be prevented with simple changes, additions and/or attention to detail.
"Horse proofing (a barn) is important to me," says Meyer. "As a vet, I see the disasters that happen because of things you don't think about. I go into many barns and find accidents waiting to happen."
Since 1987, Barn Pros has stayed busy identifying and researching the many details involved in sound, and safe, barn construction—those "things you don't think about." They have become known for unprecedented excellence in the industry. All pre-fabricated barn kits are put together with safety as a priority. This includes extra large doorways and aisles, non-protruding hardware, tongue and groove lumber and lighting fixtures with flexible lenses (that do not release shards of glass in case of breakage). It's this kind of attention to detail that impresses clients like Stephanie Meyer. With Barn Pros, you can trust your barn kit contains high quality US made products that make life with horses safer and more enjoyable.
"We start from the outside in and have great egress options," says VP of business development Justin Harries, himself a longtime horse owner who has lived with many types of barn structures. And because barns are used for all sorts of things besides horses, the kits are engineered with nearly unlimited options to customize door placement and loft options, among other things. From a simple structure to a luxury barn or barn/apartment combination ("barndominium") , Barn Pros offers countless variations of style and options.
New and Improved
Never one to settle for ordinary, Barn Pros has exciting new offerings in 2015. These include beautiful stone wrap siding options for structures, partial or full. In addition, the popular Denali apartment barns are undergoing a structural redesign to include new floor plans. In April, the company website is also getting an overhaul to make planning and shopping for your dream barn even easier.
"We're not just a pre-engineered barn company," says Harries, "we understand that this is a process."
Like building a life, building a barn is a process of creating space that allows for positive shifts in lifestyle.
And while the lifestyle of Dr. Stephanie Meyer is still busy, these days there's opportunity to relax with her Olympic series barn from Barn Pros, a therapeutic space she happily starts and ends her day with, in the company of horses.
Says Meyer, "It's been a lifelong dream, and it's finally happened."
Learn more about how Barn Pros can help you create the lifestyle of your dreams with a new barn, shop or barn/apartment combo. In addition, Barn Pros remains the sole Northwest barn company that offers renovation packages for existing structures.  Visit barnpros.com or call 866-844-2276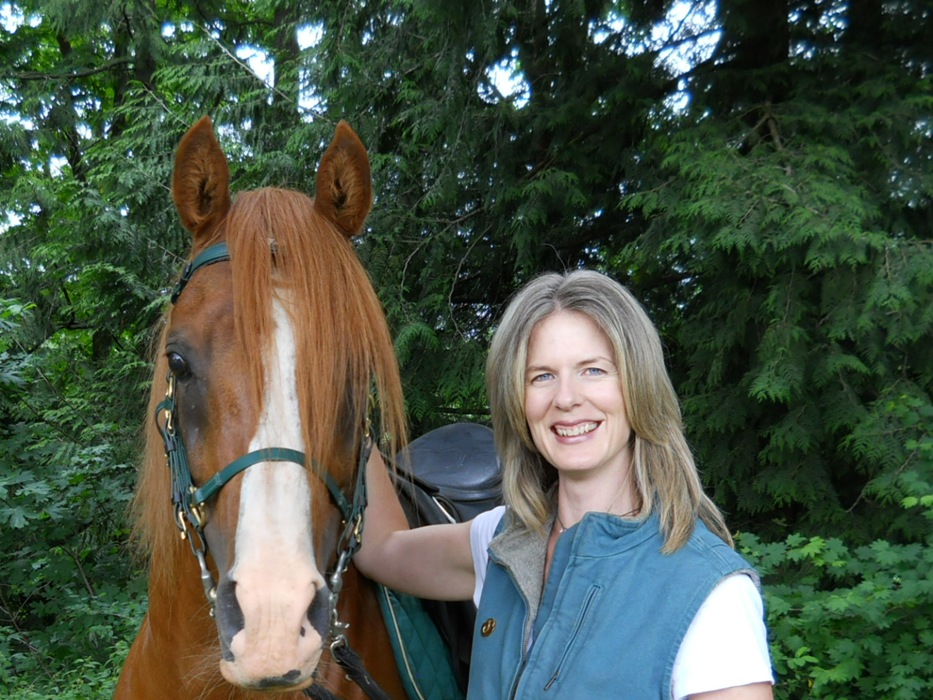 Catherine Madera served as editor of the Northwest Horse Source for five years. She has written for numerous regional and national publications and is a contributing writer for Guideposts Magazine and the author of four equine-related books. She has two grown children and lives with her husband and three horses in Northwest Washington.