Enter today for a chance to win an EquestriSafe Double Sleeve ID Collar! — a retail value of $24.95!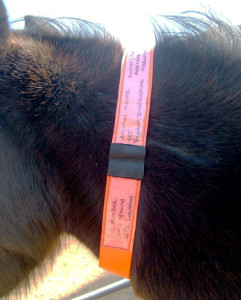 Just sign up for our E-newsletter and you'll be entered for a chance to win. AND as long as you are active on our email subscriber list you will automatically be entered in all future drawings and contests! Hurry! Drawing ends March 31st 2016.
Interested in having your product featured by sponsoring a drawing? Check out our "Sponsor our Monthly Subscriber Drawing" page for more info.
By entering our drawings, contests and giveaways, you certify you have read and agree to all terms, conditions, rules and regulations.
Click HERE to read more about EquestriSafe's amazing line of safety and ID products, as well as their customer's glowing testimonials.
---
About the Prize and Sponsor – EquestriSafe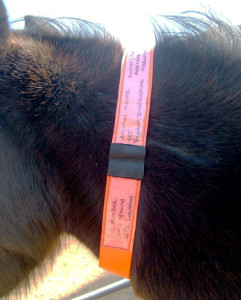 EquestriSafe Double Sleeve ID Collar
This collar was primarily designed with campers and hunters in mind, however no barding facility, large equestrian facility, veterinary hospital, mare recipient or plasma farm should be without hanging in the barn. These collars have approx. 100-150 pound breakaway with double closure hook/loop system; they also are adjustable from 2-3″ increase/decrease. The bright orange collar makes easy identification for a quicker, easy to read method of identifying your horse from others and has a 4″ and 9″ plastic pocket for all your important contact information so you may be contacted quickly should your horse get lost in a crisis situation.
Use the smaller pocket for your GPS location when hunting/camping, mare & foal ID numbers, Horses' passport/file number, etc., the uses are almost limitless.
This item should be a MUST HAVE in emergency and/or evacuation situations, or at least hanging in your own trailer or barn for the inevitable "just in case" moment.
Features:
2 -Plastic sleeves
Easy to apply
Durable
Non-abrasive
Highly visible
Advantages:
Secure information
Safe
Reusable
No-irritation
Versatile
Benefits:
Water resistant
Quick release
Variety of uses
No hair loss
Various sizes available
Sizes:
Small: 27″ – mini's, pony, small Arabians or other small breeds
Standard: 33″ – Most all standard breeds
XL/DRAFT: 42″ – Most all Draft breeds, other large breeds, draft X
Other uses:
Camping, hunting, transporting/traveling, veterinary hospitals, mare recipient farms, plasma farms, evacuations/emergencies etc.
Additional Info:
Thickness of 0.07 to 0.075 of an inch
Melting point of 380 degree Fahrenheit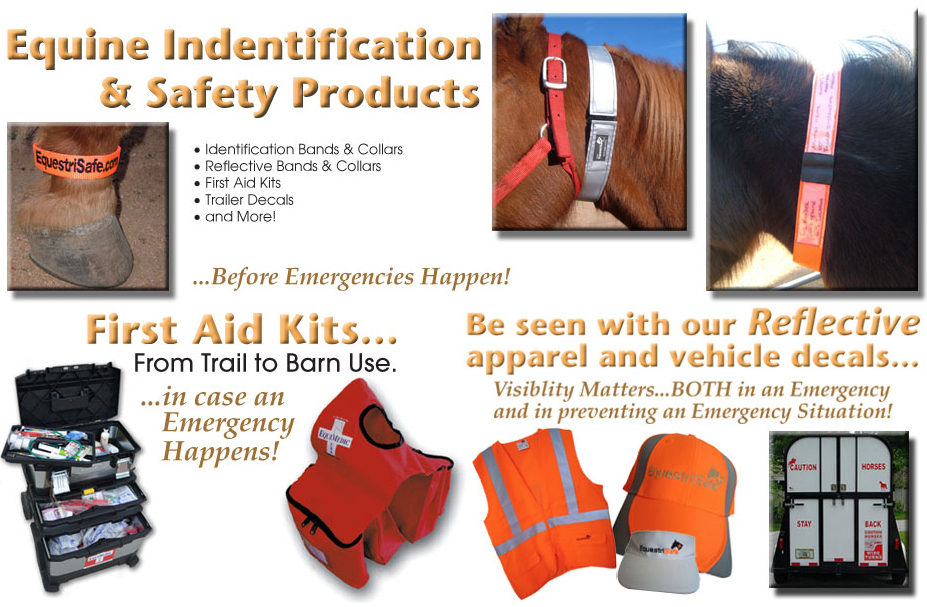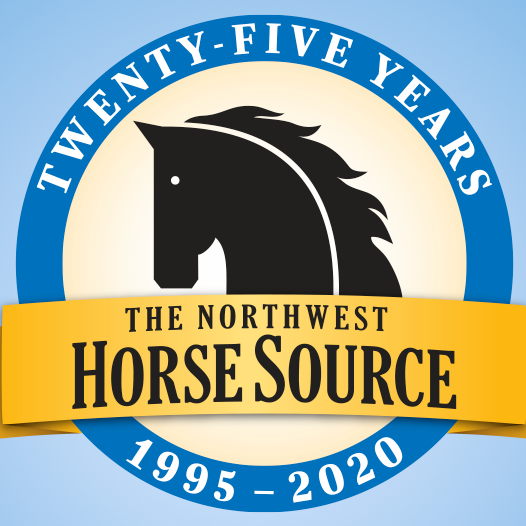 The Northwest Horse Source is an independently owned and operated print and online magazine for horse owners and enthusiasts of all breeds and disciplines in the Pacific Northwest. Our contemporary editorial columns are predominantly written by experts in the region, covering the care, training, keeping and enjoyment of horses, with an eye to the specific concerns in our region.