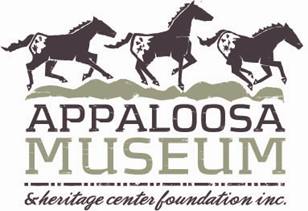 Submission Rules
Each participant may submit 4 images.
All media accepted.
Appaloosa(s) of any age/marking prominently featured.
All art submitted will be displayed at the Museum through the month of April.
All submissions become the property of the Appaloosa Museum.
Submit art via email to museum@appaloosa.com or hard copy to Appaloosa Museum attn: Art Contest, 2720 W Pullman Rd, Moscow, ID 83843
Voting Rules
Votes may be cast by any visitor to the Appaloosa Museum (members and non-members), Museum Staff, Museum Board of Directors and Appaloosa Horse Club Staff.
Only one vote per image.
Contest Timeline
Status: Now Accepting Submissions
Submissions Begin: Immediately
Submissions End / Voting Begins: Wednesday, March 16th, 2016 – 4PM
Voting Ends: Saturday, March 26th, 2016 – 4PM
Contest Prizes
The winner of the contest will be featured on Museum merchandise including, but not limited to t-shirts and mugs. The contest winner will receive one of each item produced using the chosen artwork.
About Us
The Appaloosa Museum is located in the heart of Palouse Country – home of the Appaloosa breed. We're a non-profit organization established in 1975 to collect, preserve, study, and exhibit objects and information that illustrate the history of the Appaloosa horse and its region of origin. We hope you enjoy our website and plan to visit.
Appaloosa Museum:
2720 W Pullman Rd.
Moscow, Idaho 83843
Phone: 208-882-5578
Find us on the border between Idaho and Washington state, on West Pullman Road, otherwise known as Highway 8, in Moscow, Idaho. We're right next to the Applebee's Neighborhood Grill.
Admission Price:
The museum is free and open to all.
A donation of $3 per adult, $1 per child or $5 per family is appreciated.
Hours:
We're open Monday through Thursday 11 a.m. to 4:00 p.m., Fridays 10:30 a.m. to 4 p.m. and Saturday 10 a.m. to 4 p.m.
The Museum is also open by appointment. Call: 208.882.5578 ext. 279  (Please allow 4 days notice to accommodate this request.)
** Closed major holidays.
Website: AppaloosaMuseum.org
Find Us on Facebook: facebook.com/AppaloosaMuseum