Seven Activities Your Reining or Cutting Horse will Love
by Allison Trimble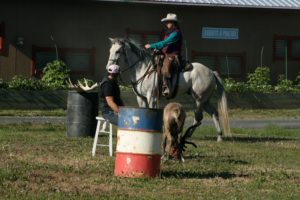 Some disciplines such as working cow horse, reining and cutting quickly become cost prohibitive even if they are tremendously fun recreational activities. Besides the significant financial investment (including a suitable, athletic animal) they all require high skill and serious commitment. Many people participate for a period of time and then "regular life" interferes with the single-minded focus these sports require. However, these same people still have the  horse, the equipment, the skill set and the drive to compete or connect with their horse. As a professional, I am a perfect example of this scenario.  Fortunately, there are other western horse sports that often appeal to the same demographic and are very fulfilling. These are a few I have participated in and enjoyed:
Ranch Sorting/Team Sorting: This was the first sport that I dabbled in as I slowed from horse show competition. In sorting, there is a two or three person team that attempts to sort cattle from one round pen to another, chronologically. This is a fun sport where these particular types of horses and riders excel and keeps the cattle element for those hooked on cattle sports. It requires less conditioning, and can be picked up, or put down as finances and time allow.
Competitive or Mountain Trail: There has been a recent rise in interest for obstacle courses and training. The competitive side of this combines time and judging elements. I personally enjoy the challenge of working through obstacles with my horse, and believe that it adds to the connection between horse and rider. The western discipline/sport horse and rider has many of the skills needed to train or compete in these events, such as handle and body control. More sensitive horses will benefit from learning to master obstacle work. Competitive trail also requires less conditioning and can be practiced at a reasonable expense. It also helps build a horse that can be ridden out on a natural  trail for recreation.
Mounted Shooting: This high speed, western sport makes the rider feel like a gunslinger in the old west. I got my first taste of it at the NW Horse Expo in Lynden, WA and I can see why so many people enjoy it. There are some high expenses of getting the equipment and horses needed and riders need to be properly trained to handle the gunshot. This is a sport that can be approached at the horse and rider's comfort zone while being competitive.
Extreme Cowboy Races: Made popular by Craig Cameron, this is a competition that takes place in an arena, where the contestants complete obstacles at speed. There is a real element of excitement to this sport and the performance horse and rider would add to the quality of the competition.  The Great Alaska Horse Expo had a race that was similar—what fun to watch and compete in it!
Western Dressage: In recent years classical dressage has grown a branch known as western dressage.  Competitors ride in a western saddle and attire and perform more traditional dressage maneuvers. This is a sport I see many non-cattle people enjoying. It combines the body control and performance of reining in a different presentation with less impact on the horse's joints and body. The Northwest boasts one of the larger western dressage followings.
Team Roping/Break Away Roping: This was where I have found the most fun and challenge, personally. As a working cow horse competitor, I began with an interest in competing in the 4-event challenges which included steer stopping.  It didn't take long before I was dabbling in team roping. This is a sport that you can enjoy on a local level. It combines the cow element with the challenge of handling the rope and is fun for both horse and rider. You can progress at your own pace and there are all types of competition to move up to.
Barrel Racing: Performance horses are athletes and seem to excel in explosion and speed sports. Barrel racing combines those skills in a timed event. This requires horses to be fit, but can be managed financially and has many associations and levels for competitors. 
The most important thing is to find an activity to enjoy with your horse. Most of us are looking to both have fun and be challenged. Any of these sports, or a combination of them, can accomplish this goal. Enjoy your horse!
Published May 2014 Issue
Allison Trimble has a Bachelor of Science in Animal Science from Cal Poly, SLO. After her graduation in 1999, Allison started Coastal Equine and has been training and competing in cowhorse, reining and cutting events. She has had marked success in the show pen boasting many titles and championships.
Willfully Guided is an educational program based on Allison's training process. For more information visit: www.willfullyguided.com
Allison is also a Realtor specializing in horse properties, hobby and commercial farms, and family housing. She combines her experience in the horse industry with her lifelong involvement in real estate to help clients find their perfect property. Learn more at www.coastalrealtywa.com