Northwest Equine Stewardship Center
by Jennifer Warmke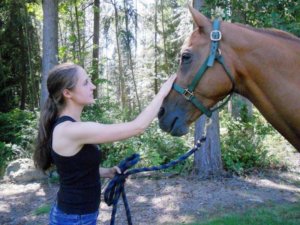 When Dusty was rescued from severe neglect and abuse, she went to a local equine rescue organization. Dusty's needs, however, were more than what the facility could handle. Realizing that she was in need of professional level care in order for her to survive, the rescue organization made arrangements to take Dusty to Northwest Equine Stewardship Center (NWESC) in Monroe, WA where she could receive the extra care she needed prior to finding her forever home. This scenario has been repeated hundreds of times since NWESC was founded in 2008 by Dr. Hannah Mueller and Daphne Jones.
While equine rescue organizations play a vital role in helping horses, the founders of NWESC recognized a need for professional level stewardship—"the careful and responsible management of something."  Intense rehabilitative care, such as Dusty required, is expensive. Funding is often the biggest factor determining if a rescue organization can take in new horses. This is where NWESC comes in. By helping to defer the expenses involved in professional care—veterinary, hoof, and re-feeding/nutritional care—the center has become a leader in the Northwest for specialized horse rescue and rehabilitation.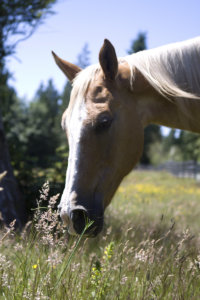 Dr. Hannah has been involved in various rescue efforts since college. Because of her love and passion for horses and helping animals in need, she began working to link small animal vet students with the Oregon Humane Society while still in school. Out of that proposal came an excellent program and learning opportunity for students. Dr. Hannah realized, however, that equine rescue is logistically quite different than small animal rescue. There was no similar program available to link equine veterinary students with needy equines for hands-on experience. 
After she graduated from veterinary school, Dr. Hannah began her career as an equine vet. It was a natural progression for her to get acquainted with local horse rescue groups in Washington and soon she started to work with them by discounting and donating veterinary care. When she met Daphne Jones, a barefoot trimmer and trainer, they forged a partnership and began working together on rescue cases. It was then that they realized that the need for professional-level services was larger than what the two of them could provide and NWESC was formed.
Unlike most equine rescue organizations, NWESC is not intended to be a long-term care facility for horses. Instead, NWESC provides a central location at a veterinary facility (Cedarbrook Veterinary Care) to focus on the rehabilitation of rescue horses and the education of the horse community to help prevent equine neglect and abuse. The center consists of a team of dedicated professionals (veterinarians, hoof care providers, massage therapists, and trainers) who volunteer their time and expertise. This allows equine rescue organizations to focus on the long-term responsibility and ultimate placement of the horses.
"We have licensed veterinarians, professional farriers and certified body workers that volunteer on a regular basis to help these horses," says Dr. Hannah. "Most local rescues would not have access to, or the funding for, this level and kind of assistance. This is what we provide here for them – all in one location."
NWESC recognizes that fostering and adopting out horses is a critical task and they rely upon equine rescues to take on the long-term care and placement of these animals. By partnering in this way, more horses can be helped—a win-win situation for all involved.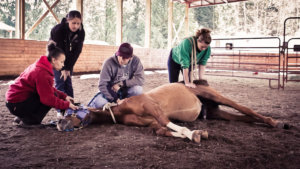 While rehabilitating abused and neglected horses is NWESC's primary focus, this unique non-profit organization goes above and beyond by providing numerous opportunities to foster equine stewardship through education that is available to the public. The first provides a monthly educational series focusing on horses (topics range from land management to holistic horse-keeping) and holds two annual fundraisers – a Silent Auction for the Silent Horses and a holiday bazaar. The second program provides hands-on learning opportunities for veterinary and vet tech/assistant students. Based on the need Dr. Hannah discovered during veterinary school for students to obtain hands-on equine experience, she created a program that is directly linked to the center's rehabilitative program incorporating veterinary and vet tech students with veterinary supervision provided by a licensed veterinarian. The program enables students to gain valuable experience with horses that are in need of specialized care.
NWESC also offers equine facilitated learning. It is widely recognized that horses have a special gift as healers and rescue horses often come with inspiring stories of overcoming. This therapy program provides personal growth opportunities and nurtures the human-animal bond using non-rideable horses.
Dr. Hannah Mueller (formerly Evergreen) is a 2004 graduate from OSU, College of Veterinary Medicine with a focus in equine dentistry and sports medicine/lameness. She is also certified in veterinary acupuncture and chiropractic. She runs both her holistic equine veterinary practice, Cedarbrook Veterinary Care (www.cedarbrookvet.com) and her non-profit, Northwest Equine Stewardship Center (www.nwesc.org) out of her state-of-the-art equine facility in Snohomish, WA. For more information visit the websites.
Jennifer Warmke is a Certified Hoof Care Specialist and has worked in disaster and emergency management for over a decade in two states.  She is an avid trail rider with a focus on dressage and horsemanship and currently resides in the Pacific Northwest.  For more information visit her website at www.HolisticHoof.com.*
*This link was no longer active at the time this article was added to the website in 2018.
Published October 2012 Issue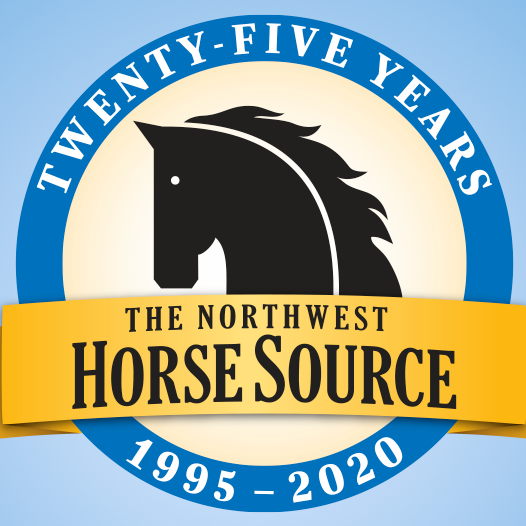 The Northwest Horse Source is an independently owned and operated print and online magazine for horse owners and enthusiasts of all breeds and disciplines in the Pacific Northwest. Our contemporary editorial columns are predominantly written by experts in the region, covering the care, training, keeping and enjoyment of horses, with an eye to the specific concerns in our region.