Q:
I understand you do dressage but I'm hoping you may be able to help. I recently got a horse from the stable I had been working at and getting lessons on for about one year. Lately I've noticed, particularly when he hasn't been worked in a while, that he grinds his teeth. Now I don't do dressage with him, I jump him. He's been jumping for about eight years going on nine. He only grinds, as I said when he hasn't been worked, and when I start jumping him and he gets a little worked up. When he's worked consistently I don't notice him doing that. Is it something I should be concerned about and how can I get it to stop?
-Josie
---
A:
Josie,
Thanks for your question regarding the grinding of your geldings teeth, and some general anxiety, especially when he hasn't been regularly exercised. Here's a couple of thoughts that immediately pass through my mind:
1)      Have you had a good dentistry session with him lately? Not just a floating of his teeth, but a full work-up. Often a little pain goes a long way to causing anxiety and tension throughout the entire body.
2)      What is your warm-up and ground work lesson plan? I find that all of my saddle time is much more pleasant if I do some mindful stretch, relax, and strengthening exercises before I get on. Kind of setting the stage for the work we are about to accomplish. A good resource for a variety of ground work, and work-in-hand exercises can be found on my website, in both articles and Tip for the Ride videos. www.tnthorsemanship.com
3)      If tension persists, take a look at finding the underlying cause, not just looking at the symptoms. Ask yourself: What is different about the days when he grinds his teeth? Am I in a greater hurry to get to the "work" part of my lesson plan? What's my anxiety level, and does it rise along with his?
4)      Then, come up with possible solutions! Be tough on yourself for a bit to make sure you are going through your Horseman's Protocol in EACH transition. (i.e. Breathe, Think, Picture, Allow, Reward) Be mindful about the importance of relaxation and suppling in order to achieve the strength you and your horse will need for accomplishing jumping. Here's a good formula:
Relaxation + Flexing = A Supple horse;
Supple + Lateral movements = Strength;
Strength + Supple = Lightness
5)      Relaxation is often the key to the mind…the key to unlock and let go of anxiety. Look for exercises both on the ground and in the saddle that first relax your horse, get to his mind, and down to his feet! (Review: Article and video on: Suppling Positions)
Good luck and I look forward to hearing from your horse about he is doing.
Alice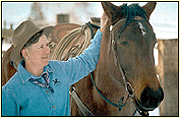 Alice was born on a ranch in eastern Oregon, the only daughter in a family of five brothers. She learned to ride behind the back of the saddle holding on to her brother's belt loops. In the past 15 years Alice has studied with horsemen such as Tom Dorrance, Ray Hun, Dennis Reis, and Bettina Drummon. Her focus is on building a balanced relationship, applying Classical Dressage and Traditional Vaquero principles, via multi-day horsemanship retreats at her ranch in eastern OR.