Boasting unobstructed views of Mount Baker and the Twin Sisters, the timeless cedar shingle home offers ample natural light and tasteful wood finishes. Thoughtfully planned, the barn is just steps away with 5 large stalls with automatic waterers, runs, and tack room. 17'X46′ attached, heated storage area. 20′ X 48′ equipment shed with sliding doors. 8'X12′ shavings bunker. Seven large pastures featuring 4 run-in stalls. 62'X192′ indoor arena with raised viewing platform, mirrors, sound system and custom footing. Full court outdoor dressage arena with judge's booth. 60′ all weather roundpen, compost slab, 16'X20′ garden shed, 12'X16′ greenhouse and fenced garden area.
3 bedrooms | 2.5 bathrooms | 2,661 sq ft | 11.09 acres
$1,200,000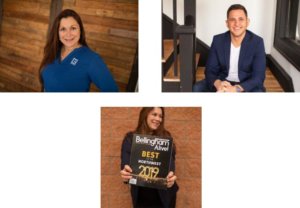 allisontrimblerealestate@gmail.com
360-961-5537
www.allisontrimble.com
Coastal Realty on Facebook
Allison Trimble has a Bachelor of Science in Animal Science from Cal Poly, SLO. After her graduation in 1999, Allison started Coastal Equine and has been training and competing in cowhorse, reining and cutting events. She has had marked success in the show pen boasting many titles and championships.
Willfully Guided is an educational program based on Allison's training process. For more information visit: www.willfullyguided.com
Allison is also a Realtor specializing in horse properties, hobby and commercial farms, and family housing. She combines her experience in the horse industry with her lifelong involvement in real estate to help clients find their perfect property. Learn more at www.coastalrealtywa.com