WSQHA Emerald Queen Payton Anderson Promotes Community During Coat Drive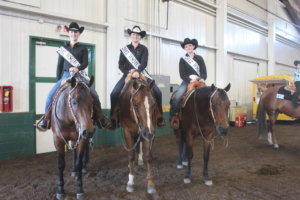 Payton Anderson, age 16, is currently serving a one year term as Emerald Queen for the Washington State Quarter Horse Association. As Queen, Payton worked diligently with WSQHA to organize a state wide winter-wear (coat, hat, and glove) drive to benefit our club. It provides an opportunity for youth to help youth, as well as promoting community involvement. Payton not only came to deliver the warm weather items, she also spent time speaking with our members about her role as well as answering several questions. Thank you Payton for your time and generous donation to our club this winter. You are a great example for our members! For more information about the Emerald Queen and court, or to learn about WSQHA, visit them at wsqha.com and on Facebook.
Published March 2013 Issue
WSQHA is the AQHA affilate group for Washington State. WSQHA is committed to encouraging the growth and development of the American Quarter Horse through showing, trail rides, community outreach and much more!