Dreams Come True for Youth Ambassador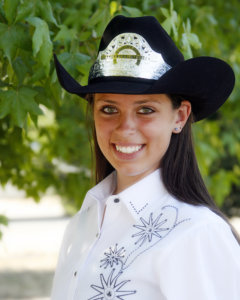 The Washington State Quarter Horse Association is pleased to announce that Lisa Collins a 17-year-old senior at Selah High School in Selah, WA has been named WSQHA Emerald Queen. A presentation and crowning took place during the evening festivities prior to the Emerald Master's Futurity event at the Monroe, WA. Fairgrounds on September 9.
Lisa has been riding and showing Quarter Horses since the age of 5. A lifelong dream was fulfilled this year when she and her 6-year-old Mare, Drive Me To Omaha, qualified to be on the WSQHYA World Show Team, participating in 5 events at the AQHA World Show held in Oklahoma City, OK. As WSQHA Ambassador Lisa's duties will include outreach, interaction, and support to the equine community at various events throughout the State. She will also provide awareness and promotion of the Washington State Quarter Horse Association, and its affiliate Youth Association.
The WSQHA Emerald Queen receives a $500.00 scholarship co‐sponsored by the WSQHA and, this year, Mike and May Edwards Quarter Horses of Monroe, WA. As Queen she has also received prizes sponsored by supporters who recognize and value her service to the WSQHA. Lisa feels honored to hold the title to this prestigious position and looks forward to a fun and exciting year.
Visit us on the web, www.wsqha.com, and on Faceboook.
Published November 2011 Issue
WSQHA is the AQHA affilate group for Washington State. WSQHA is committed to encouraging the growth and development of the American Quarter Horse through showing, trail rides, community outreach and much more!