Spotlight on Woodley Ranch and Reining Sire Professor Smart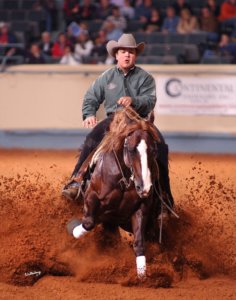 Woodley Ranch of Oregon graciously sponsored the first show of the year and WRHA would love to let the community know what they have to offer. Woodley Ranch, located in Stayton, Oregon, is home to proven reining sire Professor Smart. Owner Cathy Woodley said about her breeding program, "We are exceptionally proud of our past and current stallions. Smartest Shiner Yet was our first venture into the breeding world and we now own Professor Smart, who is well known in the reining world. This year is very exciting as we have three of our own 3-year- olds making their debuts." Professor Smart has an extensive show record and lifetime earnings exceeding $45,000. He has multiple titles throughout the NRHA as well as the 2007 WRHA Spring Fling Open Championship. Involved for the last nine years, Woodley has nothing but kind words for the WRHA. "I have always been an active supporter of anything we get involved in. I love the people of the WRHA; they do such a great job!" The WRHA is grateful for the support of every sponsor and would like to thank all of our Diamond Sponsors: Woodley Ranch, Timberland Homes, Maria Danielli, and Northwest Weight Loss Surgery. We would also like to thank our Platinum Sponsors: Horse Vidz Productions, Eve Willett Agency Insurance, and Seaview Automobiles. Finally, we would like to send gratitude to our Gold Sponsors: Bariatric Advantage, Coastal Community Bank, and Stancik Quarter Horses. The WRHA's next show will be June 1-3, in Monroe, Washington at the Evergreen State Fairgrounds. The Classic will offer a full array of horse show classes as well as the exciting Open and Non Pro Classic.
Information on Woodley Ranch: www.woodleyranch.com*; information on WRHA: www.wrha.net, or follow us on Facebook.
*This link was no longer available when this article was added to the website in 2018*
Published May 2012 Issue
Washington Reining Horse Association's objective is to promote and encourage the showing of reining horses; and to develop and dissemble informational material deemed desirable to provide contestants and spectators a better understanding of a proper performance of the reining horse in the show arena. Our club has members from under ten years of age to over seventy years old and classes are offered from beginner riders to national level open riders. Learn more at www.wrha.net