Getting an Education Makes Sense
By Karen Pickering
I've loved horses since I was old enough to walk. I dreamed of being a horse trainer and taming the wild steed of my dreams. My mom hoped for a curly-haired daughter that loved dolls and dresses but ended
up with a tomboy who collected Breyer Horse Models and wore blue jeans. My parents grew up during the great depression when horses weren't pets but beasts of burden used for farming and transportation. I don't think they understood my fascination.    
I never grew out of my love for horses, and tormented my parents for one. We moved to Blaine, Washington while I was still in grade school and got a home with acreage. I could finally have a horse! Pretty soon Dad had a riding horse and we rode together for fun.
In high school I never lost interest in horses––boys came in second place. My first vehicle was a '57 Chevy pickup and I was towing a horse trailer before my 16th birthday. Poor Dad had to go with me everywhere since I only had a learner's permit.
I knew I was going to work in the horse industry. Right out of high school I attended Canyonview School of Horsemanship. It was a dream come true! I earned my Horsemaster's certificate and soon was off to train horses.
While I didn't have much of a career as a horse trainer I never forgot those early lessons and appreciate the strong foundation I received from attending school. Horses and horse studies for months on end gave me the saturated exposure I needed to make me well-grounded in horse care, riding and training.
It wasn't in the cards for me to be a trainer, and I spent a few years in the corporate world. That experience gave me the desire to create newsletters that later grew into a magazine. While my college experience didn't turn into a training career it gave me the foundation for riding and enjoying horses throughout my life as well as the horse experience to start The Northwest Horse Source Magazine. Read the story of how the magazine was started at www.nwhorsesource.com/about-us.
I believe a strong education is the best way to start a career in horses, whether it's academic or as an apprentice. This month we're sharing the story of an organization that helps educate youth and gives them the opportunity to compete––even if they don't own their own horse. Read the story on page 6.
Horses are my life––I can't imagine doing anything else. Keep dreaming and live your passion!
Quote: Don't go through life, grow through life.
Eric Butterworth -1916-2003, Minister, Author, Radio Personality
Published September 2018 Issue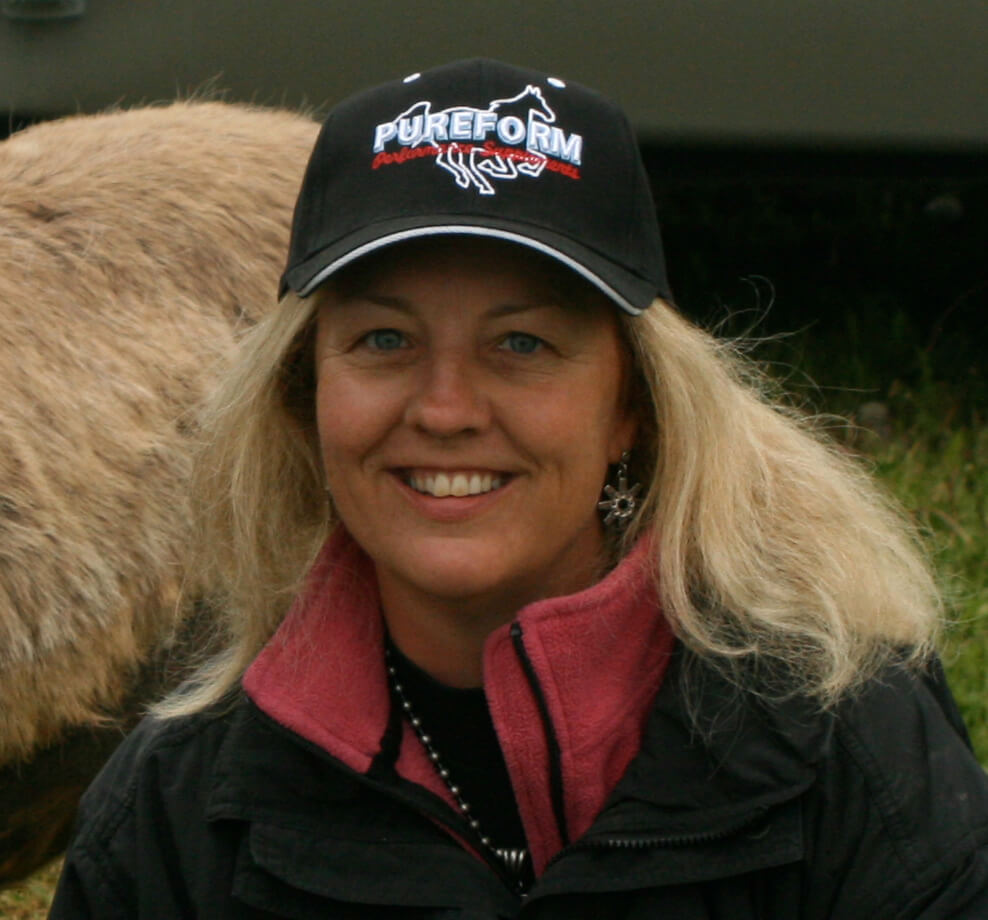 Owner/Publisher Karen's lifelong love of horses began at a very early age when she wore out a couple of rocking horses before convincing her parents to get her the real thing. That ill-tempered bay gelding, Brandy, was a challenge for the young horsewoman, but it drove her ambition to become a horse trainer. After attending Canyonview Equestrian College's Horsemanship Program, Karen realized she needed work that was a little more lucrative than training, so she took a job with Customs Brokerage to pay the bills. There, she discovered an affinity for computers and a talent for creating informative, entertaining newsletters. The Northwest Horse Source began as such a letter in December 1995, with a distribution of 1000 copies for its 12 black and white pages. Since then, it has grown into beautiful, all-gloss magazine with the largest coverage of any free equine publication in the Northwest – a distribution of over 14,000 copies and over 500 locations monthly. Not bad for the results of one woman's dream to work with horses!
Today, Karen remains involved with every aspect of the magazine and treasures the community of thousands who share a common passion. Somewhere in the wee hours of the early mornings and late evenings, she still finds time to care for April, her gorgeous and sweet-tempered Quarter Horse.