Start Now to Prevent Headaches Later
by Alayne Blickle, Horses for Clean Water
It's that time of year when the reality of the next six months hits us horse owners: lots of cold, wet, dark and windy weather. For most of the Pacific Northwest you can also add "snowy and icy." There always seems to be at least a couple storms that wreak havoc on our normal horse chore routines for days on end. As it is with most everything, "an ounce of prevention is worth a pound of cure." Here is a checklist of preparations that you can do now to help ease you through those times ahead when you least want to deal with winter's surprises.
Bring in footing material. Now is the time to think about the hogfuel or gravel you will need for footing in sacrifice areas, paddocks, walkways, and in front of gates. These materials are more available before demand is high. Plus, it is much easier for delivery trucks to back into paddocks and drive through pastures now rather than once these areas are full of snow or slick with mud.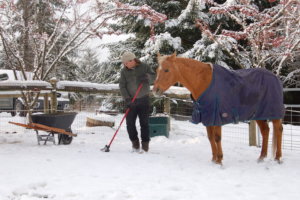 Begin a manure management program. If you don't already pick up manure on a regular basis, now is the time to start. A horse creates 50 pounds of manure per day. When mixed with rainwater over the winter months this quickly turns into a stinky, muddy mess. Picking up manure on a regular basis greatly decreases the amount of mud on your property over the winter months. All manure should be picked up at least every three days in stalls, paddocks, confinement areas and high traffic areas and stored under cover. This keeps the nutrients you are trying to save in the compost rather than washed off by winter rains. Store manure as far away as possible from streams, ditches or wetlands to avoid potential environmental problems.  
Check gutters and downspouts. Now is the time to clean as well as make needed repairs or additions to your roof runoff system. Think "keep clean rainwater clean" by diverting rainwater away from your paddocks to areas where it won't get contaminated. Good places on your property to divert to include a grassy ditch, dry well, rain barrel, stock watering tanks, a well-vegetated woods or an unused portion of your pasture. Doing this greatly benefits you by reducing the amount of mud your horse spends the winter standing in and making daily chores easier for you.
Re-route surface water runoff. Runoff from driveways, parking areas and hillsides adjacent to confinement areas can add significantly to the problem of managing mud. Ditches, grassy swales, dry wells, water diversion bars and culverts are all useful means for diverting water away from confinement areas and barns. Build these now, not during the next downpour.
Review equipment needs for daily chores. Having the right equipment for chores not only makes things more efficient but it also ensures that you'll be more likely to get those chores accomplished when it's dark and cold. Consider getting a new manure cart that's easy to push and dump into the compost pile. Is your manure fork half broken? The heavy-duty plastic-tined type with a bent edge is made specifically for cleaning horse stalls and paddocks. Wooden handles or ones wrapped with tennis grip tape (or even vet wrap) are easier — and warmer — to grip than metal handles.
Check your blankets for mending or washing needs. If you plan to blanket your horse this winter, make sure their "clothing" is cleaned and mended before that first cold front moves through.
Consider your own clothing needs – for riding, daily chores & farm work. Nothing is worse than taking care of your horse in the freezing cold when you are wet from head to toe and chilled to the bone. Do you need a good waterproof jacket? Mud boots? Insulated riding boots? Insulated, waterproof gloves? A warm coat? Maybe this is the year to invest in some of the high-tech cold or rainy weather gear featured at REI or other outdoor clothing stores. Think about layers—a vest with a barn coat and a waterproof shell, along with proper gloves and outdoor boots works well.
By making your winter horse life more chore efficient, you'll also help keep horses and the environment healthier.
Published November 2012 Issue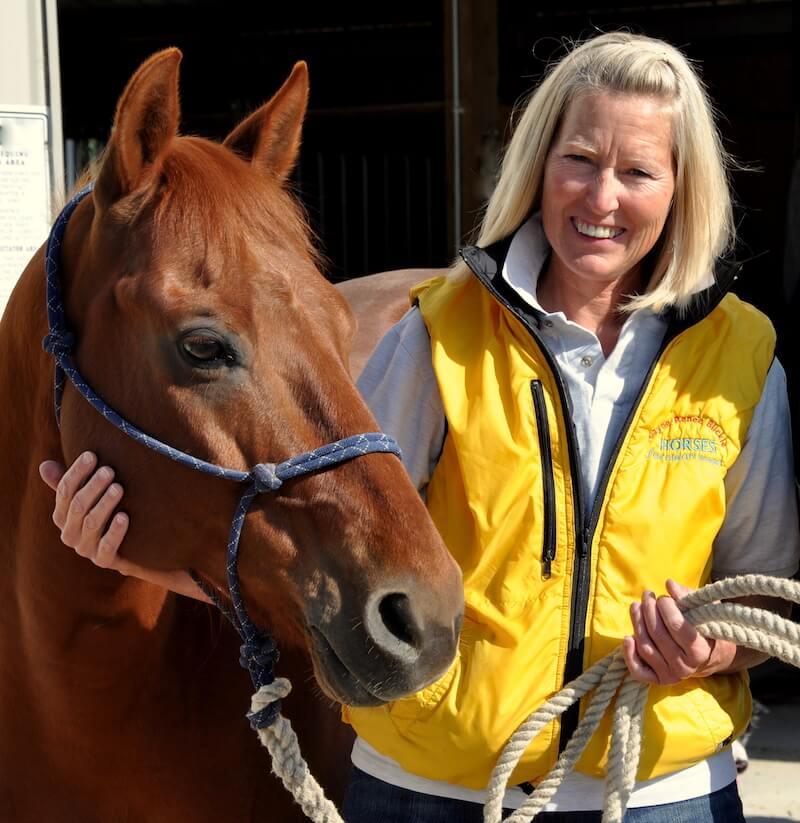 Alayne Blickle, a life-long equestrian and educator, is the creator/director of Horses for Clean Water, an award-winning, nationally acclaimed environmental education program that "wrote the book" on caring for horses and land. Known for her enthusiastic, fun and down-to-earth approach, she is an educator and photojournalist who has worked with horses and livestock owners for over 20 years. Alayne teaches and travels throughout North America and abroad, and also runs Sweet Pepper Ranch, an eco-sensitive guest ranch and horse motel in Southwestern Idaho where she and her husband raise top-notch reining horses and beautiful grass hay. For more information contact Alayne at alayne@horsesforcleanwater.com or 206-909-0225.