Making Decisions, Choosing Priorities
By Allison Trimble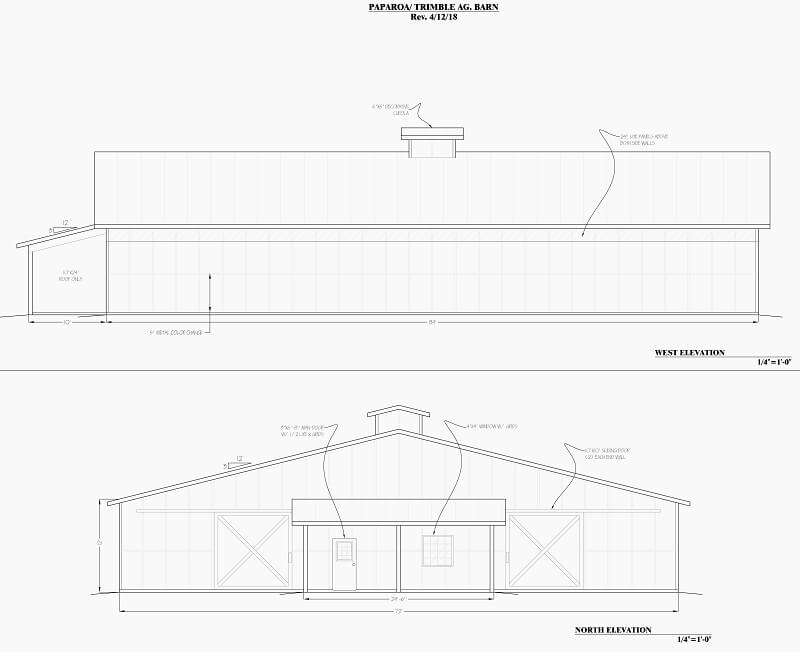 Twenty years of daydreaming about my dream facility is finally coming together. It turns out the reality is equal parts exciting and terrifying.
Decisions can be hard to make, especially on amenities that I haven't had much experience with on my janky little farm. Living between places while we are finishing our new home has been taxing, and it is hard to pay hay bills while looking at acres upon acres of grass at the new property.
I promised myself in the beginning that I wouldn't rush the development of the new place and wouldn't move horses on site until we're completely finished with the facility. I have mostly stuck to the plan.
Fencing
After years of hotwire fencing, I have vowed to never have it as primary fencing again. It feels like I spend more time making repairs than the fence spends containing animals. I have always loved the look of vinyl fencing, so one of our first big facility purchases was to fence the entry pasture to the property with vinyl fence. I can't wait to see mares and foals grazing when I come home from work.
We also want our menagerie of mutts to be contained within our property boundaries, so we've lined the boundary fence around the house and barns with field fence and soon we'll have our first automatic entry gate. This took care of the nearly 14 acres of the upper portion of the property where the home and facility are located.
The separate 44 + acres are about 20 acres of grass and 24 acres of forest. Another big purchase we made for this project was an excavator, and last year my husband spent days clearing riding trails that weave through the forest. The new property is located close to our current home, and after clearing a path, we are able to ride from one property onto the other. I get immense joy from saddling up one of my old show horses and riding through the woods with my kids and friends.
Fencing this section was another priority, both for grazing and for marking our boundary lines. After decades sitting vacant, neighbors had used the property freely, and the boundary lines were not well defined both for our properties and our neighbors'. Boundary line disputes aren't fun for anyone, so before installing a perimeter fence, we had our surveyor come out and mark the boundary lines for us. We had our trusted fencing contractor, Aussie Fencing, do the installation of all the fencing. We couldn't be more pleased.
Site Prep
The next big step is clearing the site for the barn, arena, and driveway. This will involve clearing a couple of acres of topsoil and terracing and shaping the underlying clay for the barn. We first had to get an agricultural building permit for the barn, and then ended up amending it to include the land disturbance for the arena site. Fortunately, we are blessed with some very experienced connections that help us make decisions.
Rather than spending weeks with our mini excavator, we're hiring an industrial scraper to come in and strip and pile the topsoil and to do the contouring work. It will take them less than two days and won't cost much more than what we would've spent in fuel trying to do the work ourselves.
As soon as the land is cleared, we can start situating the building site for the barn and see how much room we will have for paddocks off the external stalls. That will determine the size gravel pad needed.
Barn Design
I mentioned before that I like a separate barn and arena. These days I spend more time doing chores than riding, but when I ride, I like to do it in a covered rather than enclosed arena.
The layout of the barn is 20 stalls, with five stalls on each row and two walkways. Upon entry to the barn, on one side of the aisle there will be a 12'x24' heated tack room. There is a 24'x24' passthrough between the two aisleways that will be for saddling and will also have drains and serve as a wash rack. On the other side of the aisle there will be a 12'x24' heated area for a bathroom, laundry and blanket/supply storage. This keeps all of the working areas close together.
At the end of both aisles will be sliding doors, and the five external stalls on each side will have runs. The internal 10 stalls that are back to back will have removable dividers to make larger foaling stalls or for doctoring. I will have a camera system to the house for those stalls to make long nights watching horses more comfortable.
I have just started designing the tack room, looking at all-weather turn out solutions, and shopping for stall fronts and automatic waterers. Tune in next month to see our progress!
Published September 2019 Issue
Read Willfully Guided: Think Ahead, Part One in the August 2019 Issue
Read Willfully Guided: Dream Facility Part Three in the October 2019 Issue
Allison Trimble has a Bachelor of Science in Animal Science from Cal Poly, SLO. After her graduation in 1999, Allison started Coastal Equine and has been training and competing in cowhorse, reining and cutting events. She has had marked success in the show pen boasting many titles and championships.
Willfully Guided is an educational program based on Allison's training process. For more information visit: www.willfullyguided.com
Allison is also a Realtor specializing in horse properties, hobby and commercial farms, and family housing. She combines her experience in the horse industry with her lifelong involvement in real estate to help clients find their perfect property. Learn more at www.coastalrealtywa.com