I recently had the opportunity to travel to Germany on a first-time horse-buying trip. I decided to go because I had the opportunity to travel with a friend who is an experienced agent and speaks German, understands the process, and knows the right questions to ask. I believe that to be successful you must go with an agent you trust. I believe this even more now than I did before I went. Having someone else work out the important details when you're not present and don't speak the language is too risky.
As a dressage rider and trainer, I have heard about Germany my whole riding life. To be honest, I don't know exactly what I was expecting. I suppose horsey utopia: large groups of horses frolicking carefree in fields, trained by their perfect riders with flawless seats who never make mistakes. It was not entirely as I had supposed.
Don't get me wrong, there certainly were beautiful stables and fields of happy horses! There are the over-the-top beautiful barns and horses that want for nothing. But there are also farms that are trying hard to make a living and keep their horses in good health with the resources available to them.
What Germany does have is a high concentration of horses with good breeding and training foundations. In one day, you can see and try many horses that meet your search criteria. In the U.S. that's a challenge. Germany also has some incredibly good riders who give the horses wonderful starts.
I was once told by someone who was encouraging me to go and train in Europe that there is no magic there. There is no secret formula that takes your riding instantly to the next level. The gift is to be constantly surrounded by people who are better riders and trainers than you. You improve by watching and by tapping into your own competitive nature. After being there, I can certainly see how that would be true.
The big question I wanted to answer on this trip: is it really more cost-effective to shop for a dressage horse in Europe versus the States? The answer? Sort of.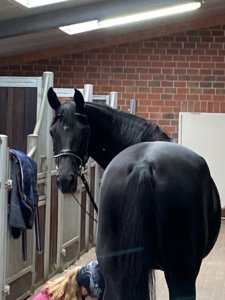 The quality of well-started horses was far superior to what I have seen in the same price categories in the United States. The challenge is that they have to be imported. The cost of importing is approximately $10,000 for a gelding and $12,000 for a mare. Mares have to be held in quarantine longer so it's more expensive. And, you have to wait. A lot. There is so… much… waiting.
I was told that I would have to wait for two weeks of quarantine for our new mare. I prepared myself mentally. After we found our prospect, we phoned for a vetting as quickly as possible and secured it in a matter of days. After she passed her physical exam the vet set about getting her travel blood and paperwork in order. We were able to secure a flight within days of her blood tests being released. I was very excited to start counting down the fourteen days. This was not the case.
Once our new mare landed in Los Angeles, she needed to have her blood tested again and have her temperature taken every day for three days before being released to the quarantine facility. Once released she arrived at quarantine on a Friday, so no vet could take her official quarantine blood until the Monday—then, finally, our two weeks of quarantine began.
So, from the time we met and decided on the mare (October 16) to the day she arrived home to us (December 2), the process took a little over 7 weeks. That's with us moving as quickly as possible, with no hiccups, problems or mistakes.
The positives for shopping in Europe are the huge selection and the purchase prices. It's balanced by the time and expense it takes to bring horses over and the cost of quarantine. I am glad for the experience and I am grateful for my great agent Siggi Wolff of Cavallis. I would never have done this without her. In the end, whether or not to import is a matter of choice.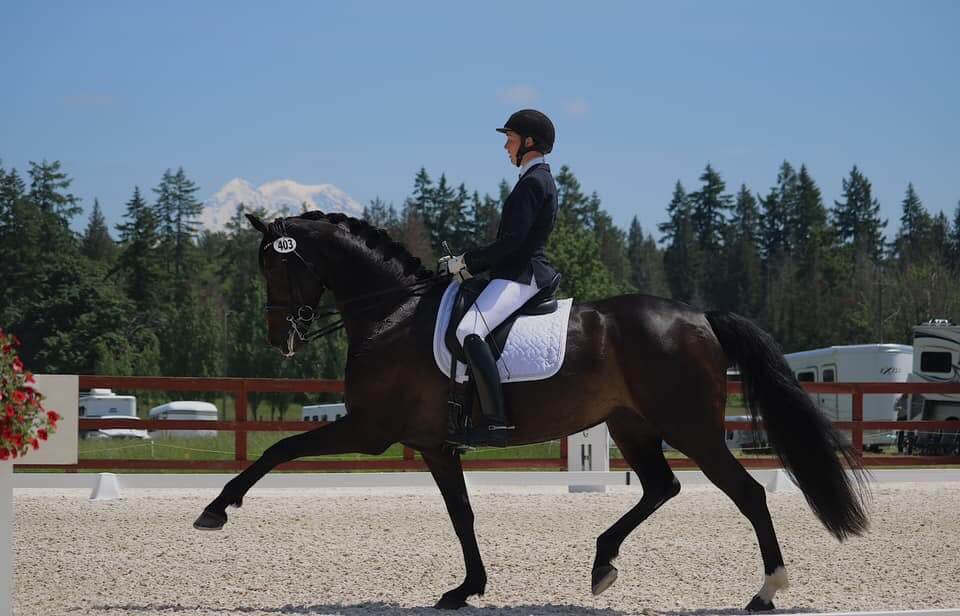 Garyn Heidemann's approach to life can be attributed to her love of people, horses, and goats. She has a reputation for being a compassionate and understanding teacher and trainer who is gifted at optimizing the performance of talented athletes, solving the puzzle of a complicated horse, and establishing solid foundations in young horses and their riders. She loves helping horses and riders reach their peak performance level.
Garyn graduated from Western Washington University with a bachelor's degree in psychology, minoring in sports psychology.
Garyn has been successful in dressage at every level through Grand Prix on a wide array of horses. She graduated the USDF L Program with distinction in 2016 and achieved her USDF Gold Medal in 2017.
Garyn trains out of Cain Lake Stable near Bellingham, Washington. Learn more at garynheidemann.com.