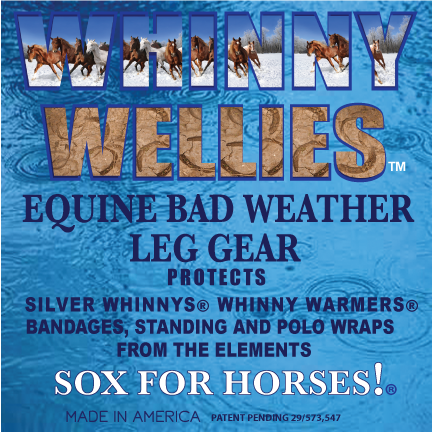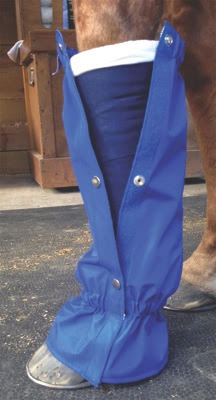 The bad weather barrier against snow, mud, and rain that owners/handlers have been asking for in horse leg protection is here. Whinny Wellies™, are patent-pending equine bad weather leg gear created to protect Silver Whinnys ® and Whinny Warmers ®, standing wraps, polo wraps, and bandages.
"Horses need to go out," says Raymond Petterson, President of Sox For Horses, Inc. ® "I created the Whinny Wellies™ to help owners/handlers achieve optimum performance from my socks was mud, sleet, snow, and rain."
Circulation-impaired horses suffering from Cushings, Equine Metabolic syndrome, laminitis, founder, and arthritis can benefit enormously from the warmth and increased circulation offered by Whinny Warmers® with Celliant®. They can change the very quality of life in the winter for many older or compromised equines.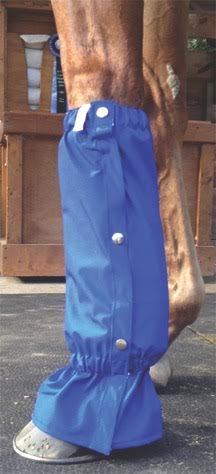 Silver Whinnys® utilize advanced embedded antimicrobial silver fiber technology to maintain a hygienic, breathing, insect-free environment necessary for reducing dirt and bacteria near sores, dermatitis, and wounds.
Horses in bandaging and standing wraps may be restricted to stall rest in the beginning, but there is a point in healing when a supervised slow gentle walk outside can help a horse. Bandaging is expensive, so keeping bandages clean and dry often inhibits an owner from taking the horse outside for a short guided walk. Not anymore. Whinny Wellies offer another model constructed to fit bandages, polo wraps, and standing wraps.
Whinny Wellies™ are made of a three-part system of densely woven fabric, micro-porous polyurethane coating, and a water repellent finish. This fabric is waterproof, windproof, breathable, durable, and high performance. The best quality high-tension snap closures and heavy-duty hook and loop fasteners are utilized to bring to our customers a product that is well-constructed and equine rough and tough. They are American made and utilize the best materials.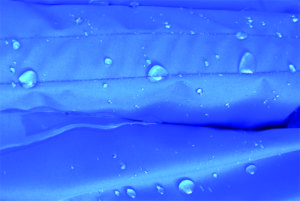 No matter how much an outdoor wear fabric is touted as having moisture transfer properties, none can move out the level of body moisture caused by extreme activities. The best garment must also vent. Because of the added stay-closed high-tension snaps, small finger holes can be left in the hook & loop that will allow heated air to escape creating a technically proficient and functional rough weather leg gear.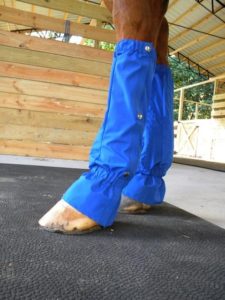 Whether you are using Silver Whinnys®, Whinny Warmers®, standing wraps, polo wraps, or bandaging an injury*, Whinny Wellies give three-season (Fall, Winter, Spring) bandage protection and can make the caretaking life of the owner/handlers much easier.
Whinny Wellies offer protection from the bottom of the knee or hock down to the ground. They are simple to care for. Hose them off and hang them to dry. No machine washing or drying is needed. This 'simple is better' cleaning preserves the waterproofing in the fabric for a long time to come. They're simple to put on and take off. The snaps guide the hook and loop into place in seconds, not minutes.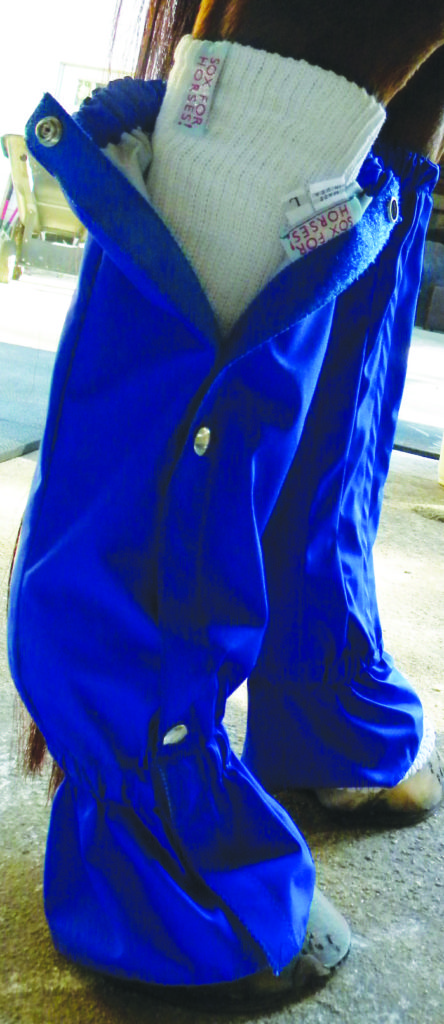 * Directional wraps should not be worn by horses in pasture. Serious injury to tendons can occur.
Veterinarian recommended. Owner referred. Horse approved. Sox For Horses ® Inc. makes a difference in the lives of people and animals while supporting equine and animal rescue organizations and adding jobs in American manufacturing. Whinny Wellies™, Whinny Warmers ® with Celiant ®, and Silver Whinnys ® (formerly Summer Whinnys ®) are all Made In America.
Call 850-907-5724 to discuss which model of the Whinny Wellies™ is best for your horse and circumstances. Visit www.soxforhorses.com or call Sox For Horses, Inc. to find out more about Silver Whinnys and Whinny Warmers.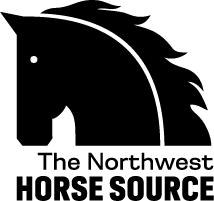 The Northwest Horse Source is an independently owned and operated print and online magazine for horse owners and enthusiasts of all breeds and disciplines in the Pacific Northwest. Our contemporary editorial columns are predominantly written by experts in the region, covering the care, training, keeping and enjoyment of horses, with an eye to the specific concerns in our region.