The Beginning of a Barefoot Journey
by Karen Pickering
I just came in from a fantastic ride on April. She has been barefoot since mid-April and quite lame. Diagnosed in 2009 with Navicular, she's been in shoes year round. Her soles were paper-thin and she was struggling to walk on most any surface without some discomfort. She's been wearing Soft Ride boots in her gravel pen to keep her comfortable along with receiving Previcox to manage pain.
I have been treating her feet every two or three days with a 50/50 solution of white vinegar and Oxide to kill any bacteria that has developed in her frog. Last Friday, with the help of my friend, Wendy, we filed her feet. She's been getting trims with the help of Sharon Baker and Skoshie Davis, getting me started on my journey with riding her barefoot and, when needed, in boots.
I will be doing a review of three different kinds of hoof boots made by Cavallo (see more about Cavallo in their June 2016 NWHS Cover Story), EasyCare Boots and Renegades. April is a bit of a challenge to get into boots because her heels are so underslung. I've tried the Cavallo Treks and they really fit well. I'm getting a little rub on her bulbs so I'm putting her in nylon socks to see if that helps them slip a little. I'm sure as she regains some heel underneath her at a better angle the boots will be ideal. I only use them when walking or exercising her for now.
First of this week I started leaving her barefoot 100% of the time. She is getting around her gravel pen (which is now mostly sand) but pretty firm footing. I can see she's been moving around quite a bit; much more than the first few weeks. She goes out on pasture twice a day for 1 to 2 hours barefoot. She is now trotting off; I even got a lope today. It's still a tentative gait but she's moving so much more freely now.
This evening she came trotting up when I went to bring her in from the field so I climbed on and rode her around the field bareback. She moved so well I was shocked. I am so excited to see that she actually has a chance to improve and I will be able to ride her again. I am unbelievably grateful to ABC Hoofcare,/Cheryl Henderson, Sharon Baker and Skoshie Davis for their guidance.
I'll keep you posted on her progress. It made my day!
Quote: Be realistic, believe in a miracle. ~ Author unknown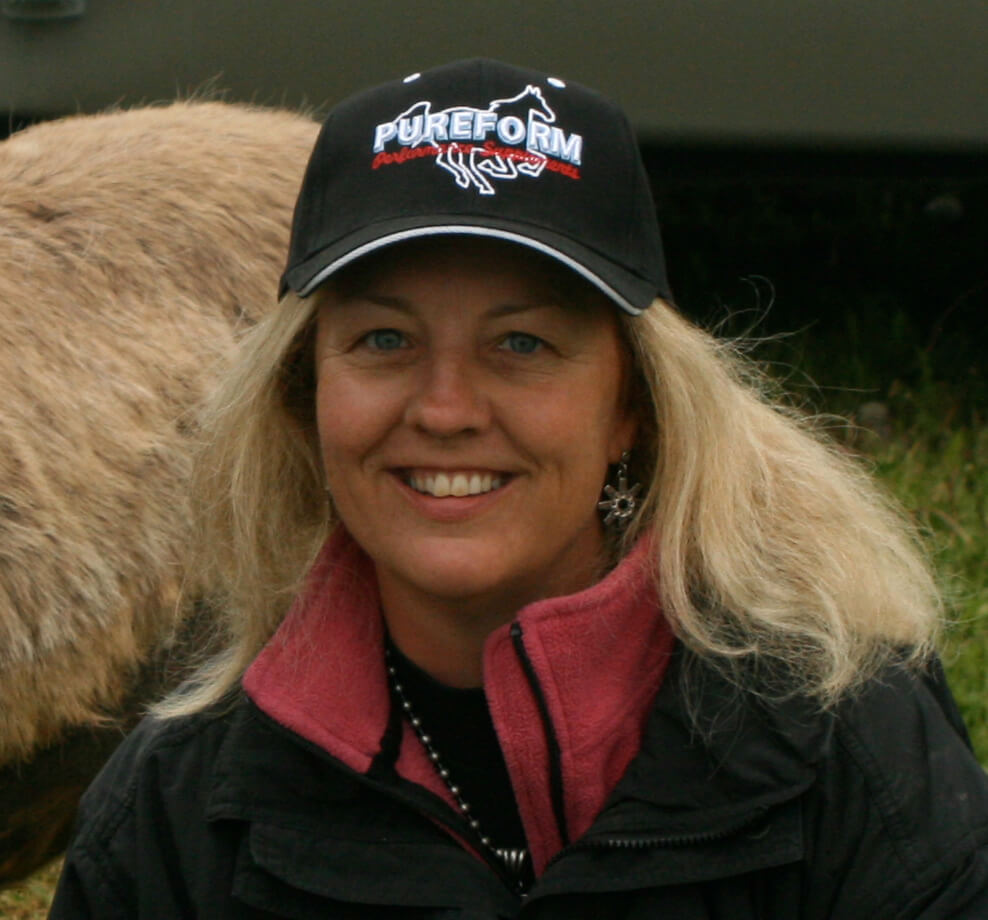 Owner/Publisher Karen's lifelong love of horses began at a very early age when she wore out a couple of rocking horses before convincing her parents to get her the real thing. That ill-tempered bay gelding, Brandy, was a challenge for the young horsewoman, but it drove her ambition to become a horse trainer. After attending Canyonview Equestrian College's Horsemanship Program, Karen realized she needed work that was a little more lucrative than training, so she took a job with Customs Brokerage to pay the bills. There, she discovered an affinity for computers and a talent for creating informative, entertaining newsletters. The Northwest Horse Source began as such a letter in December 1995, with a distribution of 1000 copies for its 12 black and white pages.  Now 27 years later, it's a print and online magazine and website with a reach of over 10,000 per month and growing! Not bad for the results of one woman's dream to work with horses!
Today, Karen remains involved with every aspect of the magazine and treasures the community of thousands who share a common passion.