Get to Know the Washington State Animal Response Team
by Michaela Eaves
No one saw how the horse ended up on the small ledge 70 feet down a steep hill, but it was clear her situation couldn't be solved just by walking her out. The 3×6 foot ledge the Fjord mare stood on was just enough for her small 800 pound frame and a couple of people. Gemma was discovered missing from her enclosure in Redmond, Washington around noon in late May of 2013. New to the property where she was being leased, she was found late the next day, seemingly uninjured, but about 70 feet down a steep hill forested with trees and underbrush.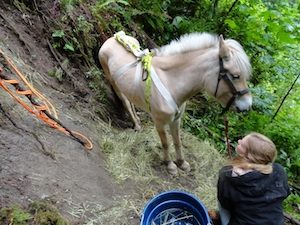 Rescue workers arrived late that night, though safety concerns meant waiting until morning. On scene were a number of agencies: King County Sheriff's Office, Eastside Search and Rescue, Seattle Mountain Rescue, Northwest Horse Search and Rescue, Ski Patrol Rescue Team, the Redmond Fire Department and Washington State Animal Response Team (WASART), the latter of which would head up the technical part of the rescue. This involved wrapping the horse in a special method with retired fire hose to allow for safe vertical lifting and setting up a rope and pulley system that could hold Gemma's weight when lifted off the ledge. Leading this technical effort was WASART's Greta Cook.
"I immediately felt a sense of relief when I found out the horse was a Fjord." Cook, a Fjord owner herself, finds the breed calm and possessing good survival instincts.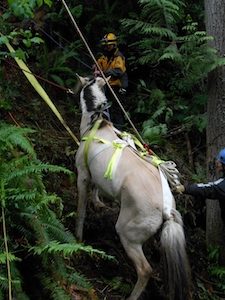 Also on scene was Gemma's first trainer Kelly Munro, Gemma's owner Nikki Elin, and Dr. Tom Hansen, DVM. Munro helped as Cook rigged Gemma. The mare was first lifted vertically off the ledge and then given a forward assist up the steep slope. Gemma's personality proved to be a big asset during the difficult procedure.
"She was definitely a laid back and easy going horse," Cook said. She also notes Munro was a big help because her experience training Gemma meant the horse trusted her. Cook said Munro's own calm nature helped the horse make it through the ordeal.
The Rescuing Breed
The easy-going nature that helped Gemma out of her predicament is the same one Norwegian Fjords are noted for. Fjords are the horses Nancy Grette, co-founder of the non-profit Alatheia Riding Center, favors for helping special needs people.
The center features trained therapy horses and a host of dedicated volunteers. People with disabilities such as cerebral palsy, Down syndrome, and brain injury are among those that receive help. Clients come about once a week to experience the unique "rescue" therapy experienced when riding a horse. ARC's riders are often given the same horses to ride and bond with.
"If we change a horse they'll know it, even if you don't think they do. It makes a difference," said Grette, who is certified through Professional of Therapeutic Horsemanship (PATH).
The inspiration for ARC started about four years ago when she gave a friend's daughter who had spina bifida a ride. Grette had never seen the girl without a walker or a wheelchair, but said when the girl sat on the horse she became taller and more confident. This is the moment Grette cites as the pivotal moment ARC became a reality.
Last year, ARC needed another horse. At the same time Gemma's trainer Munro posted on Pacific Northwest Fjord Promotional Group on Facebook to help find Gemma a place where she could be enjoyed more than Elin's limited schedule was allowing. Elin, who has owned and pampered the mare since buying her at a young age from Gemma's breeder, also wanted to see Gemma continue to have great experiences with people. Grette met up with the mare and her people to see if the situation was a fit.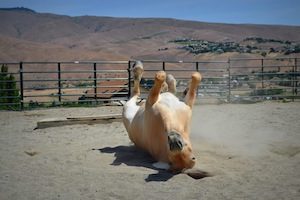 "She's very inquisitive," said Grette of the mare. "She loves to be with people. She follows them around kind of like a puppy dog."
These turned out to be traits ARC values and was looking for in a therapy horse. Elin had a good feeling about Grette, too, and believed it to be "the perfect fit". Gemma, currently on lease with ARC, went into training last December. She's nearly at the point where she can take on actual ARC riders, rather than just the mock riders she's been training with. The rescued mare is about to become a rescuer herself.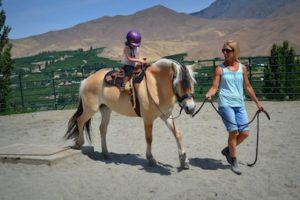 Washington State Animal Response Team is located in Enumclaw, WA. Their motto is "Helping animals and their owners in disasters." To learn more about this important organization visit them at washingtonsart.org or find them on Facebook.
Alatheia Riding Center is located in Wenatchee, WA. To find out more about it visit them at alatheiaridingcenter.com
Originally Published August 2014 Issue
I'm a UX and visual designer working in the Seattle and Bellevue areas. I have experience working on various platforms – desktop online services, mobile apps, and experimental hardware. I have a BFA in Graphic Design, and I do a bit of illustration when a fun project comes up. In my free time, I hang out with my dog, mountain bike, and volunteer to rescue animals though rarely all at the same time.