Trafalgar Square Books (www.HorseandRiderBooks.com) just released new books about them both!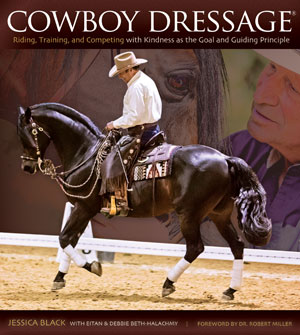 In COWBOY DRESSAGE, author Jessica Black works with Cowboy Dressage founders Eitan and Debbie Beth-Halachmy to trace the evolution of the pursuit back to its roots, then expertly weaves together an engaging explanation of the Cowboy Dressage philosophy with the expectations of horse and rider. Readers will find specific training advice for achieving engagement, regulating the gaits, smoothing transitions, and balancing bend and straightness, along with additional tools for those interested in competition, including rules, divisions, and how to execute and judge tests.
Appropriately, COWBOY DRESSAGE discusses the impact of the Spanish Riding School on the development of dressage as we know it. "The true value of classical dressage training," writes Black, "lies in the step-by-step method of building a horse from the ground up. A horse must have a strong foundation before he can be asked to leap into the air in capriole…"
And speaking of the famous "airs above the ground"…the Spanish Riding School in Vienna is celebrating its 450th anniversary this year, and the gorgeous, slip-cased hardcover book 450 YEARS OF THE SPANISH RIDING SCHOOL heralds a rich and celebrated past devoted to the cultivation of classical equitation and beautiful Lipizzaners. This strikingly illustrated retrospective delights in the whole story, from foals cavorting with their mothers in the fields of Piber to the cadets in training and the teaching of the famous figures and jumps. 450 YEARS OF THE SPANISH RIDING SCHOOL is a book for anyone who has ever delighted in the mystique of the White Stallions of Vienna—who wanted to know more, see more, and revel fully in their magic.
COWBOY DRESSAGE: 216 pages, 170 color photographs, 20 illustrations, $29.95
450 YEARS OF THE SPANISH RIDING SCHOOL: 208 pages, 112 color photographs, $65.00
For more information about either of these new titles, contact julie@trafalgarbooks.com
Trafalgar Square Books is the leading publisher of equestrian books and DVDs.
Find us on Facebook: https://www.facebook.com/HorseandRiderBooks
Follow us on Twitter: https://twitter.com/TSBbooks
Read our blog: http://horseandriderbooks.wordpress.com