A Story of Perseverance
By Diana Weppler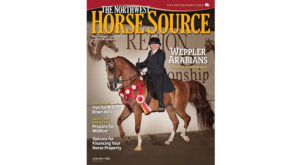 At 10 years old I bought my first horse with prize money I won competing as an acrobatic dancer in parades and talent shows. It was 1955, and my "Black Beauty" was advertised on a sign beside our road. The asking price was $125.00 and I had to have that filly!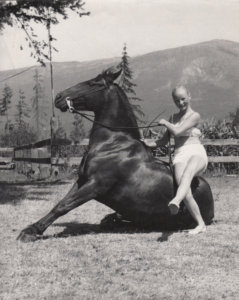 Money was not plentiful in my family, so I had to support my horse. I started training horses for others. The first one wasn't even halter trained––I had to lead him on foot four miles to my home. Training horses sure beat picking strawberries!
One year, the local fair had a horse act that included a bear riding behind the rider of a purebred Arabian stallion. Mom and Dad invited the entertainer for dinner, which led to him showing me how to train Beauty to kneel and lie down. Later, Beauty had a foal, and together we started Miss Diana's Dancing Horse and Trick Pony and Dog Act.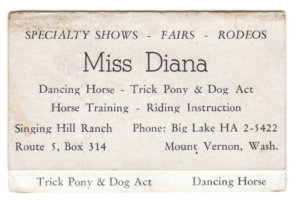 My parents purchased an old beer van to haul us to rodeos and fairs on the West Coast. My wonderful mother would drive the truck while I navigated from the passenger seat.

Eventually I married and raised three wonderful boys. I acquired my first Arabian stallion, who was super sweet and athletic. I competed him at the PNE horse shows in Vancouver for prize money. Western riding, stock horse, and cow horse classes were my favorite. Over the years my training and breeding program evolved more toward English horses.

I raised a young stallion that showed promise at a Class A show. A top Oregon trainer complimented me on him, which led to my belief that that my breeding and training program was on the right track. One day I had to use him to round up a bull that was evading capture by parking himself in the deepest part of our creek. Finally, the stallion and I got the bull corralled, but the stallion seemed agitated after this work, and while hosing him off he attacked me. I ended up under him and severely injured. He made a very nice gelding!

When my third son entered high school, I was able to get a job. These funds allowed me to breed to a top national-quality stallion several times which produced Special Cytation (this month's cover horse). I trained him myself, and he won a reserve championship in Country English Pleasure Select at a Region 5 horse show. Special Cytation won several endurance rides as well.

Another of my top horses was a mare named Queen Finessa. I took her to a national-caliber trainer who rode her at the big Scottsdale, AZ Arabian show. She placed well in her classes and it was the one time my family and I played the part of an owner with a trainer. A true once-in-a-lifetime experience!

Sometime after this mare's return home she developed a bad case of EPM. She recovered well and went on to produce some of our best colts and fillies. Unfortunately, we lost her in April of this year.

I still enjoy caring for and training my Arabian and Half-Arabian horses. My response to inquiries about my hobby is that I don't smoke, drink, or carry-on — because I have horses! I am the stall-cleaner, groom, trainer, hoof trimmer, and yard keeper. John, my husband of 53 years, harvests the hay. This wouldn't be possible without help from family members including my grandchildren Josie, Ellis, and Levi, and super-woman daughter-in-law Amy, and sons Kurt and James. I am a longtime member of Skagit Backcountry Horsemen and NW Arab Club.

Special Cytation is still being ridden and spends time in the field with his 31-year-old dam. I have several purebred and Half-Arabians for sale. At 73 years old, I'm still training them when I can. Please call for an appointment to view sales horses.

Diana Weppler

Weppler Arabians, Mt. Vernon, Washington

Call or text (360) 310-9989 or (360) 422-5455

<!-comments-button-->