Be Informed About Water Rights
by Allison Trimble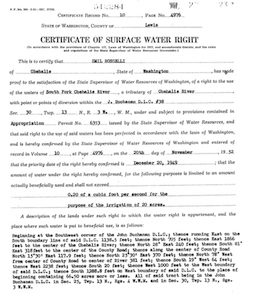 It seems impossible that water availability in the Pacific Northwest is an issue, but it is quite the hot topic. This is particularly important to horse property owners, hobby farms, and commercial farms—all of which require reliable water source to conduct daily operations.
Water rights that apply to our discussion are defined as a legal entitlement authorizing water to be diverted from a specified source and put to beneficial, non-wasteful use. This is a usufructuary or use right, assigned first in time, first in right. Senior water rights always have priority over junior water rights. There are different timelines for determining those rights.
In Washington State, tribes hold the most senior water rights, followed by large established cities, and PUDs. In Western Washington, the primary benchmark for seniority is the 1976 instream flow rule (Washington Administrative Code Chapter 173-522).
There are two types of water rights: surface and groundwater. Surface water rights allow diversion of water from a river, stream, lake, or spring. Groundwater rights allow you to draw water from the ground, such as the right for a well.
The following are the most traditional water sources.
City or Community Water: Residential housing within city limits is nearly always serviced by a city or community water source. This is also a common water source for rural acreage. Typically, this is purchased as a water share (approximately $2,000 to $20,000 per share), then water use is metered and billed. This can prove expensive for properties with large consumptive water use, such as a hobby farm or horse property.
Individual Well: Drilled wells are the most common form of water source for rural acreage in the PNW. The depth of the well is determined by the water table and can have a vast range. For example, one well on a property listed in mid Whatcom County is 32 feet deep, and the well at my house is 360 feet deep. Water is pumped from the ground, typically using a pump and a pressure tank setup. Well drilling runs about $45 per drilled foot, with an average cost of $10,000-$15,000.
Irrigation Water/Surface Water Right: It's pretty uncommon to see a water right legally belonging to residential property. When there is, it adds great value to the property. We just sought out a valuation for a water right in the Chehalis River Basin that, for irrigation of 9 acres, held a contemporary value of $50,000 and a long-term value of $200,000. It's also important to know that water rights must be used and properly confirmed to hold their value.
We had to do extensive research to get that valuation. Water rights can be sold, transferred or banked with a water bank. They are extremely valuable, and it is unlikely any new ones will ever be issued.
I have made mention in previous articles of the Hirst Decision by the Washington Supreme Court, which has direct impact on the future of new water right permitting. In short, the Supreme Court found that Whatcom County's Growth Management Plan, with regard to permit-exempt wells (usage of less than 5,000 gallons per day), is not properly protecting the instream flow to the Nooksack River.
The resulting action was that Whatcom County put a building permit moratorium on all properties that rely on such wells as their water source. This immediately made 3500 properties in Whatcom County no longer buildable. The effect on those property owners is crippling.
The next step will be the reassessment of those properties, and the anticipated loss in tax revenue for the county is around $250 million. This loss will have to be recouped by increasing taxes on other county properties. The already high market values of homes on acreage will only increase as no more rural properties or hobby farms are built.
The precedent set by the Hirst Decision is sure to ripple into all counties with growth management plans, and the resulting impact on the rural lifestyle of Washingtonians will be devastating.
What does all of this mean for horse property owners? It means that if our water rights are whittled away, it could greatly impact the care, use and enjoyment of our horses.
Local elections play a large role in decisions that impact water rights. Take a moment to become informed and make it a priority to vote to elect representatives that support our rural lifestyle.
Originally Published July 2017 Issue
Allison Trimble has a Bachelor of Science in Animal Science from Cal Poly, SLO. After her graduation in 1999, Allison started Coastal Equine and has been training and competing in cowhorse, reining and cutting events. She has had marked success in the show pen boasting many titles and championships.
Willfully Guided is an educational program based on Allison's training process. For more information visit: www.willfullyguided.com
Allison is also a Realtor specializing in horse properties, hobby and commercial farms, and family housing. She combines her experience in the horse industry with her lifelong involvement in real estate to help clients find their perfect property. Learn more at www.coastalrealtywa.com