Thoughtful Training Results in a Healthy Horse
by Deanna Lally
Our horses' health and wellness requires more than nutritional and environmental support. Commonly, owners consider supplements, veterinary care, fly protection, and blanketing long before they take a good hard look at their training and riding regimen.
Doctors and medical literature drill into us the devastating effects of stress on our health. The same is true for horses. Both physical and mental stress can be just as detrimental to equine wellness as parasites or poor feed.
When it comes to creating a program in which your horse will thrive, there are some key things to consider. For instance, a horse has only so many miles in him to give—spend them wisely. I teach my clients the importance of an "ebb and flood" program in which training is higher intensity at times and milder at others. Especially in a high-performance sport like reining, a horse must be worked in a manner sensitive to his physical and mental longevity.
For example, I don't run and stop my reiners every day. I work on components that are building blocks of the larger, spectacular maneuvers, only ramping up to higher speeds and degrees of difficulty approaching a show. Once the show has ended, the horses are taken back down to slower work that keeps them fit and sharp without breaking them down physically or mentally. No horse can remain tuned-up to his show ring best 24 hours a day, 365 days a year. Recovery and rest while maintaining fitness is essential to equine health.
It's also critical to realize that no two horses are exactly the same. While one method or program works for 90% of horses, there are some that just plain have different needs. I've experienced horses through the years that didn't respond well to commonly used training practices. Conventional theory didn't seem to apply to those individuals. Those horses required "outside-the-box" thinking and training. Being an open-minded trainer/rider who is always willing to learn and progress is critical to the horse/human relationship. A willingness to bend and alter your personal plans is vital to your horse's progression and health.
Always be aware of the things your horse is saying. A happy horse works with a quiet mouth, attentive ears, and a calm tail. Excessive sweating, jigging, or tension in the jaw, mouth, and are signs of stress. If your horse chomps the bit and wrings his tail, he's telling you he's unhappy.
Just like us, our horses are better workers if they like their job. Imagine if you had a very physically demanding career where you ran hard, sweating heavily every single day. After a while, you'd become tired and even begin to hate the work. You might even become sore or ill. A thoughtful trainer/rider always considers what the horse needs each session. This may require the trainer to change the plan for that day's work. There have been many times I've set out to work on a specific maneuver, but the horse just needed something entirely different that particular day. There is no place for selfishness in horsemanship.
I believe in the importance of walking and trotting during and throughout sessions. Many people walk for a while, then trot, and finally move on to loping/cantering, never returning to slower work until cooling down. I have found that all my horses thrive in a program that challenges them and then gives them time to think about things before challenging them again. I like to work on something with a horse for a while, then spend some time walking and trotting about the arena before getting back into a more demanding task.
The result of a well-thought-out program is a horse who stays mentally calm, finds the learning process enjoyable, is fit and sound, and therefore has an overall happy, healthy outlook. Many vices are nullified this way and certain health issues like stress-induced ulcers are resolved, too. While you consider your horse's nutritional, veterinary, and environmental needs, take a good look at his fitness and training regimen. Perhaps the area in which he is out of balance can be solved through a smarter training and exercise program. The balance of discipline and training with physical, mental, and emotional health sets your horse up to be a better athlete and partner.
Published in October 2016 Issue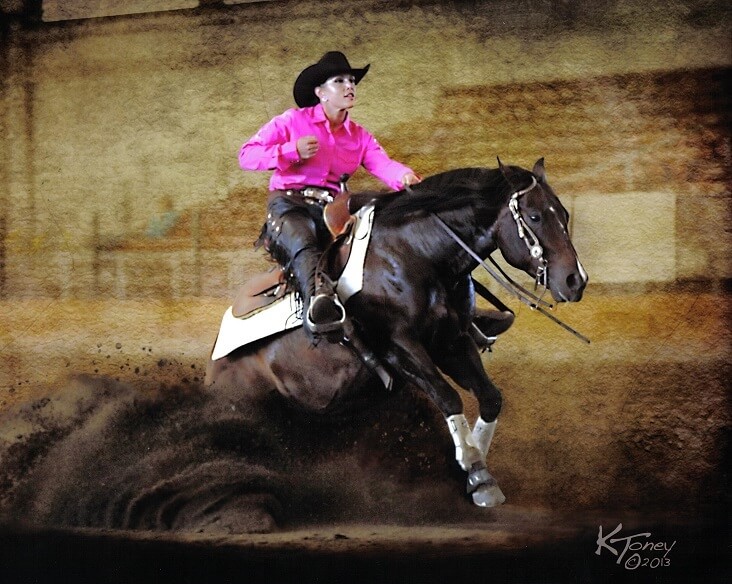 Since 1999, trainer, breeder, and Western Horseman author Deanna Lally has cultivated a thoughtful program centered on a passion for building show horses that stay sound of body and mind. With equal dedication, she educates riders to become procient horsemen and champions in their own right. She and her non-pros continually make top placings at NRHA and AQHA shows throughout the nation. Deanna owns RLT3 Ranch LLC, a boarding/training facility in Lake Stevens, WA, where she stands champion AQHA stallion, Working For Chexs. Evaluations, demonstrations, lessons, training, and tours are available by appointment. Connect on Facebook or email deannalally@msn.com.