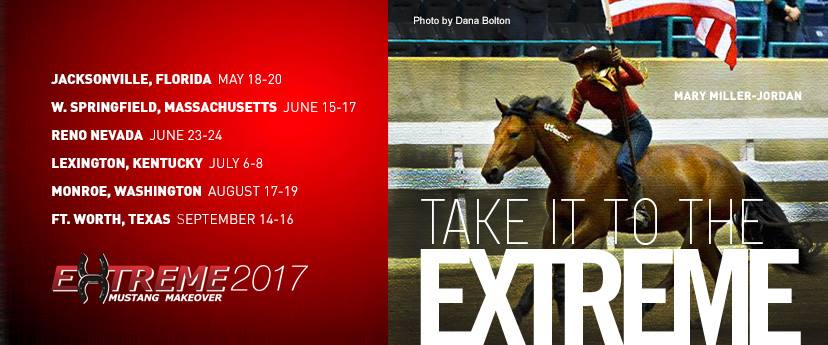 GEORGETOWN, TX – The Extreme Mustang Makeover is stopping Monroe, Washington, August 17-19, 2017. This event, produced by the Mustang Heritage Foundation, in partnership with the Bureau of Land Management's Wild Horse and Burro Program, is currently seeking youth and adult trainers to participate in the 100-day wild horse training challenge.
Adult Division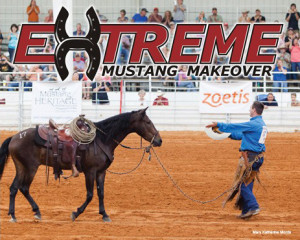 The purpose of the competition is to showcase the beauty, versatility and trainability of these rugged horses that roam freely on public lands throughout the West, where they are protected by the BLM under federal law. The BLM periodically removes excess animals from the range to ensure herd health and protect rangeland resources. Thousands of the removed animals are held in off-range facilities and are made available each year to the public for adoption.
Adults, ages 18 and over, and their assigned mustangs will compete in preliminary classes, including: handling and conditioning, a pattern class, and a trail course with in-hand and riding obstacles in hopes of winning their share of $25,000. The top-10 trainers will be selected to participate in the exciting freestyle finals performance scheduled for Saturday, August 19, where competitors showcase their mustang's skills with costumes, music and props.
Adult mustangs competing in the Extreme Mustang Makeover will be available to the public for adoption via competitive bid on Saturday, August 19, immediately following the freestyle finals. BLM representatives will be on-site to approve interested adopters.
Youth Division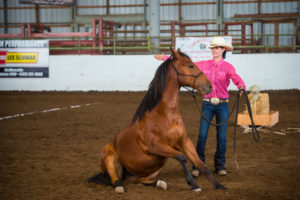 Youth trainers, ages eight to 17, will compete in-hand with 12-24 month old mustangs. Susan Clogston of Woodinville, Washington will be hosting the youth division of the Extreme Mustang Makeover. Class structure and awards will be determined by Clogston. More details to come.
Interested horsemen and women are encouraged to visit http://extrememustangmakeover.com/events/washington/ for application and rules. Completed applications must be received by March 27th to be considered for the event. Selected trainers will pick up their assigned mustangs April 28-29, in Burns, Oregon and work to train and gentle the mustang through the competition date.
About the Mustang Heritage Foundation
The mission of the Mustang Heritage Foundation is to create and promote programs and activities that provide information and education about wild horses, elevate their image and desirability, provide opportunities to become involved in the wild horse experience and secure adequate numbers of caring homes for excess horses. Working in partnership with the Bureau of Land Management, the Mustang Heritage Foundation is passionate about the successful placement of mustangs into private care so future generations can enjoy this distinctive feature of our American heritage. The Mustang Heritage Foundation has placed over 8,000 mustangs into private care since 2007.
About the Bureau of Land Management
The Bureau of Land Management (BLM) removes wild horses and burros from public lands to ensure a healthy balance of land and animals. Since 1971, the BLM has placed more than 235,000 wild horses and burros into good homes nationwide. Interested applicants can attend an offsite adoption/sales event, visit a BLM Off-Range Corral, or participate in an Internet adoption/sales event to apply to take a wild horse or burro home. The BLM manages more than 245 million acres of public land, the most of any Federal agency. This land, known as the National System of Public Lands, is primarily located in 12 Western states, including Alaska. The BLM also administers 700 million acres of subsurface mineral estate throughout the nation. The BLM's mission is to sustain the health, diversity, and productivity of America's public lands for the use and enjoyment of present and future generations. In Fiscal Year 2015, the BLM generated $4.1 billion in receipts from activities occurring on public lands. To learn more about the Wild Horse and Burro Program, call 866-468-7826 or visit blm.gov.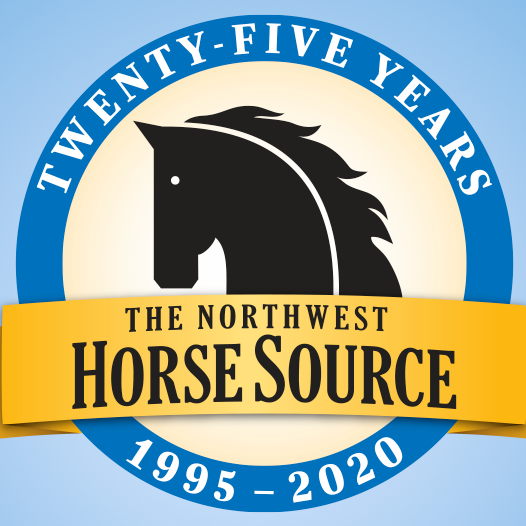 News from the horse industry. Sharing today's information as it happens. The Northwest Horse Source is not responsible for the content of 3rd party submissions.