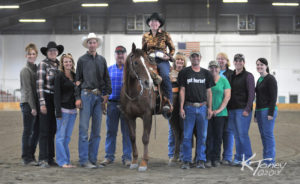 Evergreen State Fairgrounds Again Welcomes WRHA on May 30th
Co-Sponsored by Timberland Homes and Maria Danieli Real Estate, Washington Reining Horse Association will host The Classic at The Evergreen State Fairgrounds in Monroe May 30 through June 1. There will be two full slates of NRHA classes along with club classes which do not have NRHA membership or competition license requirements. The feature classes of The Classic will be Open and Non Pro NRHA Maturity classes, open to horses age 7 and older. The show will begin Friday afternoon May 30 and run through the weekend. Come join us at our only Western Washington show.
WRHA held its first show of the season April 10-13 at the Appleatchee Riding Club in Wenatchee. As we continue into the show season, we thank our Diamond, Platinum and Gold level sponsors who have committed to supporting WRHA at press time. Diamond sponsors: Sky River Equestrian Center, Timberland Homes and Maria Danieli Real Estate. Platinum Sponsors: Coastal Community Bank, Stancik Non Pros, Rhodes River Ranch and Red Pony Insurance Services. Gold Sponsor: Eric Carlson DDS. Silver, Bronze and Club sponsors are named at wrha.net. Also find us on Facebook.
Published May 2014 Issue
Washington Reining Horse Association's objective is to promote and encourage the showing of reining horses; and to develop and dissemble informational material deemed desirable to provide contestants and spectators a better understanding of a proper performance of the reining horse in the show arena. Our club has members from under ten years of age to over seventy years old and classes are offered from beginner riders to national level open riders. Learn more at www.wrha.net