by Wendy Croney
So, time to ride my horse and this includes catch, tie, groom and tack. What does the process look like in my barn? I'm always looking to save time and money, even in these mundane tasks.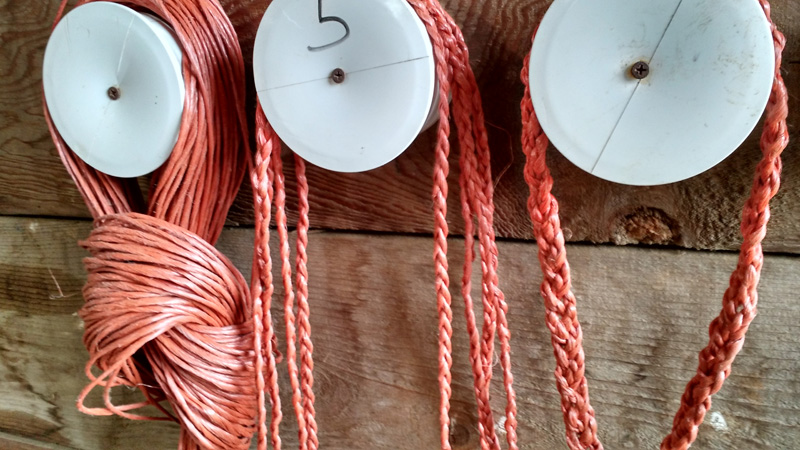 To begin, whether I retrieve the horse from stall, paddock or field, I'll clean his hooves before entering the aisle way. This saves cleanup after grooming. Next, I sometimes like to cross tie the horse for convenience and use DIY cross ties. These consist of repurposed strong rope or braided twine (never a shortage of baling twine) and I love to reuse everything!
To make cross ties, attach panic snaps to braided twine or make "safety ties." One popular commercial example is called The Tie Blocker. I make my own from an old ring snaffle bit. First, use a hacksaw to cut the bit into two units in the center of the mouthpiece. Then, take a carabiner, attach it to the half bit ring and then attach this to a screw eye and place at the desirable height. The length of rope and height of the screw eyes are determined by the area you will span. A "tie blocker" style safety tie is designed to allow the horse to slowly pull some slack in the lead rope, helping to eliminate panic and claustrophobic tendencies. As for panic snaps, these have a sleeve that you can grasp and pull quickly, releasing the horse if needed.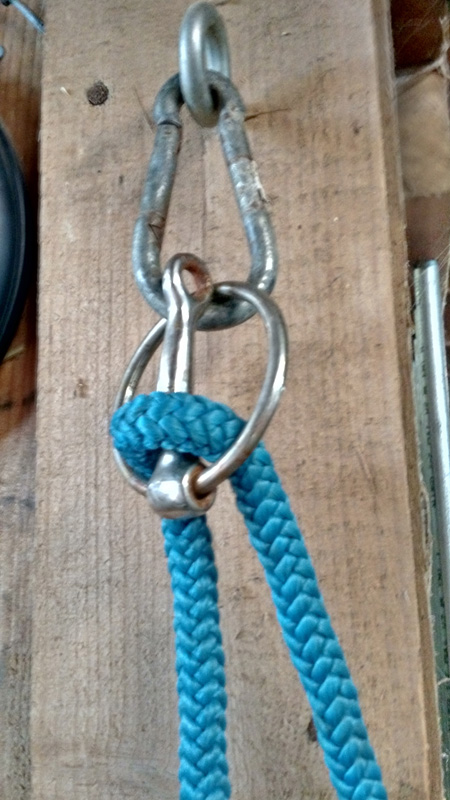 I recommend using a safety release tie such as described above for at least one side of your cross ties. The matching tie can have a regular snap. I have seen a horse panic while cross tied and rear over backward. This can happen in a split second. However, a quick thinking handler can swiftly release the horse via the panic snap. (Note: Never leave your horse unattended while cross tied.)
Now that our horse has its hooves cleaned and is safely tied, let's groom. While grooming, use one hand for the brush and with the other, check your horse for lumps, hot spots or sores. It's always better to catch an injury before the ride. Next up is the mane/tail and I love a long, thick and healthy looking tail. This is easy to achieve with little effort and no extra money spent on special grooming products. These can make the job easier, but are unnecessary.
First, finger comb the tail, then divide it into three sections and braid almost to the end. Fasten the tail with a small rubber band and fold it in half or thirds, depending on how long it is. Next, put it into an old discarded sock that you've cut the top of so you have four tie strips about four inches long each. Even if the sock isn't very long, the goal is to protect the bottom half of the tail from mud. Mud removes moisture, causing brittleness and promotes breakage. The sock also helps protect hair from being pulled out. About every two weeks I replace the dirty sock with a clean one, comb and rebraid the tail. Don't procrastinate, or you could find one very large dreadlock! Using this inexpensive method your horse will have a lovelier tail by the end of the wet season.
I also repurpose discarded clothing and use it for cleaning and oiling tack and other items. It's nice to have an abundance of rags that can be simply thrown away when heavily soiled. Another purpose for these "disposable" rags is wound cleaning. Occasionally one of my horses will have mild diarrhea. A clean rag soaked in a vinegar solution (50/50 or stronger) cleans and soothes the pain of minor skin abrasions. After use, just throw it in the trash.
Speaking of vinegar, it is an inexpensive, non-toxic cleaner for everything from the horse to the tack room. It deodorizes manure and urine odors, and kills germs (not ALL germs, however). When it dries there is no vinegar odor.
So, stop buying expensive cleaners and skin soothers. Save and repurpose that plentiful baling twine, those old socks and discarded clothes destined for the thrift store. Fashion your own safety ties, check for injuries while grooming, put a sock on the tail and clean hooves in the stall. There are lots of ways to save time and money in the barn; join me in future articles to learn more. Thank you for reading and happy riding!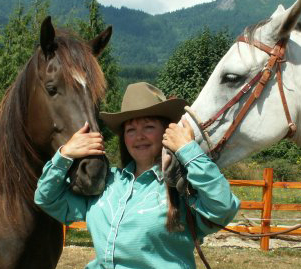 Wendy Croney has owned and ridden horses her entire life, discovering she has a true talent for effective, gentle horse training as well as teaching horseback riding. She has been training, teaching horsemanship and giving lessons in multiple disciplines for more than 30 years using her own methods developed through experience, as well as learning from Richard Shrake, Clinton Anderson and many others. Wendy is known for an economic approach to horse care and personally provides it to her own horses, including hoof trims. She focuses on creative ways to keep horses as naturally as possible on a tight budget. Wendy has retired from her business, "Galloping Horse Equestrian" in Colorado Springs, CO, however she is still available for consulting and continues the quest to provide the finest horse care for the most effective cost.