All Roads Lead t
o Ferry County This
July
By Lu Young, Ferry County BCHW
All roads lead to Ferry County this July for our annual High Country Ride! If you haven't ridden the Wapaloosie trail, this is the summer to do it! We have some of the best trail riding in Washington state and the most breathtaking country this side of Snoqualmie Pass. Our ride is hosted by the members of the Ferry County Back Country Horsemen of Washington. We have ample parking for campers and trailers, so pack up your horse trailer and set your sights on the Colville National Forest, July 27–29.
On the ride your horse will transport you into the high mountains where Native Americans hunted on their tough ponies. Wapaloosie Mountain is the highest summit in the Kettle River Range at 7,018 feet. You'll ride through sloping meadows of sage brush and bunch grass with stands of pine and fir trees. On the Kettle Crest you'll see miles of mountains in the distance, perhaps all the way to Idaho. Bring your camera and your best riding buddy.
Friday night, July 27, is a potluck. Come introduce yourself to folks who love the back country as much as you do. Saturday is the trail ride up Wapaloosie over the crest and down to the Jungle Hill Horse Camp area. That night you'll be treated to a steak dinner including dessert and some cowboy music. Sunday morning is the "Cowboy Breakfast" of pancakes and sausage.
All this is included for just $25.00 for adults; children under 12 are $15.00. This will be a weekend of fun! Please check out our Facebook page and our website at www.fccbchw.com  for more information and registration for this ride or call Lesa at 509-775-2302. If you live in the area, please consider becoming a member––we are a fun and active group to hang out with!
Feel free to explore Ferry County before and after the ride. We are tucked up along the Canadian border and surrounded by two National Forests––Okanogan National Forest and Colville National Forest. We have many trails here! Ferry County is also recognized for its hunting and fishing. Come explore our trails and lakes as well as the rivers that cross our county.
In the small town of Republic, the mule deer have the right of way on Main Street and it's not unusual to see a flock of wild turkeys accompany them. You might just fall in love with our town and come back in the winter with your skis and snowmobile for winter fun. For further information on Ferry County please contact www.ferrycounty.com and see how much fun we have.
As you can see, all roads lead to Ferry County so make it your stop this summer for our annual High Country Ride at Wapaloosie––we'll be looking for you!
Directions from Republic: follow Highway 20 east for about 22 miles. Turn left onto Albian Hill Road #2030. Go 3.2 miles to the trailhead sign. Parking is available in the dispersed camping area.
From Kettle Falls: follow Highway 395 to Highway 20 west for approximately 20 miles. Turn right on Albian Hill Road #2030. Go 3.2 miles to the trailhead sign.
Upcoming BCHW Activities and Events
Most of the 32 BCHW chapters have fun rides and work parties scheduled throughout the year. Go to www.BCHW.org, Upcoming Activities and scroll down for the list.
BCHW holds several big work parties around the state each year that are open to everyone.    
October 27, 2018 – 17th Annual Winery Ride and Halloween Costume & Prize Ride, Zillah, WA.

Board of Directors Meetings – Kittitas Valley Event Center – Ellensburg.  All members are welcome to sit in: June 16, September 15, December 1, 2018.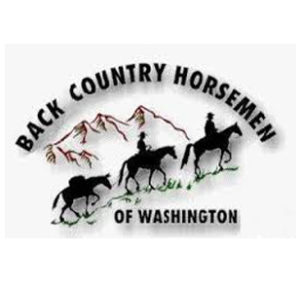 Back Country Horsemen of Washington is a non-profit organization with 32 chapters across the state. They are dedicated to keeping trails open for all users, educating stock users in Leave-No-Trace practices, and providing volunteer service to resource agencies. To find out more about BCHW go to www.bchw.org.  Keep up with BCHW issues and events on our state Facebook page www.facebook.com/public.bchw.

<!-comments-button-->