SmartPak introduces new styles to their best-selling line, backed by a 10-Year Indestructible Guarantee
PLYMOUTH, MA – September 23, 2015 – Worried your horse's blanket won't last through the winter? SmartPak's got an entire line of blankets backed by a 10-Year Indestructible Guarantee! The Ultimate Turnout blankets are now available in new neck styles, a new weight, and a new color, giving you even more ways to suit up your horse in the ultimate winter armor.
"Our customers love our original SmartPak and Rockin' SP Ultimate turnout blankets, so we're very excited to be able to offer more options for riders and their horses, while maintaining the quality they know and love," said Cyndy Miller, SmartPak's Senior Director of Merchandising. "We are a company filled with horse owners, and understand that toughness and durability of a blanket is important. We're so confident in our line of Ultimate Turnout blankets that we've backed them with our 10-Year Indestructible Guarantee."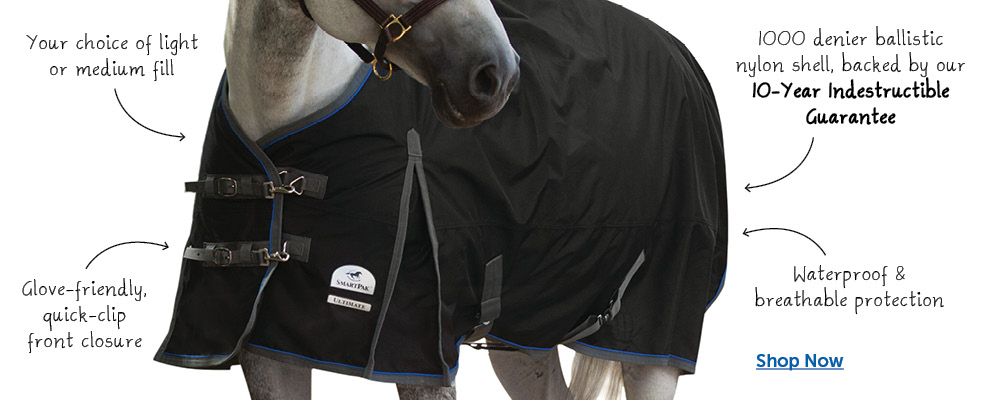 The SmartPak Ultimate Turnout Blanket and Rockin' SP Ultimate Waterproof Blanket lines are available exclusively at SmartPak and now have a blanket for every need! For 2015, SmartPak is introducing two additional neck styles for the Ultimate Turnout Blanket, a high neck and a combo neck, as well as a new heavy weight. The Rockin' SP Ultimate Waterproof Blanket line also has a new addition – it is now available in a new navy color.
The design of the SmartPak Ultimate High Neck Turnout Blanket provides more coverage from the elements and reduces pressure on the withers. This blanket is offered in the classic black with grey trim and royal piping, and is available in light (no fill), medium (220g) and heavy (360g) weights. The other new style, the SmartPak Ultimate Combo Neck Turnout Blanket,  has an attached neck cover to offer even more protection from the elements and also helps alleviate pressure on the withers! The combo neck style is available in medium weight (220g). Finally, the original SmartPak Ultimate Turnout, which has a standard neck style, is now available in light (no fill), medium (220g) and the new heavy weight (360g).
For those looking for a stylish option for their Quarter Horse, the Rockin' SP Ultimate Waterproof Blanket is now available in two colors. In addition to the classic black with grey trim and red piping, SmartPak is now offering this blanket in navy with silver trim and white piping. The Rockin' SP Ultimate Waterproof blanket combines durable craftsmanship with a unique cut designed to fit stocky breeds like Quarter Horses.  Made with cut back withers, a broader chest, broader shoulders, broader hindquarters, and a shorter drop, Rockin' SP blankets offer a flawless fit on all stock horse breeds. This blanket is available in light (no fill) and medium (220g) weight.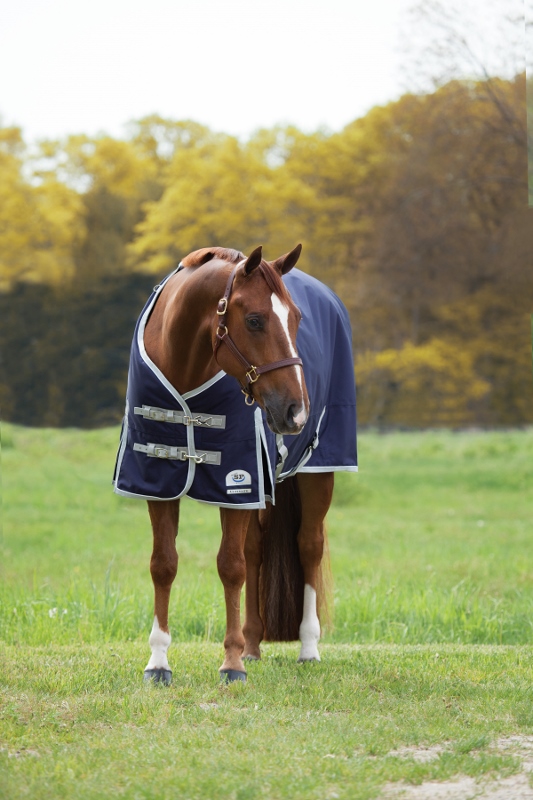 The new SmartPak Ultimate Turnout blankets and Rockin' SP Waterproof Turnout blankets styles have all the same great features and benefits as the original SmartPak Ultimate Turnout Blanket, including an ultra-durable, tear-resistant heavy-duty nylon outer shell. This outer shell is waterproof and breathable to keep your horse dry and protected from the elements.
"We understand that finding the right blanket is not always easy," added Miller. "But the great news is that SmartPak offers free shipping on all orders over $75 and free return shipping on all sized items, so there is no hassle when shopping for the perfect blanket for your horse this winter!"
Ready to choose the right turnout blanket for your horse? Visit www.SmartPak.com to view the entire selection of turnout blankets and to place a risk-free order.
About SmartPak
From the feed room to the tack room, SmartPak offers innovative solutions to help riders take great care of their horses. SmartPak was founded in 1999 with the introduction of the patented SmartPak supplement feeding system. The revolutionary, daily dose SmartPaks are custom-made for your horse, individually labeled and sealed for freshness. With the success of this simple and convenient feeding system, SmartPak has continued to expand its offering of quality products, including its own line of more than 60 supplement formulas called SmartSupplements, and a wide variety of tack, equipment, and supplies. The company has grown rapidly each year and is now the largest retailer of equestrian products in the United States. SmartPak's success has been powered by a passion for delivering an unbeatable customer experience, and the company has been recognized with a Bizrate Circle of Excellence award as well as an "Elite" rating from STELLAService. A nine-time Inc. 500/5000 honoree, SmartPak is the only equine company ever named to the Inc. 500 list.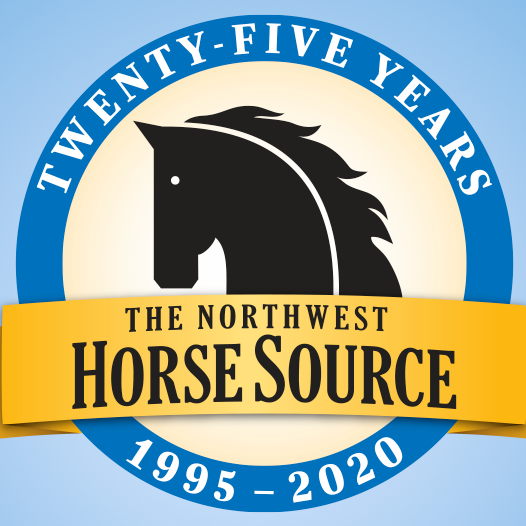 The Northwest Horse Source is an independently owned and operated print and online magazine for horse owners and enthusiasts of all breeds and disciplines in the Pacific Northwest. Our contemporary editorial columns are predominantly written by experts in the region, covering the care, training, keeping and enjoyment of horses, with an eye to the specific concerns in our region.