Win a Beautiful Piece of Tack and Support Abused Children
by Joel "Dutch" Dortch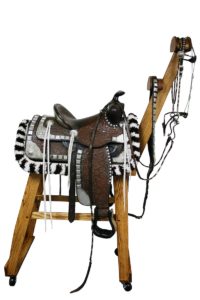 From the earliest days of the Wild West Shows of Buffalo Bill, Pawnee Bill, the famous 101 Ranch and numerous others, saddles adorned with silver have been prominently featured on the horses of the principal performers. During the Golden Age of the Hollywood western from the early days of sound in 1929 through the mid-1950's, the silver mounted saddles became even more elaborate and some were closely identified with the stars who used them in their films. Many of the early television westerns, from 1947 through 1955, featuring Hopalong Cassidy, The Lone Ranger, Gene Autry, Roy Rogers and many others were half-hour versions of their theatrical B-westerns and they used their silver saddles in these productions too. With so-called adult westerns introduced to TV in 1955 with The Life and Legend of Wyatt Earp, Gunsmoke, and Cheyenne, silver saddles were unfortunately discarded in favor of more realistic working saddles.
As a fan of Roy Rogers and all the B-western cowboy stars, I have long admired the fancy silver saddles and tack used in their movies, TV Shows and personal appearances. Through the years, Happy Trails Children's Foundation has acquired three silver saddles and 2 replicas of saddles from the 1800's which we have offered in drawings to benefit the abused children served by the foundation. Recently, we acquired our fourth silver saddle and we are offering it in a drawing that ends during our 4th annual Friends of Happy Trails Banquet on May 17, 2014.
This is a vintage classic silver mounted saddle that any Hollywood cowboy hero would have been proud to own and ride in. There is no mark or stamp on this saddle and the exact date that it was built is unknown. Due to the style of the matching bridle, I believe it was made in the early to mid '50's. The saddle does not appear to have been used much, if at all, due to the condition. Most likely it has been sitting on a saddle stand in someone's den or living room all these years.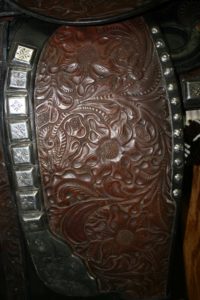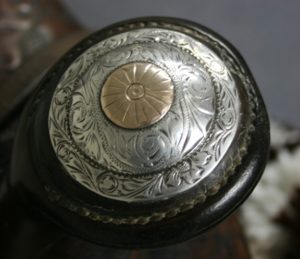 The saddle is double rigged with a 15" seat. It is beautifully hand carved with custom engraved silver corner plates, conchos and spots. The stirrups are silver bound and still hang flat to the side of the saddle as they did when new. The stirrups don't look like they have ever had a boot in them. There is a matching rolled leather bridle with silver conchos and ferrules, silver overlaid bit, and reins.  The conchos on the bridle and the horn cap on the saddle have real gold spots. The matching martingale is an exact copy of the one used on The Lone Ranger's great horse Silver in the TV series of the 1950's.

This is an eye-catching rig that comes with its own colorful custom corona pad and saddle stand made just for this outfit. You don't need to own a horse to enjoy this saddle. It is a museum quality cowboy collectible and one of the greatest conversation pieces you could display in your home. Tickets are only $10 each or 11 tickets for $100. The winner need not be present for the drawing on May 17. The winner will be notified by phone and you may check our website for the winner's name after the drawing,www.happytrails.org. Order your tickets today! Toll free: (855) 788-4440. Discover, MasterCard and VISA accepted.

Published March 2014 Issue

<!-comments-button-->