What Makes a Top Prospect?
By Kim Roe
What is a performance horse and what makes him different from any other horse?
Performance horses are horses that accomplish something and have the ability to perform with efficiency. These are the horses dreams are built around from the moment they are born. We often think of performance horses as show horses, but they certainly don't have to be; ranch horses, carriage horses, draft horses, race horses, and trail horses qualify too.
Alyssa Pagon Pitts is a successful Grand Prix trainer and competitor. She has ridden and trained several national champions. Alyssa lives in Snohomish, WA.  www.alyssapitts.com
Nearly all horse breeding over the centuries has had the goal of increasing performance. Horses of all breeds have been improved and molded to specific jobs.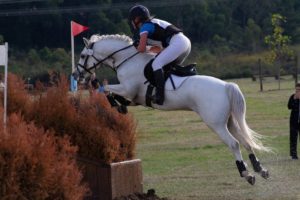 But some horses excel in a job they weren't bred for. Take Lakevale Toyman, a 13'3" hand pony in Australia owned by Jackie Wright. Wright purchased Tommy to be a companion to her other horse, but Tommy demonstrated his immense jumping talent and now he's a favorite on the cross-country course, flying over giant jumps. Without Wright's belief and trust in him, Tommy would still be in the field instead of wowing his fans with his demonstration of "heart".

Craig Johnson, a Million Dollar Rider, has multiple NRHA championships and is a 17-time World Champion. www.craigjohnsoninternational.com

Tarrin Warren is a sought-after clinician and judge in Working Equitation from Milano, Texas. She has won championships and reserve championships in Working Equitation and Campdrafting on horses she bred, raised and trained. www.tntfarmsqtrhorses.com

<!-comments-button-->