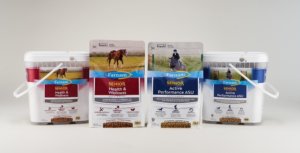 Old horses are golden. Once again, I found myself in tears reading the essays submitted for our annual Senior Horse Essay Contest. These stories of enduring love and life-long devotion are a testament to the commitment and care people have for their horses. Unfortunately, we didn't have any youth entries this year, so I chose one overall winner and two runners-up in the adult category. Enjoy!
Kim Roe, NW Horse Source Editor.
We're grateful to Farnam for providing their specially formulated Senior Horse Supplements as prizes to the winners of the Senior Horse Essay Contest.
Winner: Bubba—Bringing Love to Those Who Need It Most
By Barbara Boehme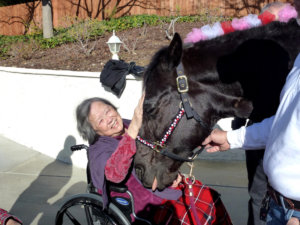 Bubba is a 29-year-old black quarter horse mare. I began riding her as a favor for a friend who replaced her with a faster barrel horse. She was 12, I was 45 and had absolutely no horse experience. I loved horses since I was born and quickly learned there was more to riding than I'd thought — and there was something special about this horse.
I purchased Bubba and arrived at my first barn with nothing but a horse and a halter. I began taking lessons, befriended fellow barn boarders, and searched the internet for activities involving horses. Trail riding became my passion which evolved into competitive trail; together we won our first buckle.
Bubba went anywhere and did everything. Proficiently trained in barrels and pole bending, we studied dressage, stadium and cross-country jumping, and cow sorting. We became part of a mounted patrol unit that patrolled our East Bay Park system in California which also included parades and activities involving special needs children. Bubba became the "go to" horse when an activity required a kind, calm equine.
When Bubba was just over 20, she suffered a severe injury requiring rehab that took over a year. Her days of jumping and anything that required quick lateral movement were over. But she did recover, and we got back on the trail.
Given her age and injury I knew retirement could be on its way. Her good nature and calm demeanor got me thinking of ways to share this horse that everyone loved so much; so "Bubba & Co" was born. We provided equine visits dedicated to senior care and living facilities, schools, hospitals, and special needs children and adults. Our first visit as Bubba & Co required her to go inside the building as the residents were not mobile enough to go outside. She was a star!
Since that day, dozens of visit requests came from senior centers, schools, and even a group of young people re-entering the workforce after incarceration or traumatic experiences. By the time we left California we were making regular monthly visits to many facilities.
We now live in Washington State and Bubba continues her special visits as much as our wet weather allows. Just last week we had our first facility "field trippers" come to our ranch for a visit.
There is a great need for senior activities. And those activities involving animals are the most special. Horses are basically unheard of because not all horses have the temperament to be trusted in these situations. But seniors and horses are especially unique. It brings out conversation and memories and the smiles are contagious; they look forward to that one day each month when Bubba comes to visit.
1st Runner Up: Bugsy: A Horse Not Forgotten
By Christina King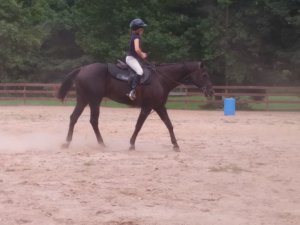 I like to think there was a strong connection or bond between a girl and her first horse that decades of being apart couldn't change. I'd like to believe that because I was reunited with my best friend, the horse of my heart.
Last summer, my daughter and I rode horses in the backcountry of Yellowstone National Park, and she fell in love with horses, just as I had when I was a young girl. Elizabeth wanted to hear every story, see every video and picture of my horse Bugsy. Over the years, I'd often wondered what had happened to my horse while I grew up, went to college, got married, and had children. I didn't know if I'd be able to find him — and if I did, what I would discover. I decided I had to know and, if I could, buy him back. Elizabeth desperately wanted her own horse and I could think of no other horse that would be better to teach her how to ride.
After a few days of searching and phone calls, I finally had a number of a ranch in South Dakota. They gave me another contact, and that contact gave me another number. Bugsy was alive and in Minnesota! I called and spoke to the nicest woman. She shared stories of what a great horse he was for her daughter. They loved him so much, but her daughter was grown and living in South Dakota.
I asked if I could possibly buy him back. She began to cry, and my initial thought was, I must be too late. She's going to tell me he died or sold him. I held my breath and waited…I started to cry dreading the worst, and then she said, "This is like an answer to a prayer. Come and get him. Take him home. Every horse deserves to be loved by a little girl." 
Bugsy came home August 1, 2017—one month before he was scheduled to be put down— and started a brand new chapter with a brand new girl. Bugsy took a few weeks to adjust to his new barn. He seemed different and yet still the same in some ways. Little by little, Bugsy came back to be the horse I remembered, the horse I loved.
Bugsy is not an easy-keeper by any means. His diet is expensive and he eats at least four times a day. His eyesight is poor, and changes in shadows and wind often scare him. He is sassy and a bossy old man at times. But he is absolutely an easy horse to fall in love with, all over again.
Bugsy lives down the road at the Hurley Farm. He is thirty years old. Elizabeth rides and does showmanship every day, weather permitting. He will stay with us for the remainder of his days and we feel blessed each and every day. While I know he won't be there forever, there's peace knowing what his end will be. Bugsy's story will continue. He will live on to inspire, offer hope, and teach life lessons long after he has crossed the rainbow bridge.
2nd Runner Up: Cimarron—Horse of the People
By Alexis Warner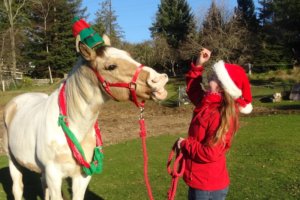 Over the course of his twenty-six years, my Paint, Cimarron, has touched the lives of countless individuals. In the process, he demonstrated tremendous heart and unwavering courage—qualities which have allowed him to overcome all of the odds that have been stacked against him.
The world hasn't been easy on Cimarron. He spent the first eight years of his life roaming untrained in a field with his parents, and by the time my Aunt Krista acquired him for her string of trail horses in 2000, he was nearly feral. The first time that she attempted to groom him, he violently snapped at her, and when she tried to ride him, Cimarron twisted through the air as wildly as any rodeo bronc.
Disheartened by Cimarron's resistance, Krista relegated him to packhorse status. Over the years that followed, the Paint proved himself worthy time and again. One of his greatest tests arrived when Krista and her companions encountered an aged wooden bridge, high in the North Cascades. As Cimarron crossed the bridge, one of the boards collapsed beneath his weight. Scrambling as his hoof plunged through the deck, he lost his balance and tumbled over the side of the bridge, to dangle upside down over a small ravine, suspended only by his left rear leg. In the aftermath, Cimarron remained perfectly calm and still as Krista and the other riders pulled him to safety—an act which saved his life.
When Cimarron turned fifteen, Krista gifted him to me, to care for as my own. He has since spent his years teaching me and my family what it means to love horses. My uncle fondly describes turning my younger cousin loose on the Paint and watching the two of them gallop down the local trails, and I still remember riding the Pacific Crest Trail for the first time on Cimarron's sturdy back. He even introduced our neighbor's daughter to horses, and he has helped her learn to ride with confidence. In so doing, he has become the noble steed that carried numerous young girls—me, my friends, my cousins' friends, and Krista's friends—one step closer to their dreams.
Although Cimarron is growing older now, he continues to be my beloved trail mount, trick pony, and teacher. His vigor and verve never fail to amaze me, and it brings a surge of joy to my heart when he trots up to me in the field, a kind gleam in his eyes, a welcoming rumble in his throat, and a toothy equine grin on his golden face. I will be forever grateful for all of the happiness that he has given me. He has transformed from a savage bronco into the gentlest of my companions. Of course, he has never really been mine alone—he has always been a horse of the people, changing lives wherever he goes.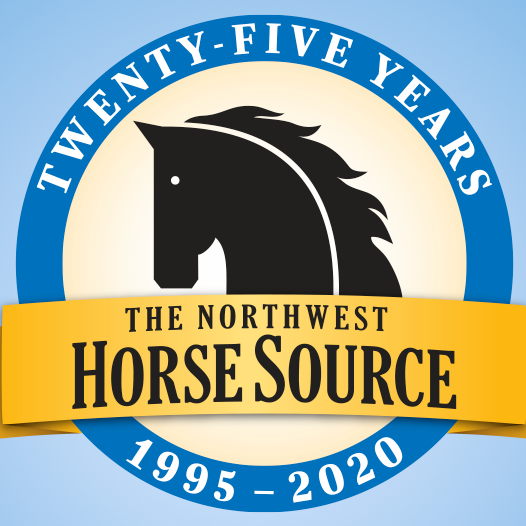 The Northwest Horse Source is an independently owned and operated print and online magazine for horse owners and enthusiasts of all breeds and disciplines in the Pacific Northwest. Our contemporary editorial columns are predominantly written by experts in the region, covering the care, training, keeping and enjoyment of horses, with an eye to the specific concerns in our region.