A good horseman knows one should never stop learning. Even naturally gifted equestrians understand that the path to true wisdom—a step above basic knowledge, often described as feel—is achieved only through a life dedicated to a unique art. Even then, there is always more to know: One who believes that he has mastered the art of horsemanship has not yet begun to understand the horse.
There are many ways to pursue a greater understanding of the horse, but for those in the Pacific Northwest a great place to begin, and return to year after year, is The Mane Event Expo at Heritage Park in Chilliwack, BC October 21-23. Now in its 13th year, the expo offers knowledge, wisdom and entertainment from the industry's best horsemen and women, provided through Canada's premier equine educational event and trade show.
Only the Best
Known for showcasing only the finest horsemen and women, The Mane Event has again put together a group of especially accomplished trainers and clinicians for the 2016 Chilliwack expo. These include Warwick Schiller, Peggy Brown, Kay Blandford, Leslie Law, Charlotte Bredahl, Garn Walker and others.
A lifelong rider, Warwick Schiller moved from Australia to the US to pursue his dream of training horses. He focused on reining, his passion, eventually going on to become an NRHA reserve world champion and represented Australia in reining at the 2010 Alltech World Equestrian Games. Somewhere along the way of learning to train reining horses, Warwick came to understand a thought process, a way of dealing with horses that crossed all boundaries of breed or discipline. Warwick's ability to solve horse problems is a skill that only the world's finest horsemen possess, but his unique gift lies in his ability to explain what he does and why to others.
Leslie Law is the Athen's individual Olympic champion and team silver medalist. Known for his consistency, Law has a string of successes including a team silver in Sydney 2000, European team gold in 2001 and 2003 and World team bronze in 2002. Since arriving in the US in 2006 Leslie has racked up a huge list of accomplishments and is a most sought after clinician.
Garn Walker is a lifelong horseman and has produced dozens of world and grand national champion Morgans in english, western, reining, trail and western dressage. Garn is also one of the founding partners of Cowboy Dressage World.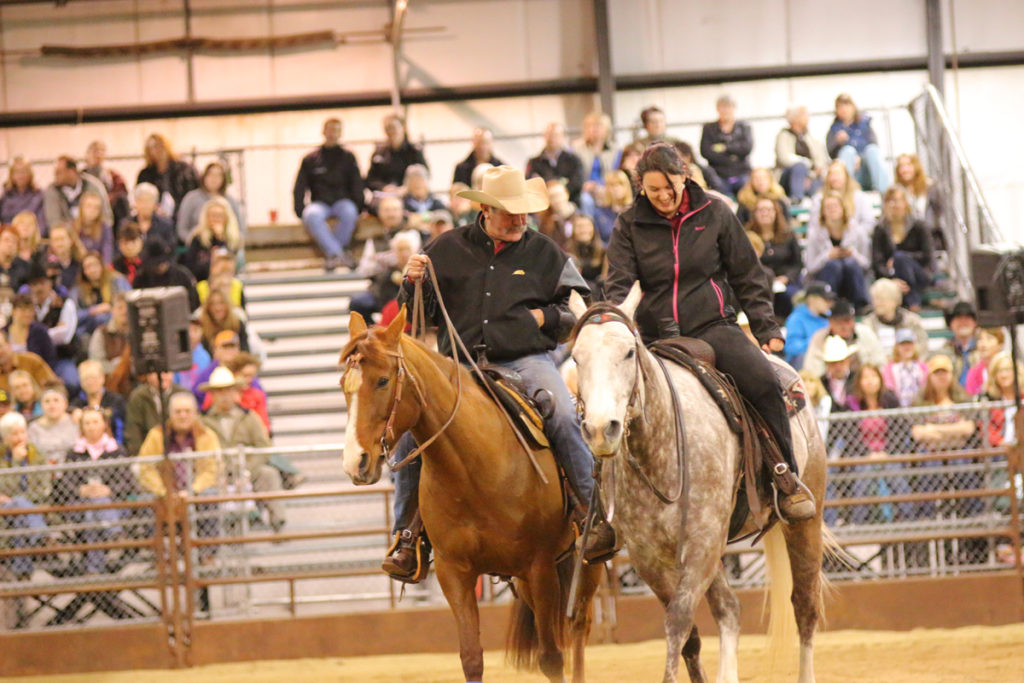 Charlotte Bredahl was part of the US bronze medal winning Olympic team in Barcelona with her horse Monsieur. She is a USEF (S) and FEI (International) rated (4*) judge. Charlotte was the selector for the 2008 Olympics in Hong Kong, and in 2010 for the World Games. In 2009 through 2011 she was the featured clinician for the USDF adult clinic series in all 9 regions. In 2014 she was awarded the USEF Gold Medal of Distinction as well as Honorary Instructor title by the USDF and appointed US Assistant Youth Coach for the same year.

Peggy Brown is an Advanced Level IV Centered Riding and Centered Driving Clinician. She has trained horses and riders for more than 30 years. Peggy's strong belief in good foundation training and application of physical education techniques to riding and driving has helped her students succeed at both local and national championship levels.

Barrel racing enthusiasts will be excited to learn the finer points of the sport from champion Kay Blandford. Kay was inducted into the Texas Rodeo Cowboy Hall of Fame in 2010. She was the WPRA world champion in 2007, in addition to many other achievements in the sport of barrel racing spanning four decades.

Keeping it Fun

All teachers know a great way for students to learn, and retain, new information is by keeping it entertaining. New information is processed naturally in an environment where questions are encouraged and laughter is welcome. Perhaps this is why the Trainers Challenge continues to grow in popularity.

This year's trainers accepting the challenge include Evan Bonner from Washington and Ed Dabney from Georgia. Bonner's career with horses began young with 4H and Pony Club and he has been competing in a variety of disciplines —including colt starting—since 2008 in venues all over the country, including at the NFR in Las Vegas. Ed Dabney, a 5th generation horseman, is an internationally acclaimed clinician, a 2008 Road to the Horse participant and is continually presenting clinics across the US and in Europe. Don't miss the chance to watch these two gifted horseman (plus one more) in action.

New to the show line up this year, the ProAm Competition on Friday night promises to be entertaining. This special event features teams made up of one youth (12-18) and one clinician competing in a timed obstacle/trail course. The teams will complete the course using the youth's horse in a relay type competition. Interested youth are encouraged to apply and applications are available online.

For a complete list of clinicians visit www.maneeventexpo.com or call 1-844-578-7518.

Big News

The Mane Event, is expanding, they are adding two new show locations for 2017. The two shows are London, Ontario, May 12 – 14, 2017 at the Western Fair District's "Metroland Media Agriplex" and Scottsdale, Arizona "WestWorld of Scottsdale", May 26 – 28, 2017. Plan now for a weekend in Ontario or Arizona. Stay tuned for more information on these expos.

<!-comments-button-->