Draft Horse Spectacular to be a Part of the 2013 Equine Experience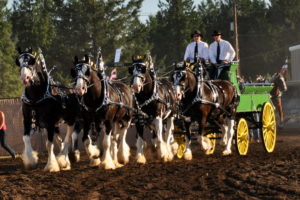 What do you get when you combine draft horses, an extreme cowboy race, jackpot barrel race, and some of the best clinicians and equine entertainment in the northwest? A horse event of spectacular proportions. For the second year in a row, the Lynden Horse Expo will provide outstanding opportunities for horse lovers young and old October 4-6 at the Northwest Washington Fairgrounds.
Expect Only the Best
Last year nearly 3,000 people converged on the Equine Events Center at the Northwest Washington Fairgrounds for the expo's inaugural event and got their cowboy on with mounted shooting, an extreme cowboy race, and top-notch teaching and demonstrations on all things horse.
"It's exciting to create an event that supports the equine industry and community, while having some of the country's best horsemen under one roof," says Maryjo Turnbull, the Facility and Equine Events Coordinator.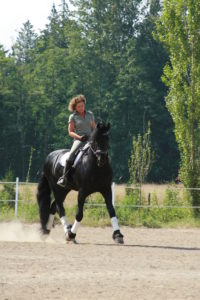 This year will be no less a display of the best, from the northwest region and beyond. Back by popular demand, Texan Craig Cameron will again host a cowboy race. A fast paced competition showcasing advanced horsemanship on an obstacle course, this race remains a crowd pleaser. Other returning favorites from last year include Raye Lochert, Brent Rollins and Richard Shrake who will offer clinics and demonstrations on horse handling and training techniques, both on the ground and in the saddle. New clinicians this year include Linda Kindle (classical dressage), Barb Apple (Horse Play and western dressage), and Keith Danielson (Plumb Good Horses). Those interested can again sign up to "Ride with the Pros." See website for details. In addition, David Bodin, "The Horse Trailer Guru," and Becky Tenges, equine massage and wellness, will demonstrate ways to keep your horse safe and healthy at home or on the road. 
Size Matters
The Equine Events Center at the Northwest Washington Fair covers several acres and features one of the largest—and nicest—covered arenas north of Seattle. Constructed in 2010, The Washington Tractor Arena is 130×235 feet and located next to the existing one which received a facelift (or rather footing "lift") since the last event. A grand opening of this space—now The Luft Trailers Arena—is planned during the expo. These spaces together offer an outstanding venue for horse events and are perfect to accommodate the super size equines visiting during the 3 days of the expo. Not to be missed is the "Draft Horse Spectacular" on Saturday night when 6 and 8-horse hitches put on a rare show and opportunity to see these magnificent animals. Other draft horse activities during the expo include a heavy horse pull on Friday night. It's fun for the whole family. Sign up to learn how to drive a team! The Warm Beach Vaulters are also returning with their troupe of plus size equine athletes (some over 18 hands) to wow crowds with displays of gymnastics on horseback.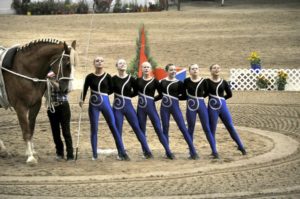 Everything Equine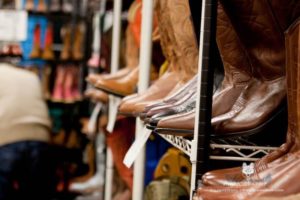 The 2013 expo offers a variety of activities and exhibits beyond the non-stop action in the arenas. Expect over a 100 vendors to be on hand, offering all things equine related from horse care to tack and apparel. Come and get a head start on Christmas shopping.
Other displays and events include a breed exhibition, F.E.I.T. (Federal Equine Inspection Tours) inspections open to the public, book corral featuring northwest authors and cowboy poetry, and even a cowboy style church on Sunday. New this year, the Whatcom Pony Club will have a kid's corral with fun crafts, education, and activities.
"This year's show is bigger, bringing a lot of variety and excitement. There is something not only for the horse owner, but those dreaming of horse ownership in their future! It's entertainment at its best," says Turnbull.
Main Events: Craig Cameron's Extreme Cowboy Race, Jackpot Barrel Race, Saturday Night Draft Horse Spectacular, Warm Beach Vaulters, High Jump Exhibition, Equine Emporium with more than 100 Vendors.
More Fun and Education: Kid's Corral, Draft Horse Driving Clinic, David Bodin, "The Horse Trailer Guru," Becky Tenges: Equine Massage, Breed Exhibitions, FEIT (Federal Equine Inspection Tours), Cowboy Church on Sunday.
Be Part of the Expo: Don't Miss Your Chance to Participate! Clinic spaces and FEIT inspections are available as well as opportunities to "Ride with the Pros" or compete in the Jackpot Barrel Race and/or Extreme Cowboy Race for cash and prizes. Hurry, space is limited. Great vendor opportunities also available—get your equine product or service in front of customers! Call 360-354-4111 or visit nwwafair.com.
Save on Tickets and Be in the Show: For the latest information on the 2013 Lynden Horse Expo including full clinician bios, schedule and tickets visit www.nwwafair.com.  Save money and purchase tickets early!
Craig Cameron: A Native Texan, Craig Cameron is on the road more than 44 weeks a year covering 80,000 miles demonstrating the style of horsemanship he has perfected in the last 23 years and conducting Extreme Cowboy Races. Called the "public defender of the horse," Craig dedicates himself to those who educate their horses by first educating themselves. At an age where most have long since retired the thought of starting colts, Craig Cameron starts hundreds of horses each year; plus holds his four-day clinics held at his ranches in Bluff Dale, TX and Lincoln, NM blending education with entertainment.
Richard Shrake: Richard Shrake is an educator, not an entertainer. By attending either his week-end clinics, his intense 4-day riding programs, or as a spectator at horse expos and fairs, you will gain skills and confidence that you have never had in the past. His knowledge is available to all of those who insist upon a life-long, positive relationship with their horses. He teaches his Resistance Free® Riding & Training Methods, which are acknowledged by their success nationwide and has been an icon in the horse industry for over 45 years.
Raye Lochert: No games, just practical horsemanship. Raye Lochert travels all over the US and is considered one of the most accessible teachers, using an approachable style that sets him apart and allows for greater communication between horse and rider. In an industry that's exploding with information, trainers, and a public with an insatiable appetite for more knowledge, Raye's goal is to break down problems into simple solutions. He believes that everything he teaches must be "doable" by anybody. 
Barb Apple: Barb Apple is the "Cowboy without Hat & Chaps". Barb spent her formative years with renown mentors Pat & Linda Parelli, Tom Dorrance, Eitan Beth-Halachmy, Jack Brainard and others. Barb is now focusing her no nonsense teaching approach to further the rider's understanding of cowboy dressage, centered riding, natural HMS, and trail riding. Her underlying intention is to build a rider's confidence and their relationship with the horse. Her motto is, " soft feel with people & horses. "
Brent Rollins: Craig Cameron's apprentice for two years. He competed in the first 2010 Project Cowboy in Fort Worth, Texas. Brent has competed in many extreme cowboy races and mustang makeovers. His goal is not only to promote the mustang and their versatility, but also to educate potential adopters on what to expect with their new mustang. Brent believes that every horse deserves a chance to be great, you just have to be willing to put in the effort. 
Linda Kindle: Linda was born in the central part of Holland, where she grew up with horses on the family owned and operated riding school. She started to ride at the age of six on New Forest Ponies. At the riding school she was formally trained in dressage, jumping and driving. The riding school gave her the privilege of learning under some of Europe's top ranking instructors and horse trainers.
Published September 2013 Issue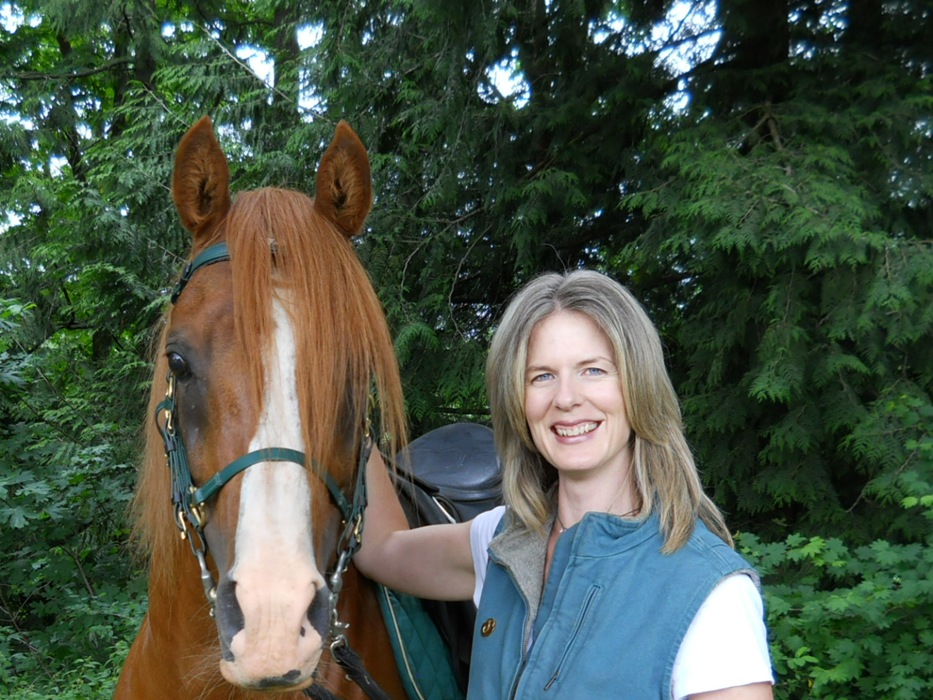 Catherine Madera served as editor of the Northwest Horse Source for five years. She has written for numerous regional and national publications and is a contributing writer for Guideposts Magazine and the author of four equine-related books. She has two grown children and lives with her husband and three horses in Northwest Washington.