Time and a New Approach Might be the Solution
By Jill Holdal with Julie Lewis-Schot
First, what makes a good trail horse?
Some horses love trails and hate arena work. Some horses hate trails and love the arena. The latter are going to take more time to train for trail. I've had my share of both in training.
I think a good trail horse is calm, bold, level headed and has a lot of self-preservation. I have owned and trained many off-the-track Thoroughbreds and Quarter Horses who became excellent trail horses. Some are just naturals.
I find horses who are inquisitive and curious make good trail mounts. Generally, one who has grown up outdoors in a natural environment, such as a mustang, already has the skills to be a good trail horse.
Where do you start with a "bad" horse?
I like to start with a detailed conversation with clients to get as much information as possible. This helps me identify problems and decide how to proceed.
Sometimes the client needs to take some responsibility. Bad training may be unintentional, but allowing unwanted behaviors teaches your horse it's okay to misbehave. I work to correct behaviors, but ultimately the client needs to make changes too or the results are only temporary. Horses need consistent direction to succeed.
I invite clients to ride with me to see what I'm doing. This prepares them to guide the horse after training. Every time you interact with your horse you are training it, good or bad. Be aware and make sure you aren't contributing to your horse's issues.
What about horses who've had training but still have issues?
Owners need realistic expectations when hiring a trainer. If the horse wasn't properly trained, never had enough foundation training, has been allowed to misbehave or has had a considerable amount of time off, it may take longer to correct behavior.
I tell clients you have to work on the horse's time, so it can be hard to know just how long the horse needs to remain in training. Sometimes the professional trainer just wasn't the right match for the horse or the owner, so the training experience didn't go well.
Even if the horse has been previously trained professionally, I spend time initially on an arena tune-up, so I have tools to deal with problem behaviors once I'm on the trail. Even seasoned horses can benefit from a foundation refresher. The better the communication, the better the results.
Some regular clients have me tune up their horses from time to time. The horse may not be acting up, it is just about keeping a nice foundation on them to help avoid issues.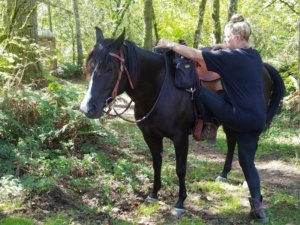 Are there some "bad" horses who can't be fixed?
I don't like to give up on a horse. A horse may require more time than expected. Sometimes I just change my approach to reach them.
I had a client with a filly started by another trainer. The trainer stopped her training after a couple of weeks and deemed the 3-year-old "too mean" and unsafe to ride. The trainer suggested she be placed with "an outfitter who could ride her all day, every day and try to train the mean out of her" or consider euthanasia.
My client was in tears when she called, so I set up an evaluation session for the following week. I started by ponying the horse for 90 minutes on the trail. When we returned to the arena, I prepared to mount, but not before I let her completely relax. I needed her to trust me to be fair while still establishing leadership, which started with the ponying.
The previous trainer reported the horse was dangerous at the mount with kicking out and biting. The trainer mounted and dismounted the horse with her head flexed laterally ("…at least 150 times," by the trainer's claim).
It's common practice to mount a green horse this way, but I prefer to teach horses to stand straight and relax on a loose rein while mounting. This approach changed the dangerous behavior in this filly quickly. Once in the saddle, without incident, I sat and let her relax again.
For this horse, the rider energy and pattern needed to change in order to change the behavior. I could not follow the same pattern the previous trainer used. Often, it is about tailoring a training program specific to the horse. The horse may not be "bad" at all. That same mare is now quite happy to be ridden and loves to hit the trails.
Jill Holdal resides in the scenic Walker Valley area of Mount Vernon, Washington. With over 40 years of experience, her techniques have proven successful for all breeds and disciplines. She offers foundation training, tune-ups, trail training (on real trails), and extreme horse makeovers. She specializes in making accurate training evaluations and tailoring effective schooling methods. This boutique style training means no assembly-line training and limited openings. She provides horses plenty of attention and consistency while staying at her property.
Holdal competes in barrel racing, ranch sorting, and cowboy races. She also enjoys trail riding, dressage, and is currently inspired by working equitation.
Find her on her "Jill's Horse Training" Facebook page. Email jillshorsetraining@hotmail.com or call 360-422-8202.