Pacific Northwest Home to Top Shooters!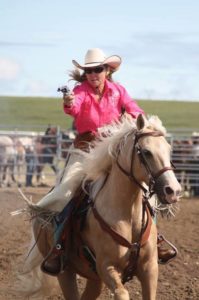 At the 2013 Scully Western US Championships, held this past July 31 – August 3 in Las Vegas, the Pacific Northwest was a force to be reckoned with.  This year sported the largest number of shooters ever competing, at 205 contestants.  Approximately ¼ of those in attendance were from Washington, Oregon, Idaho and Montana.  We brought several buckles home, proving once again that the Pacific Northwest is home to some of the top competitors in the Western US. 
Mounted shooters compete in this fast action timed event using two .45 caliber single action revolvers each loaded with five rounds of specially prepared blank ammunition that will break a balloon up to about 15 feet, so the event is safe for spectators.  Each contestant engages a preset course of 10 balloons.  There are approximately 60 different courses.  Everyone begins as a Level 1, and works their way up to a Level 6.  In addition there are Divisions for the Seniors (age 50 and over) and even the kids (ages 11 and under).  It's a great family sport.
Mid October features the finale' with the CMSA World Championships in Amarillo, TX.  We hope to make people sit up and take notice.  Stay tuned! For More Information on this exciting sport visit: westernwashingtonmountedshooters.com or email Karen Plumlee at MissionFarrierSchool@hotmail.com.
Published October 2013 Issue
WWMS members vary from kids to adults, and from the recreational shooter to the serious National and World competitor, so there's a spot for everyone. We are a friendly group, and enjoy introducing the sport to others. Please feel free to contact us at any time, and come join the addiction that is Cowboy Mounted Shooting!!! www.WesternWashingtonMountedShooters.com