Roper Johnny McDonnell Appreciates Quality Service and Products
by Kim Roe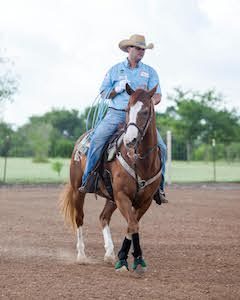 Johnny McDonnell takes team roping seriously. A hard-working manager of a landscaping company on weekdays, he and his wife, Erin Givens, also own and operate Sterling Hunter/Jumpers Riding Stable in Buda, Texas. They own 18 horses, many of which are used in Erin's lesson program. Nearly every weekend, McDonnell and his roping horses head down the road to a team roping.
McDonnell competes in United States Team Roping Championship (USTRC) and Priefert World Series competitions in Texas, Oklahoma, Louisiana, and New Mexico. He and his horses rely on the top-quality, made-in-USA products sold, designed, and manufactured by Team Equine.
Team Equine is based in Molalla, Oregon and was founded in 1999 by current General Manager Justen OeDell's mother, Lis OeDell. The family built their business out of a passion for horses and riding. In designing their saddle pads, they decided it was time to get rid of the idea that one size fits all.
Team Equine's goal is to help horses with odd or difficult conformation be more comfortable and to keep hard-working horses (like McDonnell's roping horses) performing well. After years of rigorous testing and tinkering, Team Equine has created a line of saddle pads that allows horses to achieve comfort and performance. The labor of love that began with a product originally sewn in a small tack room has now become an evolving and emerging manufacturer and importer of high-quality horse products for the equine industry.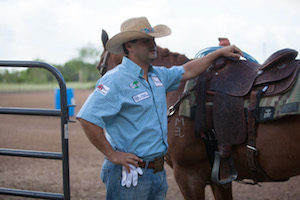 Team Equine believes in and strives for a customer-first mentality. With over 50 years of horsemanship experience, they passionately sell products they use themselves and hope their customers enjoy and appreciate — whether on the ranch, at a competition, or out trail riding.
Johnny McDonnell first contacted Team Equine after trying to purchase a saddle pad from another company whose website couldn't process his order. Soon Johnny was offered a sponsorship by the company.
"Team Equine is a family business," says Johnny. "They are warm and approachable. The shop manager, Traci Olson, is fantastic. They try to do a good job for everyone. Their goal is to be a successful company, but not at the cost of customer service. They truly care about you and your horse."
McDonnell feels welcomed by Team Equine and like he's a part of the company. He is currently working with them to design an English saddle pad.
McDonnell has two horses, 12-year-old Dish and 15-year-old Joe. He's had Joe for ten years, and credits much of his success with the horse to his friend David Key who helped with the training. The buckskin, Dish, is new to McDonnell. He got him from a longtime friend that had been cowboying off him for a living. He has high hopes for Dish and is already clicking with him.
The two horses have different withers. Joe is high-withered, and Dish is wide. McDonnell selected two different pads to accommodate this. "My number one priority for my horses is their comfort. I do not want to sacrifice their wellbeing for style or fashion."
Team Equine can customize every part of your saddle pad. They carry a huge inventory of various versions. These pads are custom-made quality without the custom-made price. Pads can be made for a customer's specific needs, and the horse's comfort is a top priority.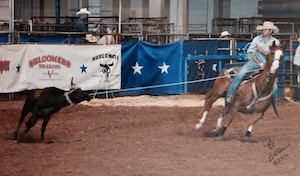 Besides saddle pads, Team Equine manufactures wool felt liners, cinches, rope halters, and chute box pads among other things. They import and distribute sport/protective boots, bell boots, Safe T Ties, Lubrisyn, and related tack accessories.
This year McDonnel has already won over $5,000 and is qualified for shoot-out spots at the USTRC finals that will be held in Oklahoma City in October. He's hoping to qualify for a spot in Las Vegas at the World Series finals as well. "I have some great heelers that are standing behind me and helping me push to achieve my goals."
With Team Equine's support and high-quality products, it seems very likely Johnny will indeed meet his goals.
Find out more about Team Equine at teamequine.com.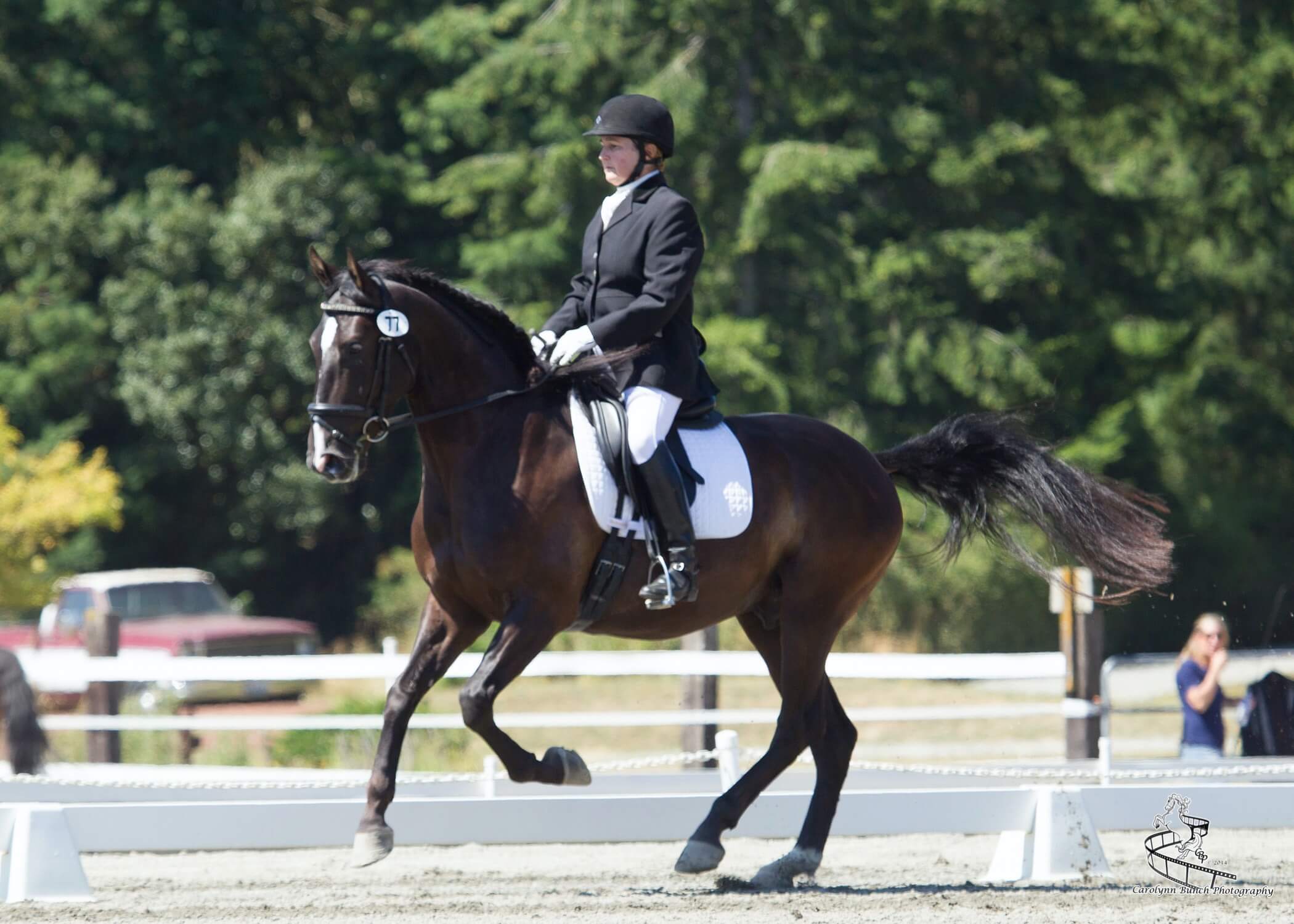 Kim Roe grew up riding on the family ranch and competed in Western rail classes, trail horse, reining, working cow, and hunter/jumper. She trained her first horse for money at 12 years old, starting a pony for a neighbor.
Kim has been a professional dressage instructor in Washington state for over 30 years, training hundreds of horses and students through the levels. In recent years Kim has become involved in Working Equitation and is a small 'r' Working Equitation judge with WE United.
Kim is the editor of the Northwest Horse Source Magazine, and also a writer, photographer, and poet. She owns and manages Blue Gate Farm in Deming, Washington where she continues to be passionate about helping horses and riders in many disciplines.