8 Catchy Tunes for Remembering the Basics
by Robert Eversole
Whether we like it or not, Old Man Winter has settled in for the season. A good way to keep him at bay is to put a little thought into preparing for the inclement weather on the way. To help, let's borrow from the field of neuroscience and use music to help remember what needs to be done. We've all had an "earworm," a catchy piece of music that continually repeats in our mind long after its echoes have faded. Sing along as we get a jump on the season and our winterization chores.
Food, Glorious Food
Horses and mules are sturdy animals that have tolerated seasonal changes for millennia. To survive during colder weather horses, like humans, need to take in extra calories to maintain their body temperature. Plan ahead to ensure plenty of food is on hand at all times. Unexpected winter weather can make it difficult, if not impossible, to have hay/feed delivered.  The award-winning musical Oliver! nailed it in the opening song: it's all about Food, Glorious Food.
Water
Believe it or not, most equines will drink more water during the winter months than in the summer. If they can get to it, that is. Chipping ice from buckets and troughs isn't much fun but it needs to be done unless you've got a water tank heater. I invested in one (and a spare) as soon as I had a barn with electrical connections. If a tank heater isn't an option go for rubber buckets and tubs. Where plastic will shatter in the cold, rubber buckets are nearly indestructible. Brad Paisley's song Water from his album 5th Gear might help you remember this important need.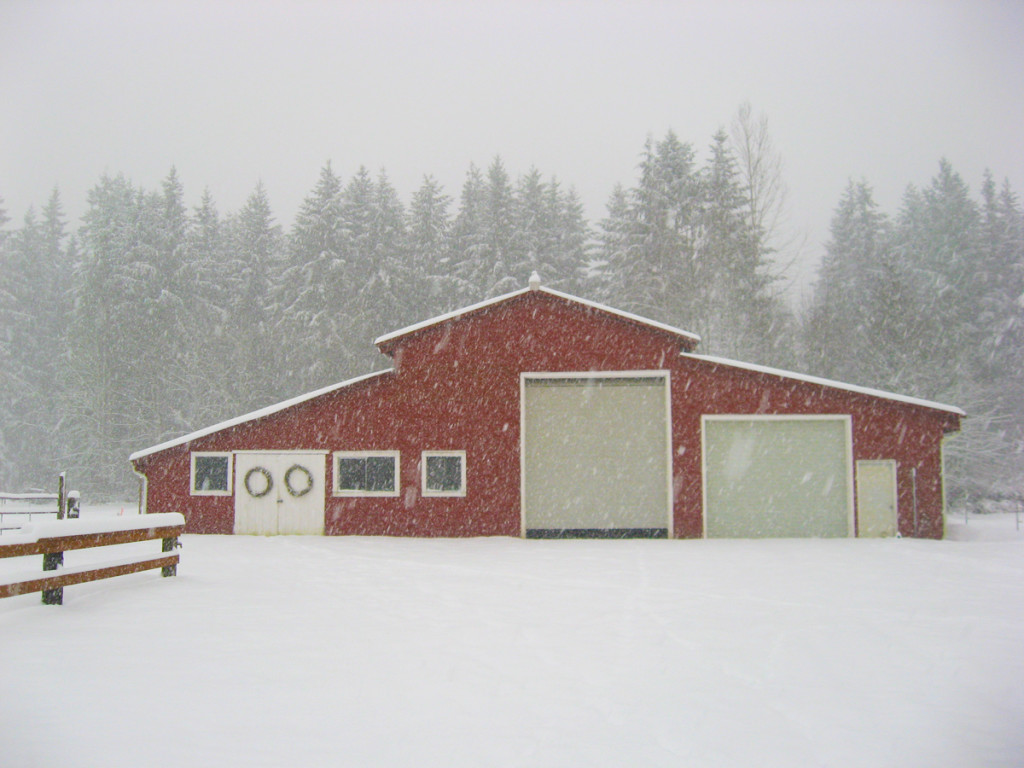 Gimme Shelter
The Rolling Stones had it right with this song back in 1969. Despite growing a thick woolly coat, horses still need some type of shelter from the elements during winter. Wind, sleet and storms will have your horses looking for a place to get out of the worst of it. Open sided sheds, or even thick trees are often enough to break the wind.
Baby It's Cold Outside
Let's take heed from Margaret Whiting and Johnny Mercer with this Christmas classic and consider the topic of blankets. Although I don't usually blanket my animals, I always have a blanket or two around and ready just in case. Clean and repair any damage before you actually need it.
Now that you've handled your animal's core concerns of food, water and shelter, let's continue the checklist with items that will make life easier during the short days and cold temperatures still to come this winter.
Christmas in the Sand
Areas that are heavily trafficked can become icy in a hurry. A few bags of sand will make quick work of any icy spots that you may find. A layer of sand will provide much needed traction for you, your horses and even your truck. Think warm thoughts and sing along with Colbie Caillat in this piece from her 2012 Christmas album.
Mud Slide Slim
A mudslide inspired James Taylor wrote this piece that we can all relate to. Between freezes, mud is generally on the winter "menu." Heavy traffic areas such as paddocks, gates and walkways will be the worst. It's much easier to have gravel delivered and spread on problem areas now before they become a slick and sticky mess.
Moon River
Runoff for driveways, hillsides, and roofs, can add to your mud and ice problem. Ditches, swales, and gutters can help and are easiest to plan and install before the next downpour. Be sure to fill in the low points in front of gates and doors where running water will quickly turn to ice. After the work is done, enjoy Audrey Hepburn singing this classic song in the 1961 film Breakfast at Tiffany's.
Pastures of Plenty
If you're lucky enough to have a pasture now is the time to baby it. The better your pastures look at the end of the year the better they will perform next season. Protect pasture grasses from winter damage to give them a jump-start in the spring. Woody Guthrie described well the benefits of properly maintained fields in this song from 1941. Plan ahead for next year by contacting your local extension office for advice on adding lime, fertilizer and over seeding.
As always, for more information on this and other topics, as well as the nation's largest source of horse trail and horse camping information in the U.S. please visit the all-new www.TrailMeister.com.
Published in January 2016 Issue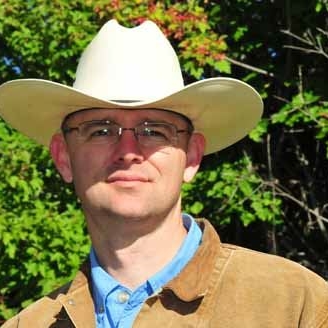 Robert Eversole, "the trail meister," owns www.TrailMeister.com, the largest database of horse riding and camping areas in the U.S. with free trail and trailhead information, trail maps, and much more to help horse enthusiasts experience the joys of trail riding. Robert is a registered riding instructor with PATH International, a mounted search and rescue team member, and a U.S. Marine who has served on the board of the Backcountry Horsemen of Washington (BCHW). He is enjoying his new career helping fellow trail riders stay found and safe on the trail. When not on the trail, The Trail Meister resides near Spokane, WA and teaches land navigation to a wide variety of outdoor groups across the nation. For North America's largest horse trail and camping directory, trail tips, and more, visit www.TrailMeister.com.