Statewide Work Party in the Salmo-Priest Wilderness
by Teri Starke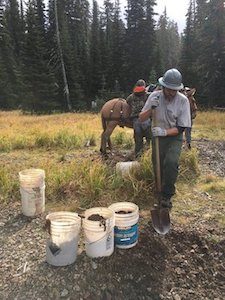 Back Country Horsemen of Washington chapters are hard at work planning multiple trail maintenance projects. The biggest one will be our fifth Statewide Work Party on August 2–5, held in the Salmo-Priest Wilderness in the Colville National Forest. This year's work party will give all BCHW members a chance to hone their trail maintenance skills.
The Salmo-Priest Wilderness is approximately 95 miles north of Spokane in a rare inland rain forest. It is home to wildlife such as woodland caribou and grizzly bears, which are not seen in other Washington wilderness areas.
BCHW will be partnering with Back County Horsemen of Idaho, the Washington Trails Association, the Pacific Northwest Trail Association, and the US Forest Service. Packers, cross-cut sawyers, and trail technicians will be in demand at this event. This year we will ride trails into Idaho and work on loop trails that return to Washington horse camps. Camping and staging will probably be at Gypsy Meadows. If you would like to experience a statewide work party, become a BCHW member and sign up.
May 20 is the popular Joe Watt Canyon Fun Ride. Last year we had more than 500 riders. The first rider goes out at 9:00 a.m. with prizes at 4:00 p.m. First place is $500! All proceeds this year will support work in the Pasayten Wilderness and other troubled areas around the state. More information can be found at bchw.org under the upcoming events tab or www.bchw.org/Int/main/2017%20Joe_Watt_Ride.html.
Following is an essay written by BCHW's Executive Director, Darrell Wallace. He discusses what is at stake for trail riders in Washington State.
 Support for Trails Needed
Back in the late 1970's, BCHW founder Ken Wilcox was concerned that there were fewer trails for riding. Many were being closed to equine use. Today we have two kinds of concerns: trails being closed to equine use, and trails being closed, period.
The increased popularity of mountain biking has been blamed for some trails being closed to horses, yet few clear examples of this can be cited. It seems to be more perception than reality. True, anyone whose mount has pitched a fit when one or more mountain bikes approached at high speed will want to avoid mountain bikes, but there are ways to mitigate that problem.
A bigger problem is with the perception in the minds of land managers: Horses are high impact and hard on the environment. Horses spread noxious weeds. Hikers don't want to hike on horse manure. All of these perceptions can be argued, and hopefully good science will prevail. Sometimes the land managers decide that those perceived problems are less important than the sweat equity that BCH members put into maintaining trails, trailheads, campgrounds, and other facilities. Ultimately, riders usually do better by joining forces with other recreational interests.
Recent funding shortfalls for trail maintenance on National Forests have presented a new twist on an old problem. Nature is hard on trails; blow-downs, washouts, wildfires, and fast-growing brush all combine to require regular trail maintenance. But when there isn't enough funding to maintain the trails, then what? Increasingly, trail managers are considering simply closing the trails because they are too dangerous or because users can't make it through. And the next step is permanent closure; the trail is no longer on the map, and no longer on anyone's mind.
Back Country Horsemen of Washington rarely accept that thinking. Logout needed? Sure! Have to be certified sawyers in order to do it as volunteers? Okay, we'll do that too. Need first aid cards in order to be certified? Okay, we'll do that too, and bear the expense. Must wear personal protective equipment? Okay, we'll buy it at our own expense and wear it.
Recently, we encountered a new problem. Professional outfitters complained that a popular trail was too dangerous to use any more. Downed logs, washed out water crossings, and brushed-in trail stretches all combined to close that trail to stock use. When we met with trail managers, they stated that the trail was open and had been maintained. Something didn't add up.
BCHW volunteers are planning to clear that trail this summer and will work with the land manager to clear up the disconnect. When you think about what could happen to your favorite trail due to nature or to human management decisions, think about supporting BCHW. Your dues, contributions, volunteer energy, or supportive letters and emails could help us to keep those trails open to stock use and to other recreational use as well.
Originally Published April 2017 Issue
Back Country Horsemen of Washington (BCHW), is a 501 (c) (3) organization with 32 chapters across the state dedicated to: keeping trails open for all users; educating horse users in Leave-No-Trace practices; and providing volunteer service to resource agencies.