The Little Mustang Takes a Big Step
By Stonewater Staff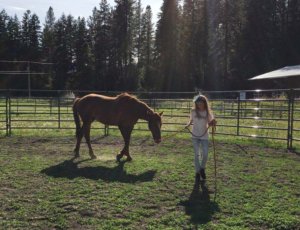 The time had come. I knew Dally was ready for a student to take his leadrope and begin the student-Mustang partnership we have been working toward. So, on Thursday evening, with the other nine campers watching from the rails, little Leslie stepped into the roundpen with me, and the formerly-wild two-year-old Mustang, Dally.
Leslie was the smallest, quietest student that week. She was mostly looked over or ignored by the other campers. Nothing escaped her observation. Her quiet demeanor and calm sense of self were perfect to pair with Dally.
Without a change of expression, after a few clear instructions from me, Leslie reached her hand out in a friendly hello. Dally stretched his nose forward to touch the offered hand. I gave the leadrope over to the small, quiet girl. At first she just stood there. With some encouragement from me, she began walking a small circle; then the circle got larger and larger, until girl and horse were calmly walking the perimeter of the round pen in a quiet matter-of-fact way. None of those involved will forget this moment. It's a moment we will relive every time a student and a Mustang come together to learn and grow.
For training updates, follow us on Facebook: www.facebook.com/StonewaterMustangs.
To be a part of what God is doing in teen lives through Horse Adventures, please visit www.yd.org/stonewatermustangs
Published September 2019 Issue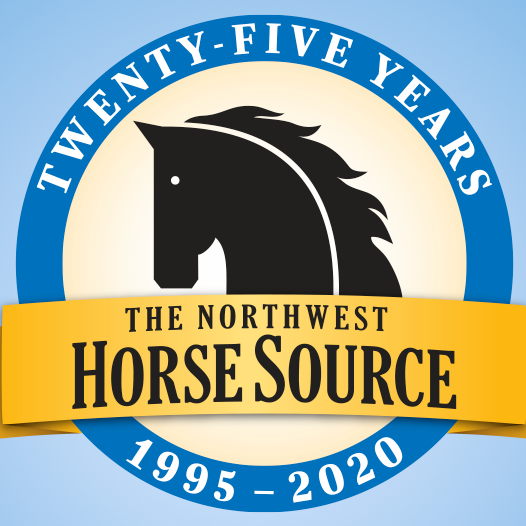 The Northwest Horse Source is an independently owned and operated print and online magazine for horse owners and enthusiasts of all breeds and disciplines in the Pacific Northwest. Our contemporary editorial columns are predominantly written by experts in the region, covering the care, training, keeping and enjoyment of horses, with an eye to the specific concerns in our region.