Where Necessity, Wellness and Ingenuity Meet
by Catherine Madera and Erin Gemmill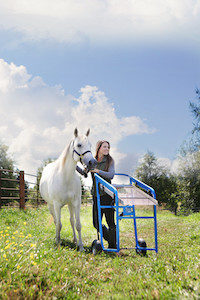 StallGem Manufacturing Company Sales Manager, Erin Gemmill, thought she had her dream lifestyle in 2004 when she purchased a small farm and two horses. It wasn't long before she made the painful discovery of just how fast those horses could fill 2.5 acres with manure. Seeing Erin was overwhelmed with the time and labor involved with barn chores (on top of a full-time job), Erin's father, Terry, would often offer his help. Newly retired, Terry loved spending time on the property and helping his daughter. A Mr. Fix-It type, he turned his attention to the ever-growing manure pile, the problem of composting it quickly, and finding a way to make stall cleaning easier and faster. He went to the shop and began building a prototype for a bedding sifter, a machine that would separate the manure from the bedding more efficiently than by hand, and would also save horse owners time, money, the physical wear and tear on the body, and help achieve better composting. In 2007 StallGem was born and officially patented in 2010.
An Investment in Wellness
Any equestrian knows that the majority of time spent with their horses, if personally cared for, will be in the barn, cleaning. Most of this time is devoted to picking up the 50 pounds of manure, on average, that one horse produces daily. Composting, especially for smaller farms, is a real concern in the healthy management of horses. The use of a StallGem bedding sifter, ensures less waste of shavings and less bedding in the compost bin, resulting in a more efficient break down of the manure and reduced bedding and haul-out costs. It is specifically designed for sifting wood shavings.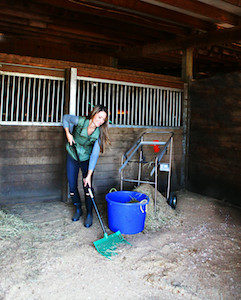 "We like to use shavings in our barn because they are absorbent, and they filter the urine down to the bottom layers of the bedding, keeping it dry and fluffy on top. This provides the horse with a drier and more comfortable bed. Shavings typically don't produce as much dust as pellets or sawdust, but they are more difficult to clean," says Gemmill. "The StallGem does work with pellets and sawdust, but with shavings the machine becomes a must-have."
It is well known that the healthiest environment for a horse's respiratory tract is being outdoors, but in a wet climate like the Pacific Northwest, this isn't always possible. Dusty barns are a factor in equine Chronic Obstructive Pulmonary Disorder (COPD), also known as Heaves. Moreover, cleaning dusty stalls can negatively impact the respiratory health of humans, too. Though it is an initial investment, the StallGem bedding sifter is beneficial in the long term health and wellness of both horse and human.
"The StallGem is designed to do all of the hard work. I can clean a stall easier, and in half the time," says Gemmill. "Daily stall cleaning can cause a lot of aches and pains which are alleviated with this machine. Also, because the StallGem is a piece of equipment that will be used once or twice a day, most people will start seeing the return on their money right away."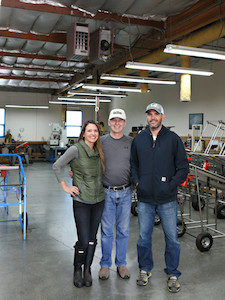 Handmade To Be Handy
Located in Everett, Washington, StallGem Manufacturing is a family-owned and operated company since 2007. All of the bedding sifters are handmade by Terry, with the assistance of Erin and her brother, Andrew. They currently sell a powder-coated steel and a stainless steel model. Both StallGem models are lightweight (under 55 lbs.) and are easy to maneuver. They feature an adjustable sifting tray and an adjustable speed electric motor- which is quiet enough not to bother people or horses during use. The StallGem is maintenance and assembly free, and comes with a one year warranty.
For more information, including photos and videos, please visit www.stallgem.com or call (425) 787-3000 and ask for Erin.
Testimonial:
Great machine! It took about 5 minutes to do a stall (we were taking our time) and we tried it on both pellets and shavings. It's efficient, relatively quiet (one of our horses spooks easily but was content as we operated it) and saved the bedding. A wheelbarrow fit nicely under the lip of the tray to catch the manure.
Thanks for arranging the shipping so quickly,
Gord and Janet Grant, Pegasus Farm, Canada
Published October 2014 Issue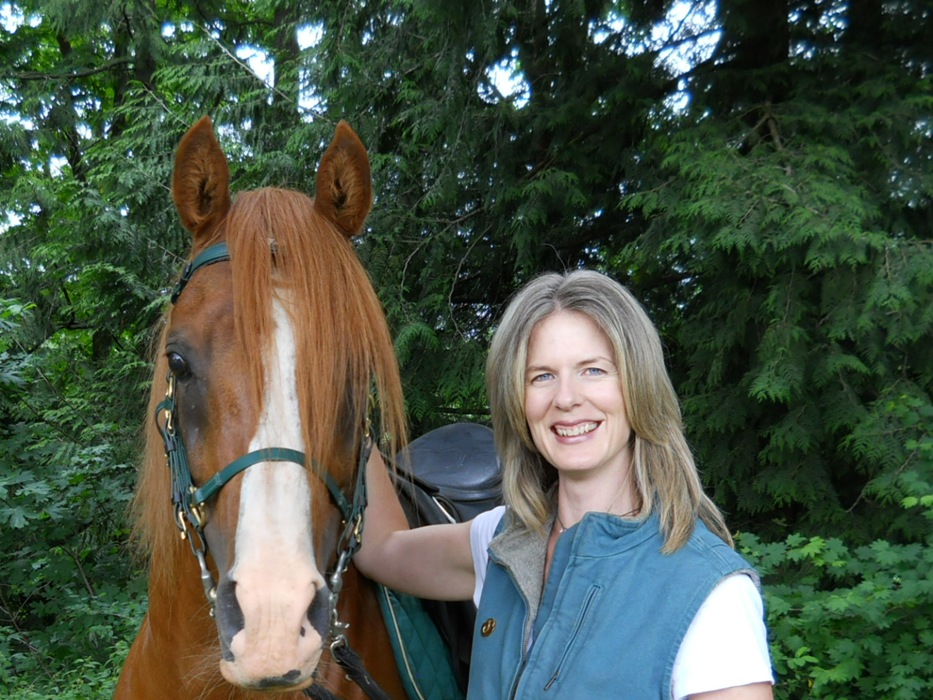 Catherine Madera served as editor of the Northwest Horse Source for five years. She has written for numerous regional and national publications and is a contributing writer for Guideposts Magazine and the author of four equine-related books. She has two grown children and lives with her husband and three horses in Northwest Washington.